LSU (0-1) will be looking to rebound after a heartbreaking loss to Florida State (2-0) in New Orleans on Sunday. The Tigers will welcome Southern (1-0) to Tiger Stadium on Saturday night as the two schools will meet in what should be a historic matchup for the city of Baton Rouge.
Southern @ LSU Game Information: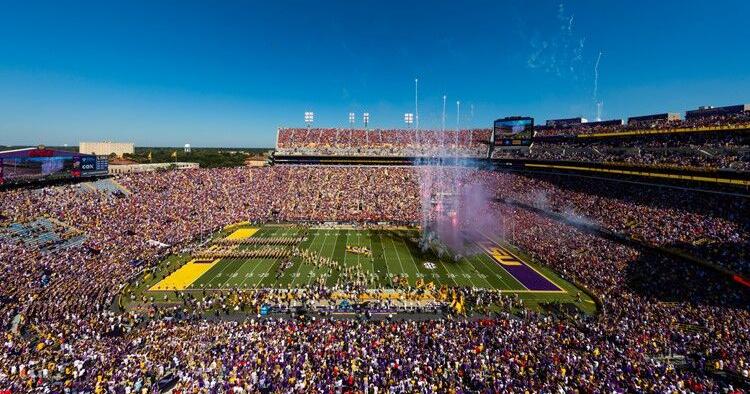 Current Records: Southern (1-0) @ LSU (0-1)
Date/Time: September 10th @ 6:30 p.m. CT
Where: Tiger Stadium; Baton Rouge, LA
Where to Watch: SEC Network (Commentators: Play-By-Play Tom Hart, Analyst Jordan Rodgers, Reporter Cole Cubelic)
Spread: LSU (-38.5)
Previewing LSU Heading into Week 2:
Brian Kelly will be looking to pick up his first win as head coach for the LSU Tigers. The start to the season for the purple and gold got off to a rocky start in New Orleans against Florida State. Special teams blunders cost LSU in the 24-23 loss to the Seminoles as the Tigers have now lost three consecutive season openers.
The Tigers offensive line had trouble protecting Jayden Daniels from Florida State's defensive front in Week One. Daniels had to use his legs to create plays for LSU's offense. The running game for LSU wasn't able to create any momentum with the limited protection from the offensive line. The offensive line group is expected to have some growing pains as this was a unit that lost five offensive starters from last year's roster.
Jayden Daniels did show some bright moments in the matchup against Florida State as he threw for 209 yards and two touchdowns. Daniels also used his mobility as he ran for 114 yards on 16 carries. The Arizona State transfer was the leading rusher for the Tigers on Sunday.
What LSU Needs to Fix Heading into Week 2:
LSU will need the protection to be better in week two to allow Daniels to find his wide open receivers. Kayshon Boutte and Malik Nabers had their struggles in game No. 1 and will look to have a bounce-back game against Southern. Jack Bech, who had a stellar freshman campaign, was only targeted once against Florida State.
The defense suffered a big blow as it was announced earlier this week that Maason Smith will be out for the season (torn ACL). The defensive line wasn't able to create pressure against Jordan Travis. There were some bright spots on the defensive side for LSU in game No. 1 as the secondary looked poised throughout the game, outside of the trick play that FSU ran that led to a touchdown.
The third down defense was abysmal for the purple and gold as they allowed the Seminoles to convert 11 of their 17 third down attempts. This department will have to be worked on to get the Tigers defense off of the field.
Scouting LSU's Opponent: Southern
Southern was able to start their 2022 season on the right note with a 86-0 drubbing of Florida Memorial on Saturday. The Jaguars offense racked up 56 points in the first half on their way to opening their season in the win column.
Southern's offense generated 612 total yards of offense against Florida Memorial (215 passing yards and 397 rushing yards). Coach Dooley showcased a balance attack which was led by Besean McCray. McCray had 157 yards of offense, 79 through the air and 78 on the ground.
The Jaguars offense was also led by star running back Jerodd Sims who had 133 yards of total offense. He was able to find the endzone three times. Southern was able to dominate their opponent on the offensive side from start to finish.
Not only was the Jaguars shooting on all cylinders on the offensive side, but were stout on the defensive side. As a unit, Southern allowed Florida Memorial to just 92 yards of total offense.
Jordan Monroe led the Jaguars' defense with six stops, five solo and a half tackles for loss. Southern's defense was able to record three turnovers as Florida Memorial had trouble finding any rhythm to move the ball effectively on the Jaguars defense.
Prediction for LSU's Home Opener vs. Southern
LSU will be looking to build some confidence in this matchup against Southern. The offense for the Tigers was able to strike first against Florida State in the opener. The offense had to settle for a field goal, due to a bad snap. It is critical that LSU's offense strikes first like they did, but this time find the endzone.
The offensive line should be able to hold their own against Southern's defensive front. Look for LSU's running game to be more prominent in this game. If the Tigers' offensive line is able to serve match against the Jaguars defensive line.
Getting Kayshon Boutte involved will be key going forward for LSU as the season progresses. Boutte was frustrated with himself in the matchup against Florida State. It will be key for Boutte to have a big game this weekend in order to get his confidence back up.
The defensive line will have a challenge. Especially with Ali Gaye having to sit out due to a targeting penalty called in the season opener. Mekhi Wingo will have to step up with the absence of Maason Smith and Ali Gaye. The Tigers had a tough time getting to Jordan Travis and Southern's quarterback (Besean McCray) has the capability to beat you with his legs.
Expect LSU to come out of the gates in this matchup against Southern. The Jaguars are going to give LSU all they can handle. The Tigers have too much talent on both sides of the ball for this one to end in a close game.
Prediction: LSU 45, Southern 13