The New Orleans Saints made five selections in the 2022 NFL Draft that was highlighted by two of those picks coming in the first round. New Orleans traded up with the Philadelphia Eagles to take Ohio State receiver, Chris Olave, with the 12th overall pick. The Saints selected Northern Iowa offensive tackle Trevor Penning with the 19th overall pick to cap off the first round. Look back on the New Orleans Saints 2022 NFL Draft class and how they fared during this past NFL season.
Round 1, Pick 11: Chris Olave, Wide Receiver:
New Orleans continued their Ohio State pipeline by landing Olave with the first of two selections in the first round. The Saints had to give up a first round draft pick for this upcoming NFL Draft that will be occupied by the Philadelphia Eagles, but Olave made it well worth it with a sensational rookie season.
Wait – we've seen this movie before. Chris Olave 53-yard 💣 for a touchdown in the Superdome. pic.twitter.com/0jvng5UIc2

— Eleven Warriors (@11W) November 20, 2022
He was a prolific wide receiver coming out of college as he played in 47 games with Ohio State and caught 176 passes for 2,711 yards with 35 touchdowns. During his collegiate career, he would break an Ohio State record by hauling in 35 touchdowns. The rookie wide receiver would make an instant impact with the Saints offense as he stepped into a vital role with Michael Thomas and Jarvis Landry dealing with injuries throughout the season.
Olave would see action in 15 games during the season, with nine of them being starts. The former Ohio State product would finish the year with 72 receptions for 1,042 yards and four touchdowns. His best game during his rookie season would come in week three against the Carolina Panthers where he hauled in nine receptions for 147 yards. For his performance on the field, Olave would be named as a finalist for the AP Offensive Rookie of the Year award, but Garrett Wilson ended up taking home the honors. Nonetheless, it was a solid start to what will be a successful NFL career for the young wide receiver.
Round 1, Pick 19: Trevor Penning, Offensive Tackle:
Looking back on this pick the Saints top priority heading into the draft was adding a key piece to their offensive line and Penning was the perfect fit to be able to fill that void. Penning is looked as a tough and physical offensive lineman. There was an immediate expectation that he would compete for playing time even as a rookie.
Look at the block from Trevor Penning. https://t.co/DYDzY4iTPt

— Chris Rosvoglou (@RosvoglouReport) January 8, 2023
Penning's rookie season got off on the wrong foot as he was sidelined with a torn ligament in one foot and a ended it with a Lisfranc fracture in the other foot. Injuries would limit his production on the field, but whenever he got his opportunity he showed flashes with his aggressive play style.
Penning wouldn't be able to get the full workload during his rookie season in 2022 as injuries would limit his availability. He would total just 124 snaps on the season on offense and 17 on special teams. The former Northern Iowa product would only see action in six games during the season, with only one start. The main concern going forward for Penning will be if he is able to stay healthy during the 17-game stretch New Orleans will go through every season.
Round 2, Pick 49: Alontae Taylor, Cornerback:
There would be a lot of hype around the Saints selection in the second round by picking the versatile cornerback from Tennessee. Taylor has the ability to excel on defense and in special teams. He finished his collegiate career with the Volunteers by recording 162 tackles (115 solo), a split sack, five stops for loss, three forced fumbles, one fumble recovery for a touchdown and four interceptions.
Alontae Taylor. Heavy Hitter. 💪

📺 #NOvsPIT on FOX pic.twitter.com/MjiI4F9MM4

— New Orleans Saints (@Saints) November 13, 2022
Taylor would start his rookie season with the Saints primarily being a rotation player in the secondary, but once Marshon Lattimore went down with an injury he would begin to insert his mark on the defense. The rookie cornerback would see action in 13 games with New Orleans, with nine of them being starts. During his rookie campaign, Taylor registered 46 tackles and 11 pass deflections. He would begin to make a positive and quick impression on the Saints defense down the stretch where New Orleans was one of the best units.
Taylor would miss a month of the season due to an injury, but he was still able to play 663 defensive snaps in 13 games during the regular season.
Round 5, Pick 161: D'Marco Jackson, Linebacker: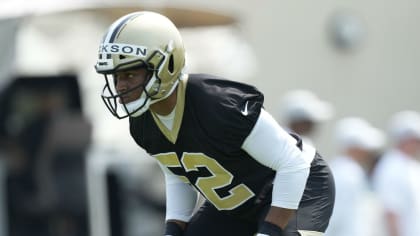 Heading into the season Jackson was in the mix to be able to serve as a vital backup to Demario Davis, but an injury sidelined him before he could even get the chance to compete for a spot. Jackson missed five practices before the start of the regular season due to an undisclosed injury, but a few days later New Orleans would place the rookie linebacker on the injured reserve that would end his rookie season before it even started.
It was a tough blow for Jackson as he was set to be a part of the Saints linebacker rotation, but instead his focus will be to get healthy for the start of the 2023 season.
Round 6, Pick 194: Jordan Jackson, Defensive Tackle: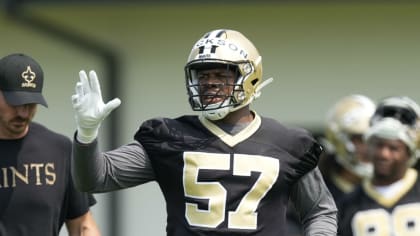 New Orleans would pull off a trade in order to land the star defensive tackle out of the Air Force Academy. During his time with the Falcons, Jackson registered 27 tackles for loss and 12.5 sacks. Jackson would see action during the preseason for the Saints as he would go on to lead all defensive tackles in snaps played (80).
He would struggle early on and with a deep defensive tackle rotation there was no room for era. New Orleans didn't waste any time of making a decision on Jackson. The Saints would end up waiving the former Air Force product on August 30th that would effectively end his short tenure in New Orleans.
For More Great Football Content
Follow us on Twitter at @GridironHeroics for more great content. We appreciate you taking time to read our articles. To interact more with our community and keep up to date on the latest in Football news, JOIN OUR FREE FACEBOOK GROUP by CLICKING HERE
Checkout our latest podcast!
[powerpress_playlist limit=1]