It is day three of Gridiron Heroics previewing all SEC teams coming ahead of the 2022 season. Each day, we will break down one team from the East Division and West Division, giving you a position-by-position analysis, and tell you what they need to do to advance to the postseason. Join us as we delve deep into the South's spectacular obsession, SEC football.
SEC CONF. PREVIEW: Overall SEC Conf. Preview
SEC EAST PREVIEWS:  Florida | Georgia | Kentucky | Mizzou | South Carolina | Tennessee | Vanderbilt
SEC WEST PREVIEWS:  Alabama | Arkansas | Auburn | LSU | Mississippi State | Ole Miss | Texas A&M
---
THE TEAM: Kentucky Wildcats
THE MENTOR: Mark Stoops (10 years, 53-50 record)
THE 2021 RECORD (SEC RECORD): 10-3
THE AFTER LIFE: Gator Bowl (won against NC State 23-21)
THE FIVE STUDS (STATS):
Will Levis, Sr./QB (2,826 yds, 24 TDs)
J.J. Weaver, Jr./LB (20 solo, 6.5 sack)
Jacquez Jones, Sr./LB (37 solo, 0.5 sack)
Tayvion Robinson, Sr./WR (44 rec, 559 yds)
Chris Rodriguez Jr., Sr./RB (225 att, 1,379 yds)
THE GOOD:
The good news is that the Wildcats looked better last season than they have in a long time, which is promising. Also, Will Levis is expected to be a great attribute to the Wildcats. Combined with Stoops's determination that has been proven effective as of lately, there could be a decent season in the works.
THE BAD:
Chris Rodriguez's status is still uncertain after being charged with a DUI in May of 2022. The outcome of this will directly affect the team, so we'll have to keep a watch on that. Although, he has been practicing with the team, so maybe that means something. Additionally, Kentucky did lose Darian Kinnard and Dare Rosenthal so that's considerably negative.
THE UGLY:
Let's be honest. Kentucky is not going to rein number one. I'm not saying they won't make progress with their reputation because I think there's definitely momentum there. However, they have a turnover problem. It's not an outstanding, talked about, huge issue, but it would make a difference if they could improve there.
BIGGEST NON-CONF GAME OF THE YEAR (AND WHY)
: Youngstown State at Kentucky on Sept. 17
Ok, I know you're like, "literally, why?" It'll be a good opportunity for some younger players to shine, as ESPN's SPI gives Kentucky a %98.20 chance of winning. Also, this will be right after the Florida game and spirits may be very high or very low. Besides, hate me if you want, but sometimes I just want to watch a good blowout game.
BIGGEST CONF. GAME OF THE YEAR (AND WHY)
: Kentucky at Florida on Sept. 10
Kentucky beat Florida 20-13 last season. Beating them again will really set a precedent for the rest of the season, considering they haven't beaten Florida twice in a row since the 1970's. ESPN's SPI gives the Wildcats a %48.90 chance of winning.
DARKHORSE THREAT ON THE SKED (AND WHY): Kentucky at Ole Miss on Oct. 1
Kentucky beat the Ole Miss Rebels last season and I think it's possible that they could do it again. However, I think it's likely it will go the other direction. Either way, I think that it will be a close game.
THE HAPPY HISTORY NUGGET: 2019 Belk Bowl
The 2019 Belk Bowl was an interesting one. It was Kentucky against Virginia Tech and Lynn Bowden had really been showing out. He stepped in as quarterback in place of injured Terry Wilson and Sawyer Smith mid-season. The Wildcats won 37-30 in an exciting performance from Bowden with a game-winning touchdown and 233 rushing yards.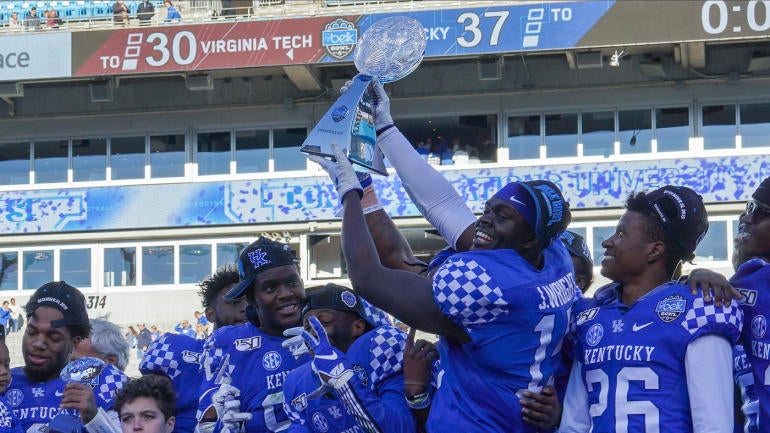 WHICH TEAMS WILL THEY BEAT?:
Florida, South Carolina, Mississippi State, Louisville, Vanderbilt, Youngstown State, Northern Illinois, Missouri, Miami of Ohio
WHICH TEAMS WILL THEY LOSE TO?:
Georgia, Ole Miss, Tennesse
FINAL RECORD, POSTSEASON PREDICTION?: 9-3
I'd be lying if I said I was extraordinarily confident in my position on this, but I do think I'll be close. I can't help but think that there may be some surprises with the Wildcats this year. The improvement is noticeable.
PRESEASON ALL-SEC PLAYERS:
Second-team Offense
RB: Chris Rodriguez Jr.
OL: Kenneth Horsey
Third-team Offense
QB: Will Levis
RELATED FLORIDA GATOR STORIES:

Click here to read.