The Kansas City Chiefs had one of their gutsiest performances of the year. This is a team that has had their number the past three times they have played. There was an absurd amount of trash talk going on before the game from Cincinnati players to the actual Mayor. The players and coaches of the Kansas City Chiefs kept their talking to a minimum and let their play speak for itself, and they were more physical and motivated. They showed a rare level of grit and determination to rally themselves to get a win over the Bengals to get to their third Super Bowl in four years.
Offensive Versatility:
This game, besides the excellence of Patrick Mahomes, showed the depth and quality of this team just on offense the team lost three starters, and many of the other players were getting banged up throughout the game. Mainly the top three receivers for the Kansas City Chiefs had to leave the game due to different injuries, but we saw the depth of this team come through. MVS had the game of his life in one of the biggest spots of his career. He was finding ways to get open when all of the attention was on Kelce, and he kept making big plays when his number was called and when the team needed him.
Patrick Mahomes' excellence cannot be quantified enough in this game. He came in with very real questions about how he would move coming game time and if his movement would be limited at best but they came out early and showed how he could move pretty well given his ankle. The poise and confidence this offense played with were incredible. There are not enough superlatives to describe how well he played and how composed he was with his three top receivers down; he trusted his receivers to get open and they made a play for him all game long. He showed in a few plays how he wasn't a full go on his ankle, especially the few times he tried to scramble you could tell he wasn't at full speed until the end when he needed to he scrambled for the first down and got out of bounds to stop the clock.
The Kansas City Chiefs offensive line had a really good game plan coming into this Championship game. Part of the Kansas City Chiefs' game plan was to move the pocket early to try and take some of the pressure off the offensive tackles. The Kansas City Chiefs also ran the ball, not for a ton of yardage but they ran it enough to get the Bengals players to think about it for an extra second. They were very good overall and kept Mahomes upright when he needed to be. The Kansas City Chiefs' offensive line only gave up three sacks, and five QB hits against a very good, aggressive defense.
Kansas City Chiefs Dominant Defense:
This game starts with the dominant defensive line performance from the Kansas City Chiefs. This push was led by one of the greatest of the game, Chris Jones, who was truly dominant in a way that very few players are in a single game. The Kansas City Chiefs had a great game plan for Jones against a banged-up Bengals offensive line. Depending on the situation, they would shift him around a lot to find the best matchup. We saw the Kansas City Chiefs scheme up different defensive fronts, and this is to make sure Jones would get single-covered. Then when the Bengals would adjust and focus their coverage toward him, it would free up others along the defensive line.
The Kansas City Chiefs, at the end of the game, had five rookies playing as starters. Four of those rookies were in the secondary. This is what the Kansas City Chiefs hoped would happen as the year went by; they wanted to get them as much experience as possible. In case of injury, you could plug and play the next man up with no major drop-off. Bryan Cook, the Kansas City Chiefs rookie safety, also had a good game. he tipped a pass from Burrow to Higgins that lead to an interception. You can see the rookies' growth from the start of the season to now. They look like veteran players who are ready for whatever moment they face.
Personnell Decisions:
The Kansas City Chiefs had to show off the underrated depth of their team in this game. The Kansas City Chiefs lost five starters during the game. They were the top three receivers and two of their most versatile defensive starters. they still found ways to win the game. Kemp, a practice squad player, stepped up for the offense. and we saw multiple rookies step up and make big plays when they needed to.
Skyy Moore has had a very up-and-down season for different aspects of his game. He looks like he's very good traits as a receiver; we saw it in flashes during the regular season, most notably against the Chargers in week ten. So far, one of the most criticized aspects of his game this season has been him in the punt returner role. He has struggled just fielding the punts that have come his way, but you see his talent when he gets the ball in his hands. The coaches showed they still had faith in him, and because of all the injuries, he was forced back to return punts. In the biggest moment of his career, he delivered a great punt return to help set up the offense in great position.
Moving Forward: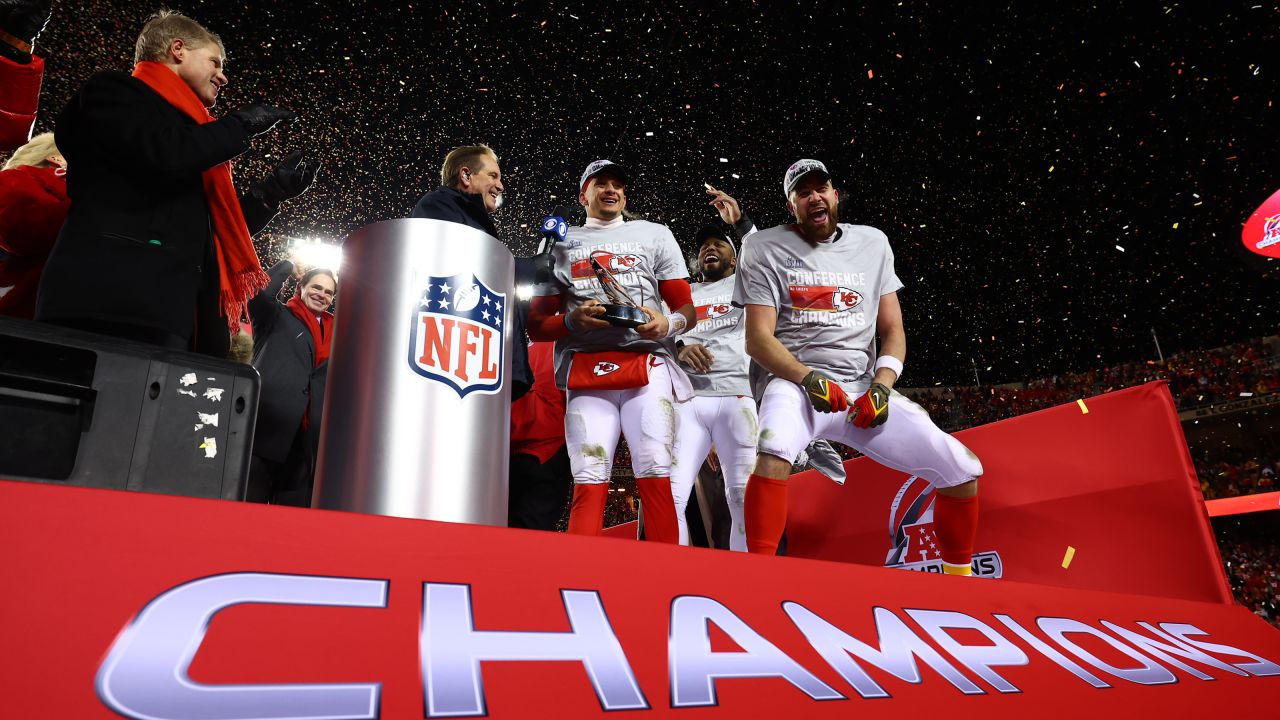 The Kansas City Chiefs are going to their third Super Bowl in five years. They were able to beat their biggest rival the Cincinnati Bengals, to get there. The Kansas City Chiefs will be playing the Philidelphia Eagles. The Kansas City Chiefs need to use these two weeks to get healthy physically and focus in on this next game after finally beating the Bengals. The Chiefs will need to play their best game all year on both offense and defense to beat the Eagles because of their talent on both offense and defense. More importantly, they need to get their five starters back and healthy. There will be interesting matchups all over the field on both sides of the ball. Thankfully we have two weeks before the game so both teams can be at their healthiest, and it should be an amazing game to watch.
For More Great Football Content
Follow us on Twitter at @GridironHeroics for more great content. We appreciate you taking time to read our articles. To interact more with our community and keep up to date on the latest in Football news, JOIN OUR FREE FACEBOOK GROUP by CLICKING HERE
Checkout our latest podcast!
[powerpress_playlist limit=1]