A Detroit Lions starter has made some changes to his social media account that has fans on edge ahead of the Lions Week 1 contest against the Kansas City Chiefs on Thursday night.
Detroit Lions NT Isaiah Buggs deletes team from bio
Per Natalie Sparbeck, Lions starting nose tackle Isaiah Buggs reportedly deleted all things related to the "Lions" off his social media bios. Sparbeck was curious if Buggs' decision to delete the Lions from his social media meant a trade was coming.
#Lions DT Isaiah Buggs, has deleted all things 'Lions' off of his social media 'bios'.

I don't know anything more than y'all do, but do I smell a potential trade? Time will tell. pic.twitter.com/OEdKMeVYkE

— Natalie Sparbeck (@NatSparbeck) September 3, 2023
Buggs has made several social media posts recently that indicate he's frustrated. Whether that is for personal or professional preseasons remains unclear.
Buggs speaks 🗣️

(And I don't think it's football related). pic.twitter.com/tbfbyxubSK

— Natalie Sparbeck (@NatSparbeck) September 4, 2023
I'm Good But Just Know Situations Change #96BALLFOREVER Y'all Gone See 🤷🏾‍♂️

— Isaiah D. Buggs (@BigPooh_91) September 3, 2023
Despite the cryptic posts on social media, Buggs is participating with the Lions during their practice Monday, per Justin Rodgers with Detroit News.
Everyone, including Isaiah Buggs, is practicing for the Lions this blazing hot afternoon.

First injury report is due this afternoon, if anyone ends up being limited.

— Justin Rogers (@Justin_Rogers) September 4, 2023
Whatever the case, there seems to be some drama with both teams at defensive tackle ahead of the Thursday Night Football game. Chris Jones is still holding out with the Chiefs.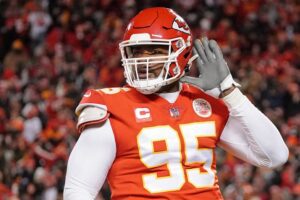 For More Football News:
Follow me on Twitter at @JordanSig. You can also reach out to Jordan Sigler via email at jordanmsigler@gmail.com. To read more of our articles and keep up to date on the latest in college and NFL news, click here!