According to the Merriam-Webster Dictionary, if something shows signs of volatility, there is thus a tendency to change quickly and unpredictably. Fantasy football is volatile, and, therefore, its landscape changes yearly.
Some of the best players from one season fall off the very next. Sometimes the hindrance is an injury or coaching change, but other times, it is not so easy to understand why a player plummets. 
Most fantasy leagues have 12 owners, meaning the top players at the position, wide receiver ones (WR1), are limited. 
It is not sufficient enough to call a 12-player field limited, though. Again, fantasy football is volatile. Therefore, one cannot rely on all the top players from this season to be the top guys next year. That isn't how volatility works.
How can a fantasy owner navigate such a volatile landscape? The answer is that it isn't easy, but historical trends paint a more vivid picture for fantasy players.
First, we need to know who we are working with. Who were the top-12 from 2022?
The field of players at risk of WR1 volatility
This last season's class was (in order 1-12): Justin Jefferson, Tyreek Hill, Davante Adams, Stefon Diggs, CeeDee Lamb, A.J. Brown, Amon-Ra St. Brown, Jaylen Waddle, DeVonta Smith, Amari Cooper, Ja'Marr Chase, and Christian Kirk according to PPR scoring via fantasy data.
There is a plethora of elite players who finished as a WR1 in 2022. However, who is most at risk of leaving this group? Who is volatile?
Well, thankfully, there is data to look back on. While fantasy football is volatile, data is consistent and paints a much clearer picture of the game. Specifically, which spot is most volatile? Which of the players in the top-12 is least likely to drop off? The data has our back.
A good sample size is 10 years because it isn't too short of a timeframe, but also not too big. So, let's look at what the data has to say about the volatility of each end-of-the-year standings for WR1's between 2012-2022.
The findings are harsh for the top guys at the position. There are two years (2012 and 2017) in which over half of the field repeated as WR1s. With just that, there is a grim sense to this year's field. 
But things get worse the more you look. Nearly 60% of all WR1s, over the last 10 years, failed to return as a top-12 player at the position in the following season.
However, the outlook is not completely bleak. Although fantasy football is volatile, some finishes are safer than others along the WR1 brass. Here is a list of how volatile each slot as a WR1 in fantasy is:
1: 2/10
2: 4/10
3: 6/10
4: 7/10
5: 6/10
6: 2/10
7: 4/10
8: 6/10
9: 9/10
10: 9/10
11: 8/10
12: 9/11 (tie for the spot in 2020)
Each position is volatile if the last decade of fantasy football is anything to go by. However, there are noticeable trends for each.
You have the "as close to safe as possible," the "essentially 50/50," and the "probably best to stay away from this slot."
Those most likely to be safe from WR1 volatility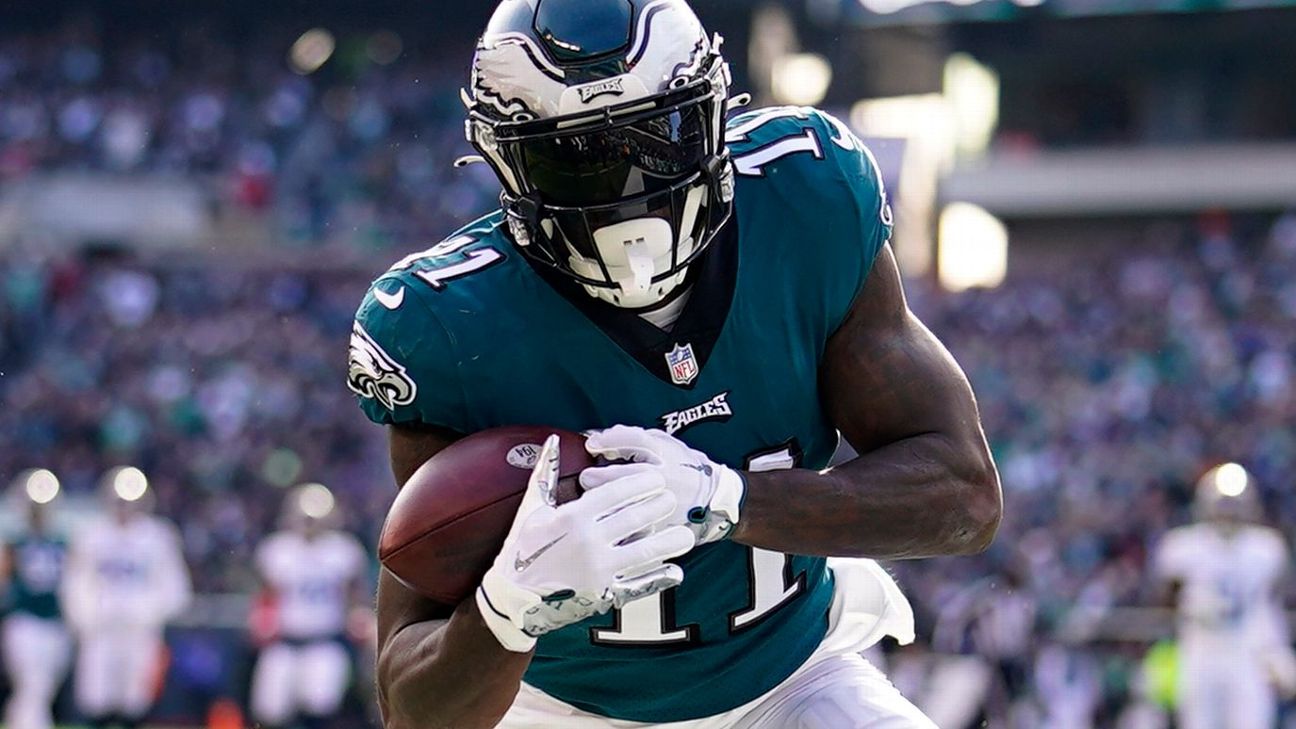 The data will not always be correct, as will be discussed later. However, it is valuable to know and helps determine which top-end player is presumably safer than others.
So, according to the data, the top wideout Justin Jefferson and the sixth-best receiver A.J. Brown should be safe players to draft in 2023. Both spots have had a 20% turnover rate over the last 10 seasons. 
This is fair to presume too. Jefferson and Brown are two of the top young talents at the position today. So, no real surprises here.
Near 50/50 chance to face WR1 volatility
However, Hill, Adams, Lamb, St. Brown and Waddle have, essentially, a 50% chance of returning to this ranking in 2023 or dropping from it. Statistically speaking, Hill and St. Brown are the "safe" options of the bunch.
Although, there has been a disturbing trend at the seventh spot that may concern Amon-Ra St. Brown truthers. Before 2018, the player in that spot dropped out of the WR1 ranks just once. This means that in three of the last four years, the player in the seventh spot fell out of the top-12 fantasy receivers in the following year. While the statistics still favor St. Brown, this is not a trend to take lightly.
Those most likely to suffer from WR1 volatility
Finally, there are players in spots that have had a 70% turnover rate, at best, over the last 10 seasons. The players that correlate to these spots in 2022 are: Diggs, Smith, Cooper, Chase and Kirk.
There are many talented receivers on this short list of five. However, the statistics don't lie. These players are the most likely to not be amongst the top-12 at this time next season. Each player is a statistical risk to draft as a WR1 in 2023. This includes the assumed top wide receiver for Joe Burrow, Josh Allen, Trevor Lawrence and Deshaun Watson at the time of writing this.
While the top pass-catcher for each of these quarterbacks sounds like an enticing player to draft, the risk should be factored in when making draft decisions.
Fantasy football is volatile, however, the statistics paint a clearer picture of who is a safer draft pick compared to others. The stats might not be favorable toward some of the fan-favorite players but could help bring home a fantasy championship by pointing out some potential duds.
For More Great Football Content
Follow us on Twitter at @GridironHeroics for more great content. We appreciate you taking time to read our articles. To interact more with our community and keep up to date on the latest in Football news, JOIN OUR FREE FACEBOOK GROUP by CLICKING HERE
Checkout our latest podcast!
[powerpress_playlist limit=1]