A disgruntled Kansas City Chiefs star defensive tackle recently liked a trade idea on social media involving him being traded to the Dallas Cowboys. One NFL analyst thinks if Jones is on the table for the Cowboys, so can disgruntled San Francisco 49ers star defensive end Nick Bosa.
Bosa, like Jones, is holding out for a better contract before the regular season. The 49ers and Bosa don't seem close enough to end the holdout before their Week 1 game against the Pittsburgh Steelers on Sunday.
Dallas Cowboys named as an option for another pass rusher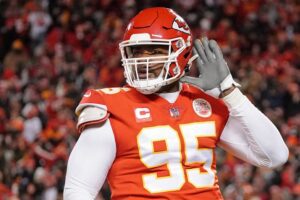 Voch Lombardi with Bleacher Report said the 49ers and Bosa's situation had him thinking about the Cowboys. Lombardi thinks if the Cowboys have a chance to trade for Jones, they may as well see if Bosa is on the table for Dallas, too:
"Ian Rapoport called into 'Pat McAfee Show,' and whenever Ian Rapoport says anything, we just gotta listen to what Ian Rapoport says, you know," Lombardi said. "And there are two things that Ian Rapoport said that just made me think about it.

One, he said that both sides were not close, and I said, 'hmmmmm.' But you know what, though, you can not be close, but by the end of, like, preseason or something, something will be imminent. You know what I mean? It ain't close, but something's imminent.

"When Ian Rapoport said nothing's imminent. And I started thinking about Nick Bosa, boy. Hold chat. And I started thinking about Nick Bosa on my beloved Dallas Cowboys. Whatever you're gonna pay up to get Chris Jones, I know you'll pay up to get Nick Bosa, I feel you, but I gotta ask."
Will the Dallas Cowboys trade for Nick Bosa?
The Cowboys likely don't have the cap space to trade for Jones, even if the 49ers wanted to trade Bosa to their NFC rival. (Which they don't). If that's the case, the Cowboys definitely can't trade for Bosa either.
However, Bosa and Micah Parsons coming off the edge during a passing play would have their opponents quarterback seeing ghosts.
The Cowboys may also see if Bosa can be had for a good bargain. But Bosa won't be on the Cowboys this season.
For More Football News:
Follow me on Twitter at @JordanSig. You can also reach out to Jordan Sigler via email at jordanmsigler@gmail.com. To read more of our articles and keep up to date on the latest in college and NFL news, click here!