Former NFL quarterback Colin Kaepernick is reportedly set to have a new collaboration with the athletic apparel company Nike.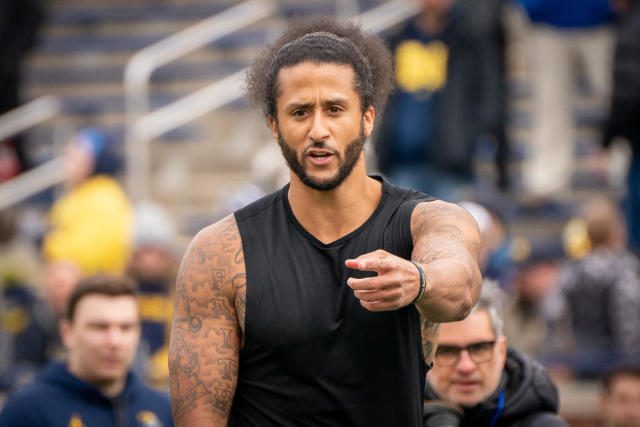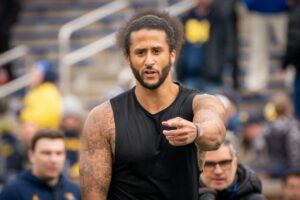 Kaepernick has been in the news in recent weeks for asking the New York Jets to take him on as a practice squad quarterback this season. That hasn't happened, and Kaepernick turned down other professional football opportunities.
But Kaepernick has another avenue to make money during the football season.
Colin Kaepernick teams up with Nike
According to a report by Pat Benson with Sports Illustrated, Kaepernick has teamed up with a London-based artist for new Nike products:
"The American-based brand is enlisting the help of Joy Yamusangie to help tell the story of Kaepernick's impact and journey. The London-based artist uses the full breadth of their creative arsenal via illustration and painting to compose pieces that reference the duality of everyday life in the UK and their African heritage.

Yamusangie's signature mixed-media style, formed of abstract shapes, writings, and intense colors, juxtaposes two cultures particularly resonant with those of a diasporic disposition. On Friday, October 27, online shoppers can choose between a limited-edition t-shirt for $50 and a hoodie for $80 on the Nike website.

According to Nike, "Colin Kaepernick is a man of the people. Over the years, he's proved his devotion to social change through sports, education, and equality. This product capsule serves as a reminder and an invitation to push toward an equitable future."
That's a bold new product line from Nike. We'll see how the sales go for Nike and the former San Francisco 49ers quarterback. One would assume some people will love the message and buy the products. But it could backfire if people who aren't aligned with Kaepernick's worldviews decide to stop supporting the company.
Sports news 10/26/23:
For More Football News:
Follow me on Twitter at @JordanSig. You can also reach out to Jordan Sigler via email at jordanmsigler@gmail.com. To read more of our articles and keep up to date on the latest in college and NFL news, click here!