It was the long-awaited debut of Bryce Young for the Carolina Panthers. After trading a king's ransom to go up and get him, Young finally hit the field in a Panthers uniform. The debut did not go as planned as Young and the offense struggled to make anything happen.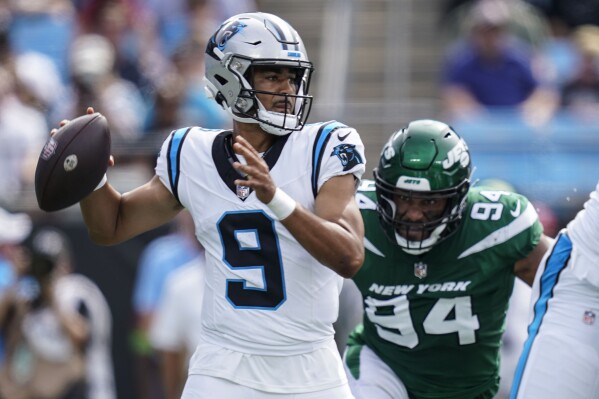 Carolina Panthers Bryce Young Struggles In Debut
Young played in three series against the New York Jets. He went 4 of 6 passing for 21 yards. Not great for three whole series. The offensive line didn't help much. On his first snap, he took a huge hit from his blindside and was constantly under duress when trying to complete a pass. It doesn't matter how good your quarterback is. If you cannot protect them, it isn't going to matter.
"It was a lack of execution starting with myself," Young said. "I definitely could have done better and us as a unit all have to take accountability. … We have to own this and get better."
The matchup was not the greatest for a developing offensive line as the pass rush for the Jets is slated to be one of the best in the league.
More About The Jets
Don't get me wrong, the Panthers need to fix their issues but this Jets pass rush is insane. The unit had five sacks in the preseason shutout with many of their top players not playing the whole game. Rookie Will McDonald looks worthy of a first-round pick and the depth is impressive. The Jets will be able to constantly have fresh legs on the field to get after the quarterback. While much of the focus has been on the offense this offseason, the defense looks to be as good as ever.
The Carolina Panthers shouldn't worry about Bryce Young. One bad preseason game is nothing to worry about. The hope is that he can rebound and have a better showing next time out.