The Cincinnati Bengals' franchise quarterback, Joe Burrow, was ruled out for the season with a sprained wrist, to the grave disappointment of the Bengals' fandom, many of whom felt like the season was just getting back on track after a difficult 1-3 start. And now, after just shy of day of wondering who will take over the reigns in Burrow's absence, it seems like we have an answer.
From @NFLNetwork: The #Bengals have stuck with QB Jake Browning all season, and that's their guy going forward. pic.twitter.com/21JdXpx61A

— Ian Rapoport (@RapSheet) November 17, 2023
What Does This Means For The Cincinnati Bengals Offence?
Jake Browning, formerly of University of Washington , is now the Cincinnati Bengals quarterback for the remainder of their season. Having come from the Mike Leach (RIP) 'Air Raid' offensive system, he showed at times his ability to distribute the ball effectively, going 8/14 for 68 yards and a touchdown, all for an efficient quarterback rating of 93.8.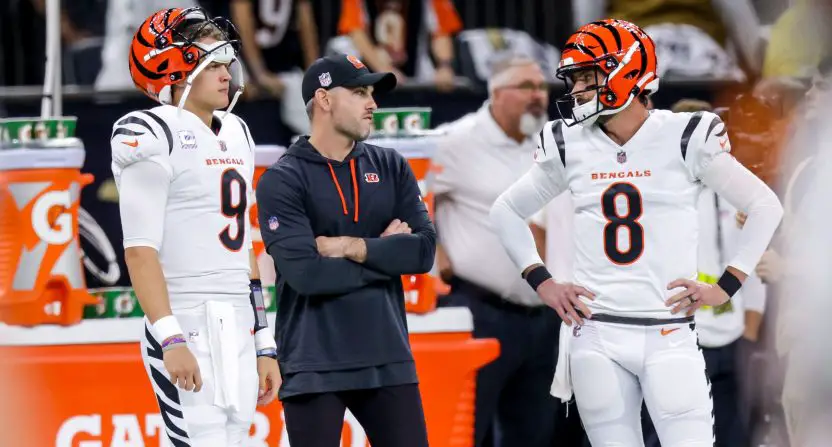 However, there can be no doubt that without Joe Burrow, the Bengals are no longer serious contenders in the ultra competitive AFC North. They are already last in the division at 5-5, and face stiff competition from Super Bowl contenders, the Baltimore Ravens and the surprisingly actually good Pittsburgh Steelers.
Regardless, this has been a very sad week for the AFC North, where two franchise quarterbacks have been ruled out for the season in a matter of five days, after Deshaun Watson's shoulder required season-ending surgery after Week 10.
The Cincinnati Bengals can most certainly stay somewhat competitive, but their ambitions of the playoffs and ultimately that elusive first Super Bowl are looking a lot dimmer this afternoon.
For Additional Content
Hello there. If you enjoyed this article (or, really, even if you didn't). Please go and follow me on Twitter @danielarwas for more NFL breaking news, updates, and "special edition" previews. 
Our Partners
Mayfield Sports Marketing
Call Mayfield Sports Marketing at 262-366-8188 to schedule Green Bay Packers players or alumni for your corporate appearance or product promotion.  Our booking agents will work on your behalf to get you the best price for your desired sports speaker. Mayfield Sports Marketing has earned a reputation of being the one to call for booking top athletes to speak at events and trade shows. To learn more about Packers players or alumni appearance costs and booking fees, please call us today. www.MayfieldSports.com.
Radtke Sports
Wisconsin Sports Heroics is proud to partner with Radtke Sports to offer autographed memorabilia. Brett Favre, Rob Gronkowski, Giannis Antetokounmpo, and MORE Guaranteed Authentic Collectibles and Memorabilia, including signed jerseys, photos, and more at www.RadtkeSports.com USE promo code: WSH for FREE SHIPPING on your purchase. Some restrictions may apply.