The Indianapolis Colts have been trying to be a threat in the AFC South so far this season but quarterback Anthony Richardson suffered a right shoulder injury. He looked like he was in a lot of discomfort after being hit on a running attempt in the second quarter and has officially been ruled out for the remainder of this Week 5 divisional game against the Tennessee Titans.
While running for four yards with 4:39 remaining in the first half, Titans linebacker Harold Landry III tackled him. Richardson's shoulder took a massive hit as it was the first point of contact with the turf. He immediately pointed at the shoulder while lying on the ground.
Colts ruled out Anthony Richardson.

— Adam Schefter (@AdamSchefter) October 8, 2023
Anthony Richardson has been one of the leading candidates for the NFL Offensive Rookie of the Year Award this season and was off to a great start in this game as well. He finishes 9-of-12 passing for 98 yards through the air as well as a pair of rushing attempts for five yards before exiting the game.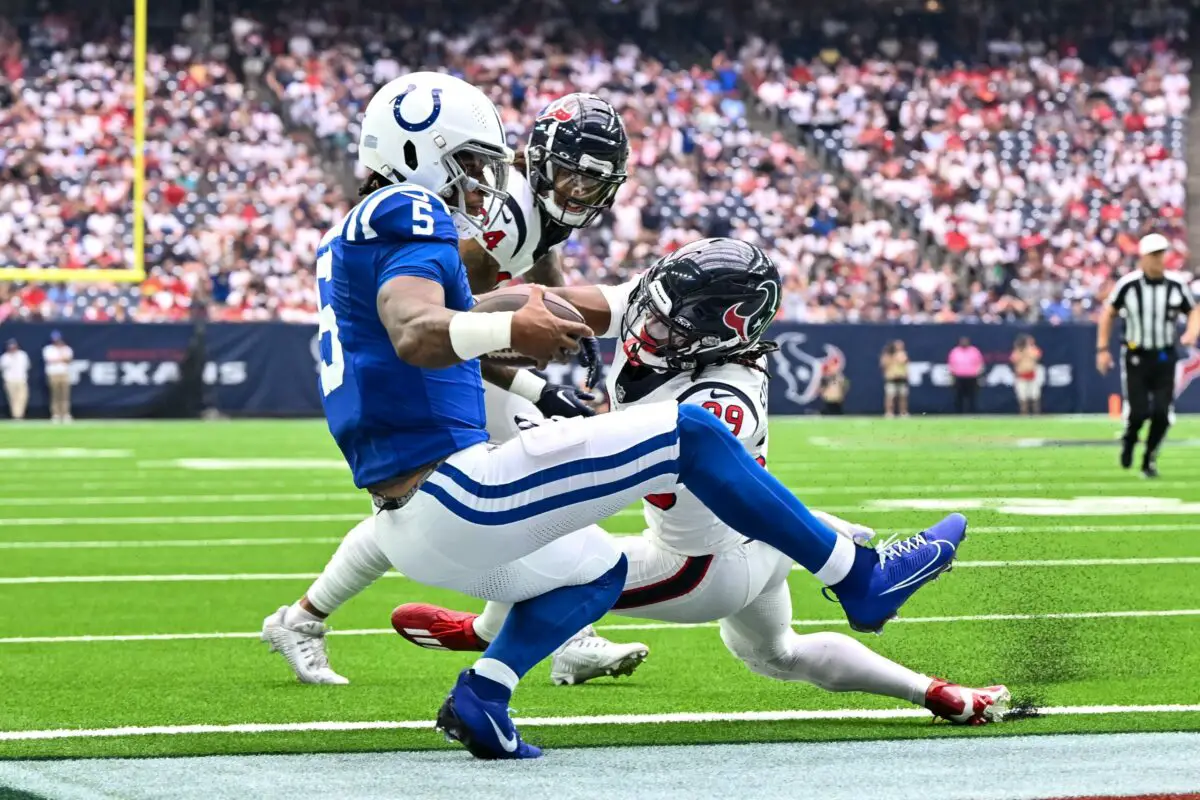 One positive sign of things is the fact the X-rays on the shoulder were negative but Richardson will continue to undergo tests to see the severity of the injury.
#Colts QB Anthony Richardson's X-rays were negative, per source. He'll undergo further testing.

— Tom Pelissero (@TomPelissero) October 8, 2023
The Colts have replaced him with backup quarterback Gardner Minshew III for the remainder of the game and we will keep you updated if the injury will be more than just a one-game situation.
Can Anthony Richardson and the Indianapolis Colts surprise people in the AFC?
Entering this Week 5 matchup against the Tennessee Titans, the Colts have a 2-2 record and have some talent. The team extended running back Jonathan Taylor earlier this week and will be hoping he can create some extra threats as he gets healthy enough to play.
The Colts offense has been surprising people throughout the first month of the season as with not too many weapons, they rank 14th with 24.3 points per game. The Colts have another divisional matchup next week against the Jacksonville Jaguars and have already lost their first meeting back in Week 1.
Adding Jonathan Taylor to the mix for the first time this season would be a huge plus and continue to improve Anthony Richardson's ability both inside of the pocket and as a running threat. The Colts are 1-1 in the AFC South and are trying to continue winning games and be a potential playoff team.
Hopefully, this injury is nothing more than getting dinged up during the game and he is not going to miss any amount of time outside of this Week 5 game.