New York Jets quarterback Aaron Rodgers was injured in the first game of the 2023 season with a torn Achilles that has possibly ruled him out for the rest of the season. Since then, the veteran quarterback has made unbelievable strides in his recovery and has been a part of many rumors regarding a potential comeback as soon as this season. His strides are so unbelievable that some NFL analysts are questioning if Rodgers' injury is as significant as portrayed.
"Is it crazy to wonder if he (Aaron Rodgers) never actually tore his achilles?…" – @billygil

📺 https://t.co/q1JKGBFuye pic.twitter.com/K7RLl2UuMD

— Dan Le Batard Show with Stugotz (@LeBatardShow) November 7, 2023
The Theory
On Tuesday's episode of "The Dan Le Batard Show," Billy Gil brought up the theory that Rodgers never actually tore his Achilles. He said, "Is it crazy to wonder if he[Aaron Rodgers] never actually tore his Achilles?" From the sound of the discussion, this theory seemed to be talked about in a joking manner.
Before the Jets' Monday Night Football matchup against the Los Angeles Chargers, Rodgers was going viral after he was seen walking around under his power and throwing 50-yard bombs during pregame. He then had another viral moment when he met up with Chargers' safety Derwin James after the game and told him "Give me a few weeks" after James asked him when he would come back.
Aaron Rodgers Update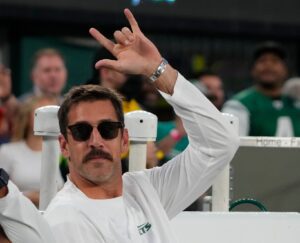 Rodgers mentioned the next day that he did not think that this conversation would go viral and that his comments got taken out of context. He reminded everyone that his return date is still "a long way off" and that he is doing the best he can to return as soon as possible.
New York is now 4-4 after the 27-6 loss to Los Angeles on Monday, and they have been struggling on offense. A big part of their struggles has to do with Zach Wilson under center, who has only thrown five touchdowns through nine weeks. The Jets want Rodgers back in the lineup as soon as possible, and all of these rumors and theories going around could just be fans longing for their quarterback.
For Additional Content
Please go and follow me on Twitter @TaylorHartmaNFL for more NFL news and updates. If you have any further personal questions or comments for Taylor, connect with him on Linkedin. For more articles on the NFL, go to this site here! Also, go check out our podcast @FSHeroics!