It's finally time for my 2023 NFL mock draft version 2.0! Now that the order is set for the non-playoff teams, we have a better idea of where players will go. Check out version 1.0 here.
1. Chicago Bears: LB Will Anderson Alabama
Let me be clear. I think the Bears will and should trade out of this pick. Some team will offer them a king's ransom for the number one pick in order to draft a QB. The good thing about this is it may not change who the Bears get. The Bears' pass rush was abysmal this season (their leading sack person was a safety). They need some help and Anderson is the perfect prospect for the Bears.
2. Houston Texans: QB Bryce Young
Houston is in a tough spot depending on what they think of the QB class. If they like them all, then they are in an easy spot. If not, what will they have to give up to move up one spot to get their preferred QB? Without a trade, the easy pick is Bryce Young. I understand the concerns about his size but his other skills dwarf that concern for me. Young has a great feel in the pocket and great accuracy on throws.
3. Arizona Cardinals: DT Jalen Carter Georgia
The Cardinals are a mess and need help in a lot of areas. However, they need to start on defense. As with any good team, they need to start building in the trenches. Carter is the top-rated defensive tackle in the class and should be a force inside. Next season will start out rough with Kyler Murray off of an ACL injury. This could tempt the new regime to grab "their guy" at QB and look to trade Murray. Ultimately I think that is far-fetched and the team just takes the top defensive tackle.
4. Indianapolis Colts: QB CJ Stroud Ohio State
The Colts' QB carousel has to stop somewhere. Matt Ryan was not the answer and the team tanked so they could have a shot at a franchise QB. The Colts are a candidate to trade with the Bears for the first overall pick but even if they stay put, I think they get Stroud. In the College Football Playoff, Stroud showed why he is a top prospect. His elusiveness and passing ability were on full display. The Colts will be happy to finally have a QB that isn't above the age of 35 starting for them.
5. Seattle Seahawks (via Denver Broncos): DL Bryan Bresee
Seattle needs some help on defense. They have been gifted a top 5 pick from the trade with the Broncos. They should not overthink this one and take a lineman that can plug up the running lanes. Bresee is a disruptor in the backfield and has elite power and agility. With two picks in the first round, Seattle can look to add some elite-level talent on defense starting with Bresee.
6. Detroit Lions (via Los Angeles Rams): CB Joey Porter Jr. Penn State
Like the Seahawks, the Lions have been gifted with a top-10 pick. I think the offense is pretty set though the Lions could get fancy here and draft a QB to develop. I have them helping out their already good defense. Aiden Hutchinson was a huge hit and Jeff Okudah had a bounce-back year. Pairing him with Porter Jr. gives the Lions two good corners that can shut down multiple receivers. In Porter Jr.'s case, he also has the ball skills to force some turnovers.
7. Las Vegas Raiders: Edge Myles Murphy Clemson
The QB position is an unknown for the Raiders but I think they end up finding someone on the trade or free agency market. The Raiders' defense needs some help. They were not able to pressure the QB at all last season. In a division with Patrick Mahomes and Justin Herbert, you have to pressure the QB. Murphy gives the Raiders an explosive player off the edge that can make QBs uncomfortable.
8. Atlanta Falcons: Edge Tyree Wilson Texas Tech
The Falcons are in a tough spot here. They spent a draft pick on Desmond Ridder last year and the early returns are not promising. However, I am a fan of letting a draft pick develop a little before calling them a bust. For this reason, I have the Falcons thinking defense and taking Wilson out of Texas Tech Do you know what is always nice? Getting pressure on the QB. Atlanta should look to bolster their defense.
9. Carolina Panthers: QB Will Levis Kentucky
The Panthers are another team that could trade up to grab Young or Stroud. I'm sure the Lions or the Seahawks would love to trade back depending on how the players fall. If they stay in their spot I think the Panthers take Levis out of Kentucky. Levis is the most divisive prospect. Either you think he is the next great QB or a complete bust. He is built like an NFL QB and Carolina has some pieces on offense and defense. It may not be a pretty rookie season but I think the Panthers are happy with Levis long-term.
10. Philadephia Eagles (via New Orleans Saints): RB Bijan Robinson Texas
The Eagles are spoiled. Top overall seed in the NFC and they get to pick in the top 10. While they have an aging defense, I don't think this is an area for concern here. Cornerback is an especially deep position this year and the Eagles still have their own pick. Philadelphia will look to bolster their already dynamic offense with the top RB in Robinson. Robinson is the complete package. He can run, catch passes and run block meaning he can play any down. The Eagles enjoy their spoils by taking Robinson.
11. Tennessee Titans: WR Quentin Johnston TCU
The Titans need some help on offense. While the QB position might need to be looked at, it doesn't matter who is playing QB when there is no one to throw to. Johnston solves this problem immediately. He can take the top off of a defense and has the frame of an NFL WR. He can pair with Treylon Burks who showed some good promise this season. If any of the top 3 QBs fall, the Titans could pick one but I think they would be very happy with Johnston here.
12. Houston Texans (from Cleveland): WR Jaxon Smith-Nijba Ohio State
The Texans will look to pair their star QB from their first pick with a young receiver. This has worked out well for teams in the past (see the Cincinnati Bengals) and the Texans will look to duplicate it. I don't think the Texans' defense is awful so they can afford to look to improve the offense. Ohio State has produced some great receivers in recent classes. Pairing Smith-Nijba with Bryce Young will give the Texans' offense stability moving forward.
13. New York Jets: OT Broderick Jones Georgia
It's strange that the Jets do not have many holes on their roster. They really are a complete team that was a victim of injuries and bad QB play. Ultimately, I don't think the Jets can give up enough to move into the top picks for a QB in the draft. I think they look at protecting whomever they get. Mike White got injured because he was taking too many hits. The Jets do the boring but necessary thing in taking Jones out of Georgia.
14. New England Patriots: WR Jordan Addison USC
The Patriots' offense showed some signs of life in the latter part of the season. What they lack is a dynamic playmaker. The defense is set. Special teams players can be found in the seventh round. The Patriots need to get an elite WR in the building. Addison is a great route runner who can cut on a dime. He is excellent in the catch-and-run game and would open up the offense immediately.
15. Green Bay Packers: TE Michael Mayer Notre Dame
It doesn't matter who is playing QB next year, the Packers need to upgrade the TE position. Their red zone struggles often happen because they do not have that clear mismatch target once they get close to the end zone. Mayer is the perfect prospect for the Packers. He can also line up as a WR so he could help in that regard as well. Having to cover Romeo Doubs, Christian Watson, and Mayer would be a tough task for any defense.
16. Washington Commanders: WR Jalin Hyatt Tennessee
Could the Commanders put together a package to move up and grab a QB? They definitely need one. If not, I think they continue to build their WR room. Hyatt has elite speed and would be a great slot receiver next to Terry McClaurin. There is an argument for the Commanders to go defense here but I think that Hyatt is too good of a prospect to pass up at this point in the draft.
17. Pittsburgh Steelers: OT Peter Skoronski Northwestern
The Steelers have to be happy with how Kenny Pickett developed throughout the season. While there is still much to work on, the job now is to protect him at all costs. Skoronski is one of the top tackles in this class and the Steelers will be very happy to pick him up here. It isn't a sexy pick but the Steelers have been able to sustain success by doing the right thing for the past 30 years.
18. Detroit Lions: OLB/Edge Trenton Simpson Clemson
The Lions are on the clock again and I once again think they continue to build that young defense. Hutchinson looks great off the edge but adding another threat on the opposite side is even better. Simpson comes out of Clemson as one of the top edges in the nation. If the Lions can bolster their secondary and their linebacker crew in this draft, they will be very happy.
19. Tampa Bay Buccaneers: OT Paris Johnson Jr. Ohio State
Tampa Bay is going to look very different next year. Tom Brady will most likely be gone so who knows who the QB will be? Because of that, I have the Bucs doing the safe thing and taking Johnson Jr. Regardless of who is the QB, Brady took punishment this year. He had to get the ball out quickly or be sacked. Some of this is due to injuries but the Bucs look to build their depth on the line.
20. Seattle Seahawks: CB Kelee Ringo Georgia
The Seahawks are on the clock again and I still have them working on the defense. Carter will help with the defensive line and Ringo can help with the secondary. I love Ringo personally as a prospect. The knock on him is that he can be too aggressive trying to go for the ball. Oh no! Someone who wants to create turnovers! Ringo can help be a part of a growing secondary.
21. Jacksonville Jaguars: CB Cam Smith South Carolina
I think the offense is okay for the Jaguars. They spent a lot in the offseason and got a pretty good return on their investment. Jacksonville can now focus on the defense which was not elite by any means this season. Smith can help solidify the CB position for the Jaguars. Also, the offensive talent simply isn't here right now in the draft. They can wait and get quality prospects in later rounds.
22. New York Giants: DB Brain Branch Alabama
Getting rid of James Bradberry hurt the Giants' secondary. It was necessary for the salary cap but the Giants need to find some talent in the secondary. WR could be another position the Giants give a look at here but I think they prioritize the defense. The offense could look very different depending on who is quarterbacking the team next season. They go for the safe pick and help the defense.
23. Los Angeles Chargers: OLB/Edge Nolan Smith Georgia
I think the Chargers might be in the mix to trade up for a WR. They desperately need one but at this point, the value isn't there. The top 4 are off the board and any of them now would be a reach. The Chargers' defense is loaded with talent but has problems on the field. Nolan Smith will infuse some young talent into the defense and give some rotation to the pass rush.
24. Baltimore Ravens: CB Antonio Gibson Texas A&M
At this point, I might as well not even give a pick for the Ravens. Everything the Ravens do in the offseason hinges on whether Lamar Jackson is under center for them next season. I have a hard time believing they let him walk but you never know in this league. I have them taking a CB to help with their already good defense but this is one that stumps me because everything revolves around Lamar.
25. Dallas Cowboys: WR Josh Downs North Carolina
The Cowboys need some help at the WR position. Jerry Jones often reaches a little bit for offensive talent. Downs is a quality prospect who caught a lot of passes in Phil Longo's offense. Dallas needs someone to pair with Ceedee Lamb and make the offense more dangerous. Downs is a perfect fit for Dallas.
26. Cincinnati Bengals: DE/Edge BJ Ojulari
The Bengals are full of young talent but more of the offensive side than the defensive side. Their edge depth is lacking a little bit and they could use some more ways to rush the passer. In the AFC, there are a lot of young QBs that will need to be shut down over the next 5-10 years. Ojulari is a quality edge prospect that would fit right into the Cincinnati defense. The Bengals could look to the TE position here but I think the edge talent is too good to pass up.
27. Denver Broncos (via SF through MIA): TE Darnell Washington Georgia
The Broncos' defense is pretty much set though one can never have too much talent on defense. After they traded Noah Fant to the Seahawks in the Russell Wilson deal, they lost a part of their offense. Washington is a huge target one that Wilson cannot miss in the red zone. He is also a good blocker and would help in pass protection. The Broncos need to show some type of improvement on offense and that starts with putting more talent on the field.
28. Minnesota Vikings: Edge Isaiah Foskey Notre Dame
The Vikings' defense left much to be desired this season. The Minnesota teams of old were dominant when they had a dominant pass rush (Think Jared Allen era). While the Vikings have an aging defense in many other places, the edge position is one that is very valuable in the NFL right now. Foskey is one of the top edge prospects and would be a perfect fit opposite Za'Darius Smith who had an excellent season.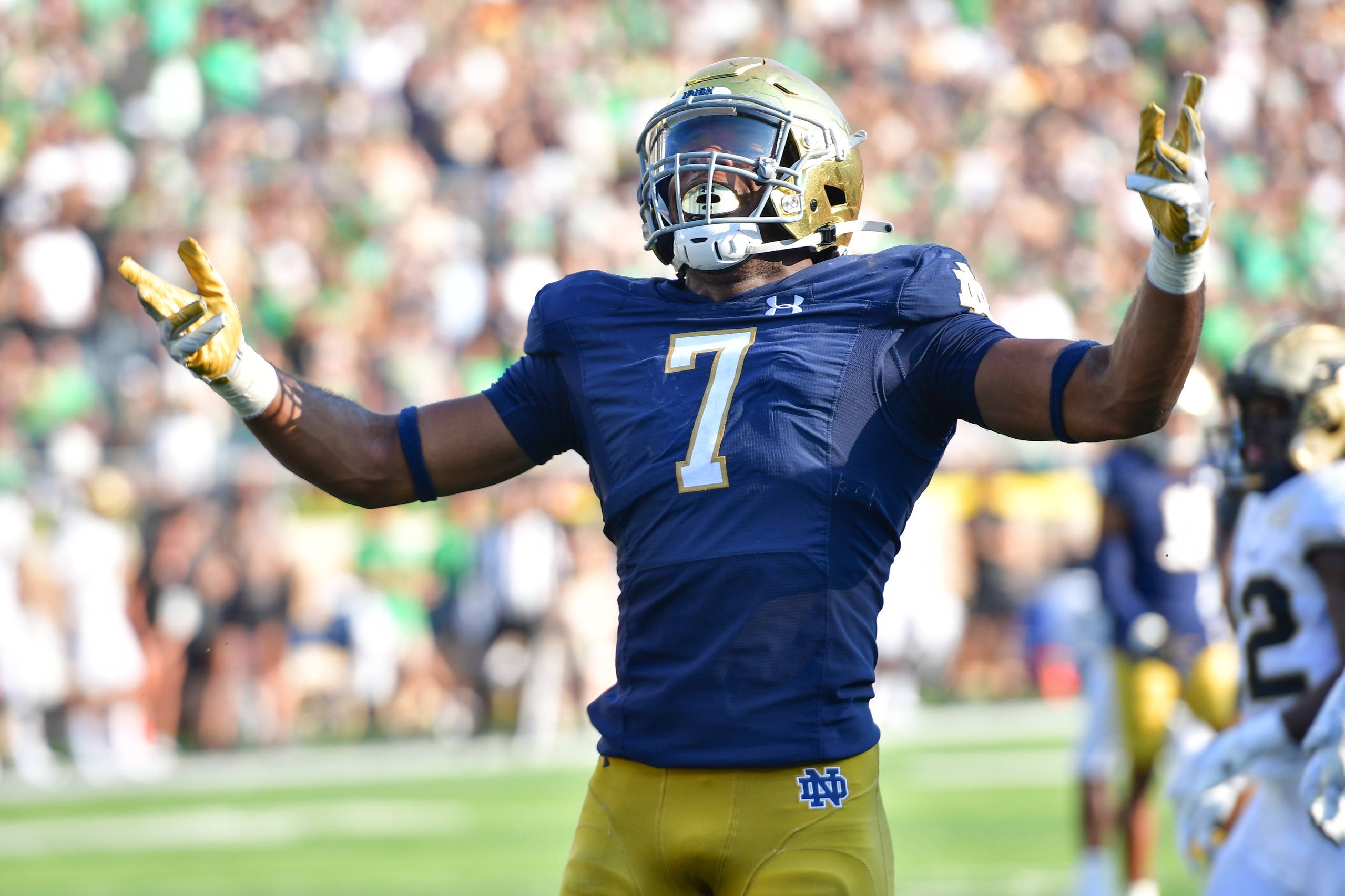 29. Buffalo Bills: OLB Andre Carter II Army
The Bills have been ravaged by injuries, especially in their secondary. For this reason, I have them taking Carter II in the late first round. He would not be under pressure to come in and save the secondary but could learn under some elite talent. He would be able to solidify a unit that has shown some cracks this season. The Bills have very few holes but adding depth on defense is never a bad idea.
30. Kansas City Chiefs: OT Anton Harrison Oklahoma
Priority number one of the Chiefs is protecting Mahomes. The offensive line is not bad by any means but I would also not call them one of the top units in the league. Adding some depth now addresses the situation before it becomes a problem. It isn't an exciting pick but talent on the Chiefs roster can elevate lesser players. Look for them to bolster their line in the late first round.
31. Philadelphia Eagles: Clark Phillips III Utah
If you are going to poke holes in any part of the Eagles team it is their secondary. Darius Slay and James Bradberry will both be over 30 entering next season. With their second first-round pick, the Eagles will look to replace one of them. Phillips III doesn't need to come in and make a difference immediately which is the beauty of the situation. The Eagles can have him learn from Slay and Bradberry and come in when it is needed.
That's my 2023 NFL mock draft version 2.0! As the playoffs continue, the order will get set. As we move into free agency, more needs will be revealed. Stay tuned for the next version!