In their first playoff game since 2016, Daniel Jones led the New York Giants to a win against the Vikings. The Giants offense was on fire due to the Vikings terrible defense on the pass. New York paved their win through Daniel Jones passing for 24/35 with two touchdowns and no interceptions. This performance gives Daniel Jones the confidence to be a good QB for the Giants future. Along with having a good passing game, Jones rushed for 78 yards showing his mobility in the playoffs. After the win, the media, teammates, and coaches praised  Jones's abilities as a QB and a leader post-game. The Giants win in the playoffs proves Daniel Jones, even with his flaws, can win.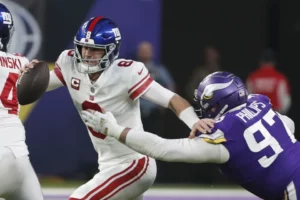 Daniel Jones Becomes Danny Dimes
Daniel Jones throughout the game, was excellent, with two significant touchdown passes to Isaiah Hodges and Daniel Bellinger. Along with Jones's passing was his rushing for around 78 yards sustaining drives for the Giants. New York took great advantage of the Vikings poor defense for the 300 yards for Daniel Jones to make. The Giants took everything from the Vikings bad defense and got the win. Jones also did well with the pressure with his scrambling abilities avoiding sacks. The Vikings had no answers for Jones throughout the game except for the final drive due to a dropped pass. In the end, the Minnesota Vikings defense failed, and Daniel Jones took great pleasure in leading the Giants to victory. 
"What Daniel Jones did on Sunday against the Vikings was cement himself as this team's franchise quarterback."@Connor_J_Hughes breaks down Daniel Jones' incredible performance and how he's established himself as the Giants' franchise QB: pic.twitter.com/Hvn9FOkr9M

— Giants Videos (@SNYGiants) January 16, 2023
The Team Supporting Daniel Jones
In the post-game, the players and coaches in the media conferences praised Daniel Jones's abilities throughout the night. Rookie edge rusher Kayvon Thibodeaux gave a quick yet powerful answer about Daniel Jones in the clutch. Along with Thibodeaux, Saquon Barkley also said that Jones is a "special player" with his performance against Minnesota. Daniel Jones's performance in this game was impressive for a player that fans disliked since he was drafted. Daniel Jones also won the game, with little-known receivers Darius Slayton and Isaiah Hodges getting the best of them. The coaches also praise Daniel Jones after their win, with Daboll praising him as a "leader." Daniel Jones proves he can lead a team to victory in this playoff win.
Will The Giants Keep Jones?
The New York Giants will need to keep Jones, even with his faults, because he could have value elsewhere. New York will have to make tough decisions soon with Jones and the future of his career.  The Giants declined his fifth-year option before the season, thus putting a chip on Daniel's shoulder. With this victory, the front office; will need to make a hard decision on Jones's future with them. Winning playoff games can make players' careers, and Jones is hopeful that New York will keep him. The hopes for a deep playoff run for a team that didn't expect much can lead to a great future, and Daniel Jones hopes he will be a part of the Giants future.
What To Do Now For The New York Giants
New York, still learning to like Daniel Jones, has to consider him as a franchise QB after their win. If Daniel Jones continues this type of performance, this Giants team could have some magic in this run. The Giants could also explore extending Daniel Jones and Saquon Barkley after this playoff run. Even though Daniel Jones has flaws, leads a team to a playoff win and potentially more.
For More Great Football Content
Follow us on Twitter at @GridironHeroics for more great content. We appreciate you taking time to read our articles. To interact more with our community and keep up to date on the latest in Football news, JOIN OUR FREE FACEBOOK GROUP by CLICKING HERE
Checkout our latest podcast!
[powerpress_playlist limit=1]