When discussing the all-time great quarterbacks in Virginia Tech history, Jim Druckenmiller has to be part of the conversation.  In two years as a starter for the Hokies, he won 20 games, and the Hokies finished each season ranked in the top 10.  In that time, he amassed 4174 passing yards, and his overall 4383 yards are 9th most in school history.  He threw 31 touchdowns in those two years, and his 34 career TD passes ranks 6th all-time for the Hokies.  He finished at Tech with an overall passer rating of 130.1.
Bigger than this, though, was how he led a Virginia Tech team to new heights, taking the Hokies to their first ever New Year's Six bowl – not once, but twice.  His victory over Texas in the Sugar Bowl is arguably still the best bowl victory in the school's history.  It can also be argued that Druckenmiller paved the way for the future success of the Hokies, who went on to be a perennial power on a national scale after he graduated.
Success was not always a given, however, as Druckenmiller faced adversity in sports at every level.  Often, his patience was tested, but time and time again, when he got his opportunity, he rose to the challenge.  "Sometimes you just gotta get a shot when the lights are on," he says, a mantra that has followed him throughout his life.
Growing up In the Quarterback Heartland
Hailing from Pennsylvania, it is no surprise that Jim Druckenmiller became a great quarterback at Virginia Tech.  After all, the Keystone State produced several NFL legends, namely Johnny Unitas, Joe Namath, Joe Montana, Jim Kelly, and Dan Marino.  The state also boasts many other talented college and professional quarterbacks, such as George Blanda, Rich Gannon, Kerry Collins, Matt Schaub, and Matt Ryan.
However, the road for Druckenmiller was not always easy, and it did not appear that he would even be a Division I college football player.
Jim Druckenmiller grew up in Northampton, Pennsylvania, a working-class town known for its production of cement.  His home town is located in the Lehigh Valley just a few miles north of Allentown.  The Northampton High School sports teams are named the Konkrete Kids, an appropriate moniker for Druckenmiller, who would eventually prove his strength and toughness on the gridiron.
As a youth, he played three sports, baseball, basketball, and football.  Athleticism was in his blood, as his father Jim Sr. played baseball at nearby East Stroudsburg University, and his uncle Dennis Onkotz was an All-American linebacker at Penn State.
Heading in to high school, Druck (as he was affectionately known to Hokie Nation) hoped to continue to compete in all three sports.  However, he was cut from the basketball team as a freshman, a sport he would not play again until his senior year when the coach asked him to come back.
He took the setback well, finding another productive outlet for himself.  "I just said, you know what, that's fine, I'll just go work out in the winters, and it worked out best for me."  Little did he know that work in the weight room was a harbinger of his success to come.
Despite this hard work, Druck still only had moderate athletic success.  He wanted to be a linebacker, but he was too small.  As a junior, he started the season as the third string quarterback.
This is the first time the "lights came on" and he got his shot.  As fate would have it, injuries hit the quarterback position early in Druck's junior year, and before he knew it, two quarterbacks went down and he had his opportunity.  "I went in, and I was just slinging the ball all over the field," he remembers, and he was the starter from that point on.  He never looked back and had the starting job for the next year and a half.
In his senior season, Druck threw for 1040 yards and 11 touchdowns.  In his final game, he threw a touchdown pass with 15 seconds left to beat his school's rival – sound familiar?  (if not, read on…)
By the time that senior season ended, Druck knew he wanted to play football in college, but unfortunately, he did not have many offers.  At 6'1" 185 pounds, he wasn't anywhere near the size he would be at Virginia Tech (where he graduated at 6'5" 235 pounds), so his opportunities were limited.  Very limited.
The Rocky Road to College Football
Current Virginia Tech coach Brent Pry's father recruited Druck to East Stroudsburg, and he seriously considered that option as he prepared to graduate in the spring of 1990.  However, at that level, there was no scholarship offer, so he wasn't totally sold on the idea of going to ESU.
Fate came knocking again when his guidance counselor, Dan Marakovits, said something that changed Druck's life forever.  "Listen, you've got an arm, you just don't have a lot of experience," Marakovits told his student.  Then he suggested Fork Union Military Academy.  "Just go there for a year, and just develop."  On that advice, Druckenmiller chose to be patient and prep for a year at Fork Union, a decision that ultimately allowed him to get to Virginia Tech.
At Fork Union, Druckenmiller continued to hone his skills at quarterback.  He also played baseball while there, earning team MVP and some college interest.  He considered pursuing baseball at the next level, especially because he still lacked scholarship offers to play football.
Fortunately for Druck – and for Hokie Nation – Virginia Tech came through with the only scholarship offer he received.  That was the deciding factor for him.  "Football it is, it's a scholarship," he chuckled as he recalled the situation.  "One and only one."
A Slow Start at Virginia Tech
Having finished his year at Fork Union in the spring of 1991, Druckenmiller was ready to enroll at Virginia Tech that fall.  However, an injury suffered in his first game at Fork Union was still affecting him, so the Tech coaching staff told him to take the fall semester off for rehab and to "grayshirt" – to enroll in the spring of his freshman year, saving his eligibility but providing him the opportunity to participate in spring practice.
He did just that, recovering from the injury and enrolling in Virginia Tech in the spring of 1992.  The quarterback room was full, and he was still relatively green, so Druck went through spring practice, then he red-shirted the following fall, a 2-8-1 campaign that featured sophomore Maurice DeShazo at quarterback.
DeShazo would flourish the next two years, throwing for 4190 yards and 35 touchdowns in that span.  He also led Virginia Tech to 17 wins over those two seasons, and he took them to two bowl games, starting the Hokies' incredible 27-year bowl streak.
Druck would have to wait again.
From Konkrete Kid to Super Iron Hokie
It wasn't easy on him mentally.  He was an intense competitor and wanted to play.  Already three years removed from high school and staring at two more as a backup, he remembers thinking, "Am I ever going to get a chance here?"  Thoughts of transferring to East Stroudsburg even entered his mind!
But once again, adversity led him down a path that, unbeknownst at the time, would benefit him greatly down the road.  Druckenmiller committed himself to the weight room and used that as his outlet.
"Early on, with the frustration of the first three years, I just took it out in the weight room," Druck recalls.  He decided,  "I'm gonna hit the weight room hard, and I'm gonna mature."  He credits Virginia Tech's long-time strength and conditioning coach Mike Gentry for helping him build his body into the Super Iron Hokie that he would become.
(author's note – under Mike Gentry, the Virginia Tech football team participated annually in the Iron Man competitions. The grueling challenge included pushing a Ford LTD station wagon 30 yards, tossing nine 25-pound bags over an 8-foot fence, and pulling a sled loaded with 250 pounds 30 yards.
Players earned different levels of achievement, and Druckenmiller earned the highest level – Super Iron Hokie – his last two years.  He still has the meager trophy – despite winning Big East offensive player of the year and a captains' award, he is still most proud of his Super Iron Hokie trophy – and his hang clean record lift of 405 pounds!)
Having to Prove Himself in 1995
 After the 1994 season, the quarterback position was up for grabs at Virginia Tech.  Druckenmiller was entering his fourth year in the program, but he would have to beat out a highly-touted newcomer Al Clark for the job.  He recalls the moment he realized that the lights were about to shine and he was finally going to have his shot.  "(Offensive coordinator Ricky) Bustle pulled me aside and said, 'Listen man, you and Al Clark are in a competition.  It better be a clear win or we're going with the younger guy'."
The message was loud and clear to Druckenmiller, who won the job and then went out and threw for 296 yards in a Thursday night season opener in Lane Stadium against Boston College (at the time, it was a record for a Virginia Tech quarterback in his debut).  He would have broken 300 yards – and probably won the game – had a perfectly thrown deep ball not been dropped late in the game.
The following week, the weather was atrocious and the Hokies offense wasn't much better as Virginia Tech lost to Cincinnati 16-0 at home.  Druck recalled the struggle well.  "Cincinnati comes in with that 3-4 defense, and we thought we'd know how to block it, and we did not know how to block it!"
The Hokies only put up 239 total yards of offense and turned the ball over five times.  Druck was pulled from the game in the fourth quarter, and the team fell to 0-2 with Miami slated for the next week, a team Virginia Tech had never beaten prior to 1995.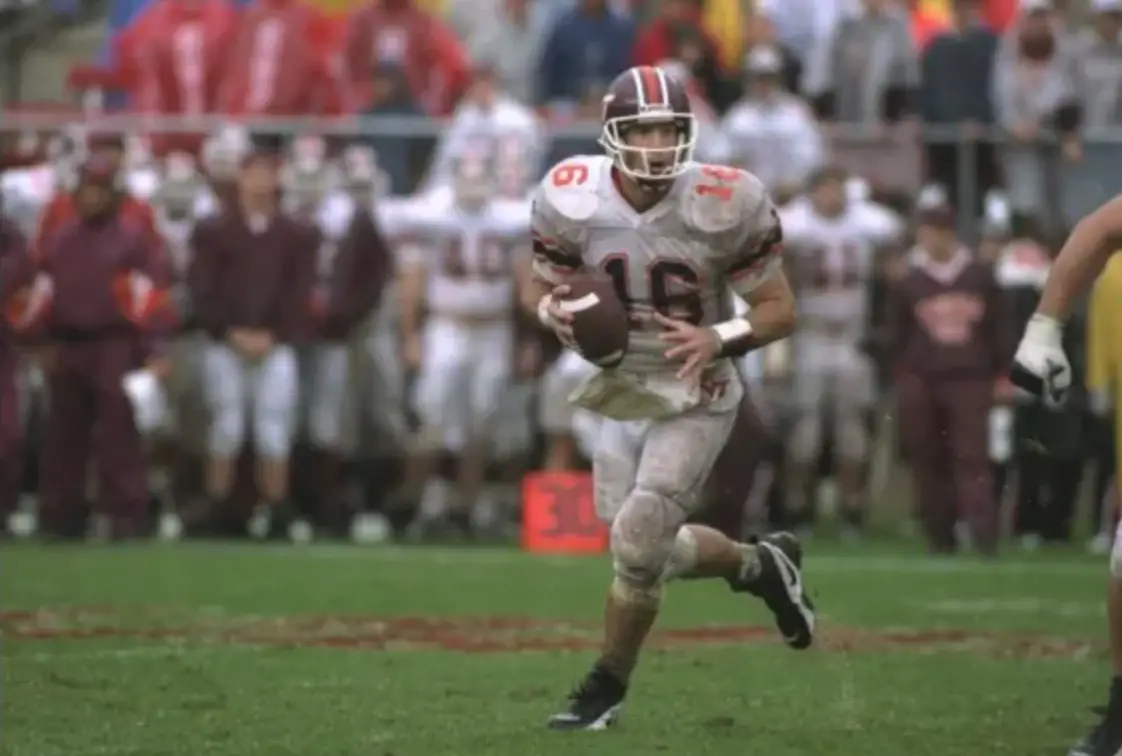 After mixed performances in his first two starts, Druck realized the significance of the situation and amped it up in practice heading into the Miami week.  He recalled a goal-line walk through session where someone was out of position and Druck got on his O-line.  It was a colorful exchange, one Druck referred to as a "come to Jesus meeting" with his teammates.
Line coach J.B. Grimes tried to intervene, saying it was only a walk through, but Druck persisted.  "I don't give a damn!"  he shouted.
"Just let him go," Coach Bustle said.  "Let him get it off his chest."
The fire and passion were effective, as Virginia Tech did something they had never done before – beat Miami.  After losing twelve straight to the 'Canes, the Hokies rushed for 300 yards in the victory.  The defense held Miami to 7 points.  Druck's message to his teammates made it through!
Ten Straight Wins
Even bigger was the turnaround that just began.  After an 0-2 start, the Hokies beat Miami, the first of what would become a ten-game winning streak and an historic season.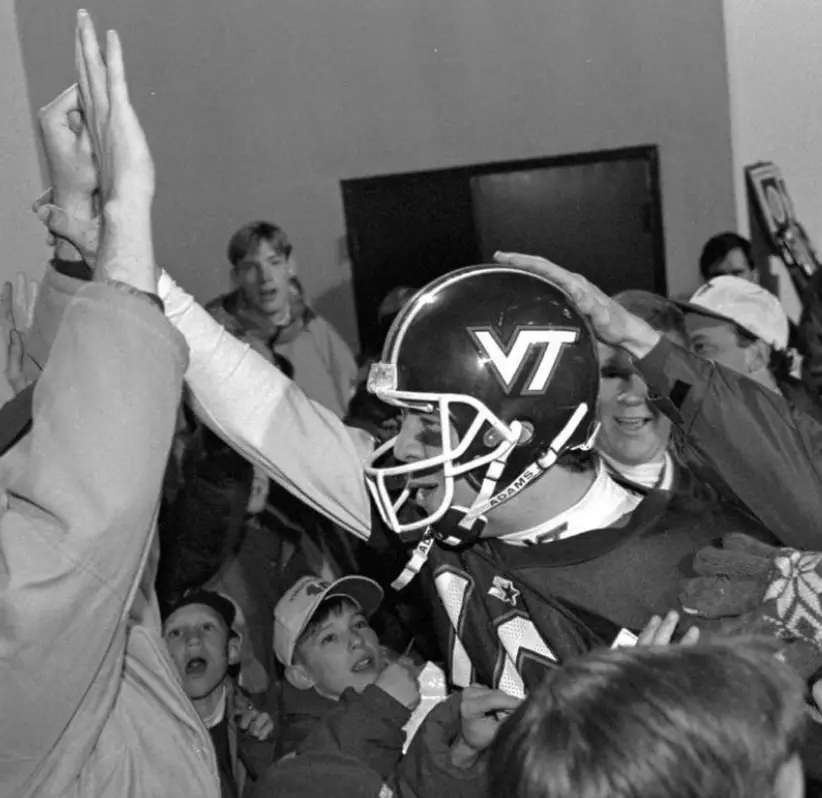 But for Druckenmiller and company, it was just one game at a time.  "I didn't know who we were playing the next week," Druck admitted.  "I couldn't tell you who we were playing the next week I was so focused on what we were doing then."
That mentality was fruitful, as week after week, Virginia Tech played inspired football.  By week six, they were hitting their stride, scoring 77 points against Akron.  They wouldn't score less than 27 the rest of the season, and the defense led the nation in rushing defense and scoring defense.
The only threat to that streak came against in-state rival Virginia.  Down 29-23 with the ball and 2:12 to play, Druckenmiller engineered what Bill Roth called "The greatest comeback I've ever seen."  He took the Hokies 71 yards in 10 plays and just under a minute and a half for the score.  Just like he did in high school, Druck again beat his rival with a late touchdown pass!
Druck happens upon that video clip regularly, and he admits, "That was special.  I still get goosebumps every time I see it or talk about it."
author's note:  Druck, we ALL get goosebumps when we watch it again!  Especially those who saw it live the first time!  Here is that clip:
With the Big East championship clinched, Druck and the Hokies made their way to the Big Easy for the Sugar Bowl to face the 9th ranked Texas Longhorns.  The blue-blooded Longhorns, a storied program in college football, came into the game with one loss, featuring the highly-touted James Brown at quarterback, and future NFLers Ricky Williams at running back, and Tony Brackens and Bryant Westbrook on defense.
But much like they were the entire year, the Hokies were dialed in and did not seem fazed by the allure.  Druckenmiller went as far as saying, "Growing up in the Northeast, you don't think of Texas.  You think of Penn State.  That wasn't a concern to me."  Instead, he was focused on his own team.
And the team was focused too, taking care of business, especially in the second half as they scored 21 unanswered points to put the game away and win, 28-10.  Druckenmiller threw for 266 yards and a touchdown in the game.
The victory gave the Hokies their first 10-win season ever and it elevated them to their first top-ten finish in school history.  To this day, it is often considered the biggest bowl victory ever for the Hokies.  However, Druck and his teammates did not see it that way when it happened.
"It was just another win," he said.  "We didn't think much of it."
Loftier Heights in 1996
With a lot of key players returning, the Hokies ripped through the 1996 season en route to the school's first 10-win regular season.  They averaged 30.8 points per game on offense, while the defense gave up only 17.4 points per game, finishing at 10-1.  They won the conference again, and for the second time ever and second year in a row, they found themselves in a New Year's Six bowl game.
The 6th ranked Cornhuskers of Nebraska were too deep for Virginia Tech however, and after a valiant effort, Nebraska put the game away late to win 41-21.  However, that loss does not diminish what Druckenmiller and his teammates did over two years.  They won 20 games, they finished in the top 10 for the first time in school history, and they won the Big East championship two years in a row.  They also continued the school's bowl streak, but they elevated their national status by playing in two consecutive New Year's Six bowls.
On to the NFL
Having exhausted his eligibility and earned his degree, Druckenmiller turned his attention to the 1997 NFL draft.  Druck was selected in the first round, taken with the 26th pick by the San Francisco 49ers.  He became the third ever first-round pick for Virginia Tech (Bruce Smith 1st overall in 1985 and Eugene Chung 13th in 1992).
At the time, the 49ers still had future Hall of Famer Steve Young at quarterback.  Because of this, Druckenmiller did not see much action.  In his first two years (1997-98), Druck only started one game and had six total appearances.
And then Bill Walsh returned to San Francisco as the General Manager before the 1999 season.  Walsh was a pioneer of the West Coast Offense, and he didn't like Druckenmiller, who was better as a pocket passer, as the future quarterback.  Walsh started shopping Druck and traded him to Jimmy Johnson and the Miami Dolphins.
Once again, Druckenmiller found himself behind a legend, as Dan Marino was finishing his career that season.  The Virginia Tech graduate did not see the field.  The following season, the first for the Dolphins without Marino, Druckenmiller was in a quarterback battle with Jay Fiedler and Damon Huard, who had already been with the Dolphins for a few seasons.  By the end of camp, Miami chose Fiedler as their starter and Huard as the backup, and they released Druckenmiller.
He signed on with the Indianapolis Colts for the following spring – once again behind a future Hall of Famer, this time in Peyton Manning – but Druck did not make the roster for summer camp.  He then played on the Los Angeles Avengers of the Arena football league, seeing only one appearance.  He just could not get that opportunity to start a few games in a row and hit his groove.
That is, until the XFL came calling that spring.  Druckenmiller signed on to play for the Memphis Maniax of the new Extreme Football League, which was created as a joint venture between Vince McMahon's World Wrestling Federation (WWF, which is now the WWE) and NBC.
Unfortunately, Druck started the 2001 season as a backup (again!) to Marcus Crandell (formerly of East Carolina University). Crandell started the first three games, but after suffering an injury in the third start, Duck finally got his chance.  His light was shining!
For the next seven games, Druckenmiller not only held onto the starting job, but he also became one of the league leaders as a quarterback.  He finished the year second in touchdowns and third in passing yards – despite sitting out all or most of the first few games!
After completing 109 of his 199 attempts and throwing for 1499 yards and 13 touchdowns, Druck was excited about his new career.  The words of his friend and former coach Steve Mariucci seemed so appropriate then: "Sometimes change is what everyone needs."
Memphis Maniax quarterback Jim Druckenmiller scrambles for yards against the San Francisco Demons at @LibertyBowlMem on Feb. 17, 2001. #XFL pic.twitter.com/44Czhk2Vt2

— XFLmemories (@XFLmemories) March 5, 2017
And then, change came again, but in a bad way.  Just like Lee Corso on college gameday, the professional football gods again said to Druck, "Not so fast, my friend."
Just a few weeks after the championship game of its inaugural 2001 season, the league folded.  And just like that, Druckenmiller was looking for yet another new team to call home.
He got one final chance to play in the NFL when the Colts again signed him in the offseason.  However, Peyton Manning was still there.  The Colts brought in a few quarterbacks to fight for backup roles, and in the end, they decided against Druckenmiller, releasing him before summer camp.
Life After Football
Since his wife at the time was from Memphis, Druckenmiller returned to the blues capital of the world. Like many others who are suddenly without a job, he had to figure something out quickly.  He did what so many other job seekers did – he floated a lot of resumes.
Memphis, Tennessee is a little bit outside the Virginia Tech footprint, so the name Jim Druckenmiller was not so readily recognizable in the region.  However, Steve Mariucci, Jimmy Johnson, and Frank Beamer were nationally known names – and they happened to be the three names Druck listed as references on the bottom of his resume!
That is exactly how he landed his first interview.  Druckenmiller, who is still friends with the man who first hired him, remembers how his soon-to-be boss saw those names on the resume and said, "I just gotta bring him in to talk to him."
Druckenmiller was offered a job as an outside sales representative in the Virginia and Washington DC areas.  He eventually became a manager of the non-profit sector, and he enjoyed how that brought him back into sports.  He noted one business trip to the Little League World Series that stands out.  "I was in the dugout with Brent Musberger," he recalled, "That was pretty cool."
Unique experiences like that notwithstanding, Druckenmiller's new profession did not bring him happiness and fulfillment in his work.  After about ten years, he looked for a change.  He found one when a friend in the beverage distributor business helped him land a job as an area sales manager.
The change was welcomed.  "It was fun for about a dozen years," Druck recalled, "but then they changed ownership."  Unfortunately, significant changes came with the new owners and values did not align, so Druck was on the move – again.
Druck Finds his Calling
Much like his athletic career, Jim Druckenmiller had to exhibit patience and perseverance to find his peak in his professional career.  After two decades, he found his niche with Beltone, a hearing aid company that provides hearing screenings, hearing aid fittings, and follow-up care for patients.
A friend's wife owned two Beltone offices in Memphis, and she invited Druckenmiller in to see what it was all about.
"I quickly saw how much these little devices were changing people's lives for the better,"  Druckenmiller realized on his visit.  He also liked how the approach was patient-centered, and both of these features of the job appealed to him.  He decided to join the Beltone team.
"I quickly fell in love with the job," Druckenmiller admitted.  He said that it feels like he hasn't worked a day since signing on at Beltone!  It has become a passion for him, much like sports used to be.  "It's not football, but it's a very close second."
Druckenmiller also has had a longtime respect for veterans.  The Beltone Hearing Care Foundation is their charitable organization that donates hearing aids to qualifying individuals in needs.  Often, these candidates are veterans, and fitting them with free hearing aids is yet another aspect of Druck's career that gives him satisfaction.
"This job is very gratifying," he said.  "It's very, very rewarding."
And it is also personal for Druck.  At 50 years of age, he acknowledges that he also suffered from hearing loss.  So did his father, grandfather, and aunts and uncles.  He treats them all, and he has been treated himself.  This job has given back to him in many more ways that he could have imagined!
Life is Good
With a very fulfilling job and a happy marriage of seven years and counting, Jim Druckenmiller is living the good life.  Recently relocated to Charlotte and still a Hearing Instrument Specialist with Beltone, he loves travelling, listening to live music, being near the water, and spending time with his wife.  He likes to keep it simple.
Maybe that simplicity is a by-product of aging?  After 50 trips around the sun, Druck acknowledges the effects of Father Time.  "You can tell when you're getting old, because I'm out back and I'm starting to name the birds that land on the bird feeder," he joked.  "I'm excited to see a deer walk out of the damned forest."  He saw a buck and texted his wife because he was so excited.  "That's when you can tell, 'Alright, you're getting old'," he laughed.
He also enjoys hanging out with friends, especially former teammates. Like most football players, he enjoyed the camaraderie and the locker room.  And at Virginia Tech, there was a strong team bond, much like a family for Druck and his teammates.  He enjoyed the fun and the passion of Blacksburg, and like so many other Hokies, he enjoys returning and catching up with old friends.
However, moving around so frequently with professional football and then living in Memphis for so long, Druckenmiller did not get back to Blacksburg as much as he would have liked to over the past few decades.  But that all changes now with his move to Charlotte. "I'm glad to be back on the east coast," he said, "I'm glad to be three hours from Tech."
He also enjoys some quirky benefits of his former fame.  Druck admitted that he still gets fan mail!  Granted, the letters go to his father's address and not his, but his dad always saves them and gives them to Druck, who then likes to read them with his wife.  It's heartwarming for them both.
Some autograph seekers even include trading cards and return envelopes.  "I still read them all," he admits. "I sign every card and send them back."
Lessons Learned from Football
It is a common occurrence to hear former athletes, especially those who have played collegiately and even professionally, reflect on the life lessons they learned by playing their respective sports.  Jim Druckenmiller is no exception.
One is a hard lesson. "Life ain't fair," Druckenmiller acknowledged.  "It is not fair and it'll let you know in a heartbeat."  But he also noted that football toughened him up, which helped him deal with his share of adversity throughout his football career and in his own life.
He also sees another silver lining in such a tough lesson.  "If you stay on the path, good things happen.  It may not always be what you want, but at the end of the day, you get what you need."  This is particularly true for him, as his perseverance in football led to great success at Tech, and it also helped lead him to a profession that he really loves.
Football has given him what he considers the foundations to help him in this world, and he is thankful for that.  He is especially thankful to Virginia Tech.  He recalled how as a kid, he always wanted to go to Penn State.  However, "looking back on it, I would not change a single thing.  I would redo it over and over.  Blacksburg is special."
Jim Druckenmiller's Legacy
One cannot understate the value of Jim Druckenmiller's leadership to the Virginia Tech program. Maurice DeShazo took the team out of mediocrity and started the infamous bowl streak. Druck took it to the next level by leading the Hokies to two consecutive BCS bowls, and by beating Texas in the Sugar Bowl, which to this day is still probably Virginia Tech's best bowl victory ever.
There are other factors here, too, ones that are not so obvious to the casual fan, but clearly have ties to Druck. It can be argued that Michael Vick might not have come to Tech if not for the success of Druckenmiller and the '95 and '96 teams. Yes, cousin Dwight was probably the greatest influence, but Dwight Vick himself admits that the winning helped.  If the Hokies were still mediocre, Michael Vick might not have come to Blacksburg.
And then there are the little things like the jersey contracts. When Druck was leading Virginia Tech, the Hokies were wearing jerseys manufactured by Wilson and Starter. Just two years after Druck graduated, the Hokies were wearing Nike jerseys.  Granted, Virginia Tech's Nike contract today is not very good, but at the time, it was a much bigger deal for Tech to sign on with Nike over those other manufacturers and show that they had risen in national prominence.
The '95 and '96 teams were outstanding teams with outstanding players.  And for two years, Virginia Tech's quarterback Jim Druckenmiller led those teams to greatness.  He had to wait a while, but he finally got his chance, and he came through.
Like Druckenmiller said, "Sometimes you just gotta get a shot when the lights are on."
Thank you, Druck, for making the most of your shot when the lights were on you in Blacksburg!
To read more of my articles on Virginia Tech football, click here.
­­­