There is a lot of excitement in Blacksburg for the Virginia Tech Football 2023 season!  It is year two of the Brent Pry era, and after an excellent off-season in recruiting, the team is focused on their first game of the year.
A lot of roster turnover occurred from a squad that had its worst offensive performance in half a century.  There is a good mix of returning starters, veteran transfers, and promising young players vying for spots in the two-deep.
Returning running back Malachi Thomas and transfer Bhayshul Tuten should provide a nice 1-2 punch out of the backfield.  ODU transfer Ali Jennings III will lead a revamped wide receiver room.  The defense has playmakers in the secondary and some promising players on the line.  If the offense can rebound to even middle-of-the-pack performance, or if playmakers can make more big plays, a bowl bid is certainly an attainable goal.
Last year's stock portfolio tanked, as none of my potential diamonds in the rough panned out.   But then again, with that historically bad offense, what Hokie stock outperformed predictions?  I don't feel so bad about being wrong.  With a new year and a new hope, much like the Hokies' offense, I am looking for redemption, so here goes…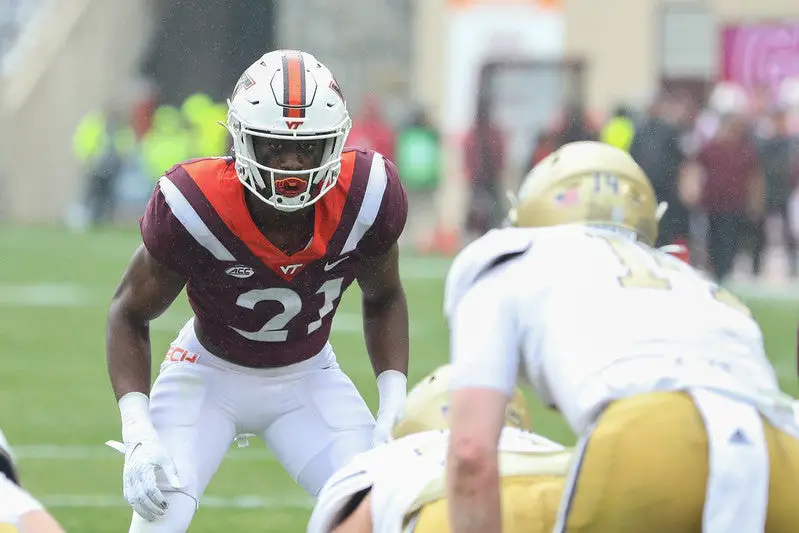 Linebacker Keli Lawson
This is my Jim Cramer Lock of the Year pick.  The 6'4" 220-pound Lawson is a freakish athlete.  So much so that he was named to Bruce Feldman's annual 'freaks' list.  With a wingspan of 82 inches (that's almost seven feet!), a vertical leap of 39 inches (over three feet – those are some mad ups!), and a 40-yard dash time of 4.6 seconds, opposing quarterbacks are going to have to know where he is at all times.  Just look at this play against Georgia Tech last year where used his length to deflect a pass, then used his athleticism to haul it in and rumble into the end zone:
Lawson is still learning the linebacker position – remember, he was converted from wide receiver prior to last year. But his strong finish last season suggests that he should take off this year.  In the final three games of 2022, Lawson had 16 tackles (with 3 for a loss), a sack, a pass breakup, and the previously highlighted pick-6.  Defensive coordinator and linebackers coach Chris Marve is high on Lawson and sees him as an emerging leader.  He is poised to have his breakout year.  Buy his stock now, and don't be surprised to see his name on one of the post-season All-ACC lists!
 Defensive End Antwaun Powell-Ryland(APR)
Florida transfer Antwaun Powell-Ryland, or more simply known as "APR," is a former top five recruit from Portsmouth, Virginia.  After a few years playing sparingly for the Gators, APR came on strong to end last season.  He started the final five games, finishing the year with 29 tackles, 3 sacks (which would have been second-most for the Hokies in 2022!), and 3 forced fumbles (better than any Hokies last year).  He played outside linebacker for the Gators, but he will be a defensive end for Virginia Tech, hoping to provide much needed help with the pass rush. Last season, APR recorded a PFF Pass Rush Grade of 82.1 overall and 76.5 against SEC competition.  I am betting that those numbers improve against ACC foes, and everything I'm hearing is that he can be a difference maker for the Hokies.  Pry raved about APR in an early camp one-on-one drill, saying, "We just hadn't seen a rep like that since we've been here." Since then, the praise has continued from the coaches.  I don't expect APR to be the next Corey Moore or Cornell Brown, but I do think he will lead the team in sacks and be a disruptive force, something the Hokies' defense has been lacking in recent years.  Watch APR's highlight video from last year (below), then place your order to buy his stock:
Wide Receivers Jaylin Lane and Da'Quan Felton
There are lots of opportunities for stocks to soar in the Virginia Tech wide receiver room this year.  Leading receiver Kaleb Smith is gone, and no one else accumulated more than 256 yards for the Hokie last year.  Ali Jennings III headlines the WR transfers, and he is likely to replace Smith's production as WR1, if not improve upon it.  Because of that, expect Jennings to see more double teams and bracket coverage, opening up opportunities for the other receivers. Transfer Jaylin Lane is a speedster who will be in the slot.  He racked up 940 yards receiving and five TDs last year at Middle Tennessee.  Da'Quan Felton is a 6'5" transfer who can use that height to take advantage of single coverage, especially in the red zone.  He had 573 receiving yards and 7 TDs at FCS Norfolk State last year.  Both of these receivers – plus Jennings – made the preseason Senior Bowl watch list.  There should be improvement across the board in the wide receiver room, but I'm betting that Lane or Felton – or both – builds significantly on at least one of those stats.
Head Coach Brent Pry
As I wrote in last year's version of this article, every Hokie should have bought stock in Brent Pry.  His energy is contagious, and he is embracing the spirit of Hokie Nation.  Unfortunately, as we all know, Virginia Tech went 3-8 last season, possibly lowering his stock price.  And that is exactly why I'm buying more now.  Borrowing the oft-used (and paraphrased) words of the legend himself Frank Beamer, "We were a few plays away" in several games last year.  I firmly believe that Pry has learned much from the struggles of 2022, especially in terms of being a coach, and his recruiting has been great considering where the program is.  And again, who can't love his infectious enthusiasm?  The roster is better, the coaching staff changes should help simplify things for the offense, and improvement on the field should be evident in 2023.  With so many first- and second-year players, I think this team is a year or two away from pushing 8 wins, but the trajectory certainly feels like it is on the rise.  The bear market on Brent Pry should be over – buy more of his stock now!
Others to Watch
Here are a few other players with the potential to have breakout seasons.  They have greater obstacles to overcome than those named above, but they are guys with high ceilings.
Tight End Dae'Quan Wright
If you watched the Miami game last year, you saw the play in the first possession where Wright was in the slot, caught a slant, and ran for a big gain (27 yards).  Unfortunately, he didn't protect the rock and the ballhawks of Miami punched it loose.  Hopefully Wright has learned from that mistake and also can stay healthy, because he is a great athlete that can be a matchup nightmare for defensive coordinators.  At 6'4" 234-pounds, he is bigger than most safeties, and he is faster and more athletic than most linebackers.  I honestly would have him in the first group of guys (above) whose stock I'm buying, but the injury bug is a big concern.  Wright was held out of a few practices in August with an undisclosed strain.  If that is a groin or hamstring pull, that could be a lingering problem.  More significantly, senior tight end Nick Gallo is out indefinitely with his own undisclosed injury.  With Gallo on the field, I love Wright as an added option out of the slot.  Without Gallo, who is a reliable pass-catching option, defenses can cheat over to Wright and leave the first-year tight ends in one-on-one coverage.  The Hokies can also move Wright to the traditional hand-in-the-dirt tight end position, but I think he is more versatile off the line.  With Virginia Tech's recent history of being so tight lipped about those who cannot play (see Malachi Thomas and Alan Tisdale last year!), I fear Gallo can be out long-term.  I give credit to TechSideline's Chris Coleman, as he bought stock in Dae'Quan Wright when he first committed to Tech. Smart man.  I would do the same, but I am concerned about the immediate future.  Long term, though, Wright can be a beast.
Daequan Wright signed with the #Hokies this morning. He's a tight end with receiver skills who has the skillset that new offensive coordinator Tyler Bowen is looking for. Check out our comments and his film. pic.twitter.com/ZHoPAFpNM9

— Tech Sideline (@TechSideline) February 2, 2022
 Defensive Back Derrick Canteen
With Dorian Strong and Mansoor Delane locking down the starting cornerback positions, there is no room for Canteen to shine, right?  Wrong!  The Georgia Southern transfer, who had six interceptions his freshman year and 64 tackles last year, will find his way onto the field.  As a likely nickel back in passing situations and a reliable corner to give rest to the other two, Canteen will have his opportunities to be an impact player.  At 22 years of age, he brings experience to the defensive backfield, and so far, the coaches and his teammates have been raving about his work ethic and his leadership.  Don't be surprised if Canteen is the Hokies' interception leader by the end of the season!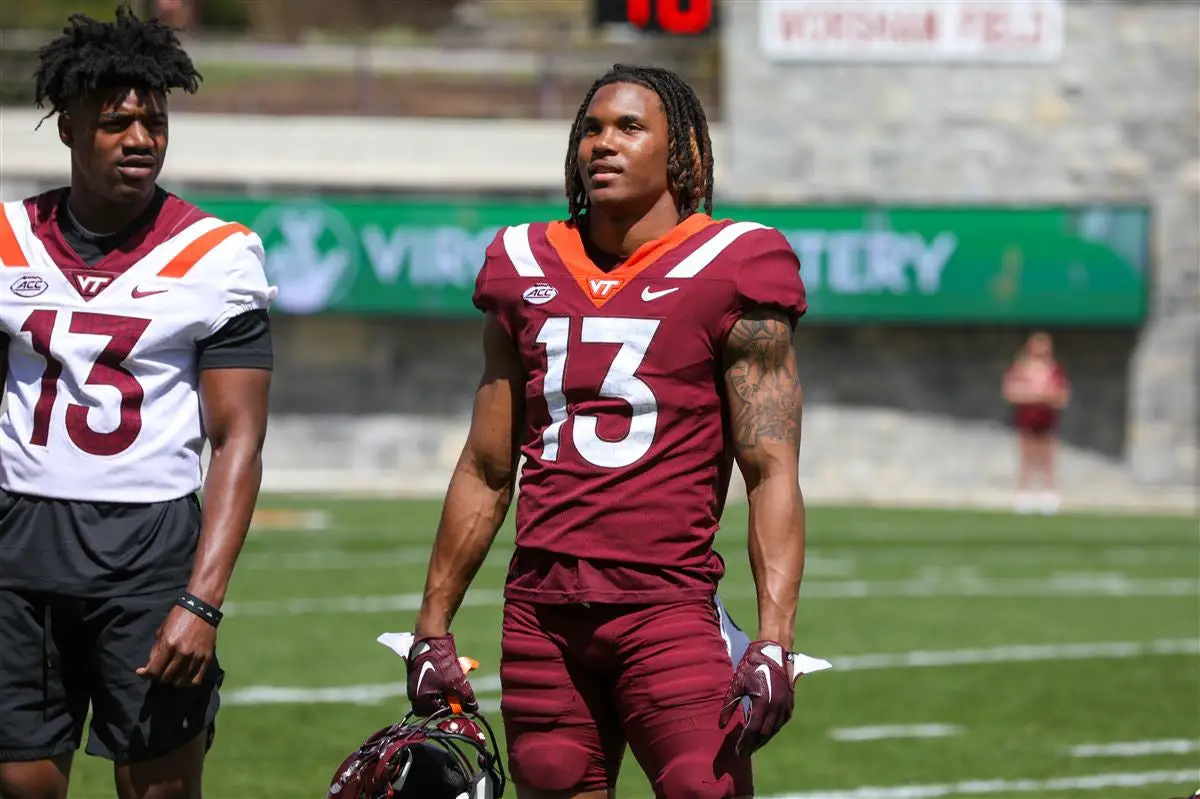 Guard Braelin Moore
When his older brother Kaden moved over to center and incumbent Jesse Hanson medically retired, the door opened for Braelin Moore to step up and be a starter as a redshirt freshman.  The 6'3" Moore is a touch undersized, but Pry himself thinks he is an under-the-radar kind of player.  The Head Coach said that the younger Moore is "super smart, super tough and plays with great leverage."  When Moore moved to the interior of the OL last spring, Pry called him a "damn good prospect".  And after a chippy practice recently, I'm left wondering if Moore has a mean streak reminiscent of Wyatt Teller?  On top of all that, playing side by side with his older brother will only help with chemistry.  While he isn't likely to be named to the post season all-conference team, Braelin ­­Moore does have a good shot to be on the ACC All-Freshmen team.  And it is not often that a freshman guard is much of an immediate impact player, but his value is in his potential to be a four-year starter, so put his stock in your portfolio!
Final Thoughts­
With such a young roster and so many new faces (roughly 40% roster turnover from last year), we are back where we were last September, saying that this team could go 8-4 or 4-8.  In close games, a play or two can make all the difference – can these players above be the ones to turn any games in the Hokies' favor?  I'm betting yes.  Set your sights on starting a new Bowl Streak and bring on the Virginia Tech football 2023 season!
To read more of my articles on Virginia Tech football, click here.