The Fighting Illini and senior quarterback Tommy DeVito have had a season for the history books. It has been a whole team effort, but it's no secret the team wouldn't be in position to play in the Big Ten Championship game for the first time without it's nation leading defense and running back Chase Brown. For all the love they receive, quarterback Tommy DeVito arguably deserves even more.
The numbers aren't gaudy, they don't jump out at you like a Stetson Bennett's or a Hendon Hooker, but every completed pass and yard have been crucial to Illinois' success. In an offense centered around Chase Brown having a quarterback like DeVito is imperative to keeping opposing defenses honest. The perfect mix of efficiency and risk-taking has created a far more balanced attack than anyone could have expected in August.
Brett Bielema Found His "Russell Wilson" In Tommy DeVito
Before we get ahead of ourselves — I realize there really is no statistical comparison to what Wilson did in his season at Wisconsin. Based on his current numbers DeVito is on pace for 2,508 yards on 243-339 passing (7.4 Y/A) with 19-3 touchdowns-interceptions in a 12 game regular season.
Wilson averaged an incredible 10.3 Y/A to go with 33-4 td-i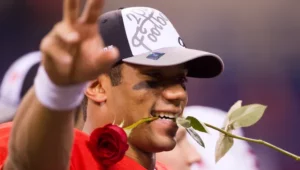 nt ratio in 2011. His 3,175 yards don't jump off the page at you, but he only had 309 attempts in 14 games. DeVito figures to surpass Wilson's attempts in only 11 games. The only thing missing for DeVito and Illinois is the level of explosiveness that Wilson and the Badgers managed. However, there are a lot of parallels in what DeVito has meant and provided for Illinois. The level of efficiency and ability to protect ball are comparable and what is absolutely necessary when playing "Bielema ball".
It's more than just the numbers. Everything Tommy does is so impactful to the team. His ability to think outside of the box and extend plays on third down to keep the defense on the field or to keep the offense in field goal range to ensure there is a chance at points is so underrated. There may not be a better QB in the Big Ten when it comes to protecting the football.
The biggest evidence of his impact on this team was when he went down in the first half of the Iowa game. The offense went from moving the ball at will to struggling to getting into field goal range despite short fields gifted by the defense. Even with Brown breaking off big runs, backup quarterback Artur Sitkowski had a hard time commanding the offense. The only guy outside of Chase Brown that Bret and Illinois can't stand to lose is Tommy DeVito. He keeps everything on track and in rhythm even when it's not showing up in the stat sheet.
Wilson was a special player on a Big Ten Championship team that finished ranked 10th in the country and lost a memorable Rose Bowl game to Oregon. Without him Wisconsin isn't as potent and the Badgers likely don't sniff the Rose Bowl. On a smaller scale the same can be said for the arrival of Tommy DeVito. Without Tommy Illinois isn't being talked about on a national stage, but without Bret Bielema Tommy isn't having the success he's had. It's a symbiotic relationship and both guys are dependent on each other.
How Far Can Illinois Go With The Syracuse Transfer?
The answer to that is less about what DeVito can do, but what can the pieces around him do. Can the offensive line hold up to an elite front? Can the receivers win one on one consistently and make the play when the ball isn't perfect? Can the Illini's defensive front get back to their elite level of play?
I believe Tommy DeVito can go out and win you just about any game you ask him to, but the pieces outside of Chase Brown have to step up as they've been less than stellar over the past couple weeks.
Last week's loss against Michigan State finally proved that some of the deficiencies the team does have can't be kept hidden forever and need to be addressed. Being the hunted is always different than being the hunter. Last week was a stark reminder of that fact.
The only thing that is certain is Illinois is a cut above the rest of the Big Ten West and it hasn't seemed to be particularly close. Purdue will be telling in regards to how the Illini will respond to a bad loss against a depleted MSU team. Illinois takes care of business and they'll essentially have the west locked up, so long as they don't slip up against Northwestern.
Much past making the Big Ten championship game is anyone's guess on how far this team can go. If you polled 100 Illinois fans; 50 would say they can win out and win the Big Ten, the other 50 would say the Illini have been playing with house money since they went into Madison and beat the B
adgers down.
Bret's team is very good and extremely well coached. The culture and the buy-in is there, but Tommy will have to play even better than he already has in order to hang with teams like Michigan and Ohio State. Illinois just doesn't have the top end talent and enough depth yet.
A trip to Indy and a major bowl game appearance could prove to be the ceiling this year, but there isn't a soul in Champaign that wouldn't have taken that deal at the beginning of the year. The hope is that will become the floor in terms of expectations from here on out. One game at a time and enjoy the last leg of this Cinderella season. The only thing that is certain is Tommy DeVito in the history books as one of the best quarterbacks to play in Champaign and the one who brought Illinois football back from the dead. Wherever this ride eventually ends Illini Nation will be forever thankful.
I-L-L
For More Great Football Content
Follow us on Twitter at @GridironHeroics for more great content. We appreciate you taking time to read our articles. To interact more with our community and keep up to date on the latest in Football news, JOIN OUR FREE FACEBOOK GROUP by CLICKING HERE
Checkout our latest podcast!
[powerpress_playlist limit=1]