I'll come right out and say it. Raheem Morris has got to go. The LA Rams traveled to Tampa Bay for a Sunday afternoon matchup vs. the Buccaneers. It was a 16-13 loss for the Rams due to several things, one being the offense had several trips into the RedZone and came away with six points while doing much of nothing else. Another reason is the defense not making a big stop with 44 seconds left, a 60-yard cushion, and the Bucs had no timeouts to burn. This type of ending to a game could see the Raheem Morris experiment end sooner than later in LA.
With the Rams up 13-9 with under 2 minutes to go, the Rams took over after a big stop inside their own five-yard line. Many fans and figureheads alike have questioned how coach McVay decided to tackle this series. McVay forced Tampa Bay into burning both of their remaining timeouts on first and second down and then running a third time to bring up fourth and five, allowing the clock to run under a minute before calling a timeout. By the time LA punted away, there were 44 seconds left in the game. What happens next is Raheem Morris strolls out his patented soft zone coverage, and the rest is history.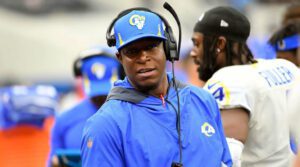 Raheem Morris Experiment:
The Rams hired Raheem Morris last season to replace Brandon Staley as Defensive Coordinator after being the interim head coach of the Atlanta Falcons to close out 2020. The end result was much sweeter than the process it took to get the Lombardi trophy to LA. Raheem Morris brought a bend but don't break defense to the Rams that prided itself on not giving up explosive plays.
For comparison of how his tenure has gone, let's look at how well he's done to start off both seasons as the Rams DC. Through the first eight games last season, the Rams' defense gave up 367.5 yards per game. The Morris-led unit gave up 20.1 points per game while allowing a 67% completion percentage. They also allowed 286.3 passing yards per game and 103.3 yards per game on the ground.
Fast forward a year, and the same philosophy of "bend don't break" does not work as effectively as Raheem Morris wants. Through the first eight games this season, the Rams defense has given up 21.6 points per game. They've also allowed 312.3 yards per game, 214 yards per game through the air, and 98.3 yards per game on the ground. This is all well and good, but it's when and where the yards and points come in the game.
Raheem "Soft Zone" Morris:
The defense has played well for the most part, but in games in which they've played teams who aren't insulted by being given a free five yards on every passing play, they've struggled. Raheem Morris lives and dies by a soft zone that sees his defensive backs play 10 yards off the receiver in hopes it will make teams sustain drives rather than beat you on big plays. This has led to the Rams having the lowest average depth per target at 5.5 yards.
That's fine, but in 2021, Morris sent a blitz on 26% of plays. In 2022, that percentage is down to 22.4%. The Rams ranked near the top in pressures, sacks, and pressure rate in 2021. In 2022, they've fallen to league lows, ranking last in pressures, second to last in pressure rate, and the fewest quarterback knockdowns. They rank 24th in turnovers with eight; last year, they finished near the top with 25. The Raheem Morris special of soft zone coverage is the epicenter of the defensive inconsistency. You can't get pressure when you're allowing short passes for medium gains. 
Earlier this week, he was asked about the coverage he loves to play, and he said, "we live and die off not giving up explosives." Raheem Morris calls more zone coverages than any other defensive coordinator in the league, at 89% as of week five. That was four percent higher than the Vikings. The inability to adapt in certain situations and adjust is the biggest possible reason why LA fans are done with the Raheem Morris experiment. Not being more aggressive on a third and five and allowing a quick pass for a first down is not what a good DC does.
Final Thoughts:
If you've made it this far, you're probably steemed that I haven't mentioned the offense once. We all know the offense has struggled mightily; that's not a secret and talking about it at this point is like pounding on a broken drum. Regardless, Raheem Morris needs to adjust this defense to help the offense. Having the lowest average depth per target isn't because teams fear the pass rush.

Teams have figured out how to beat the Raheem Morris special. Allowing opposing offenses to march down the field only to hold them to a field goal or force a turnover on downs is not something to hang your hat on. Once again, it's not how much you allow; it's when you allow them. For those reasons, Raheem Morris has got to go.
For More Great Football Content
Follow us on Twitter at @GridironHeroics for more great content. We appreciate you taking time to read our articles. To interact more with our community and keep up to date on the latest in Football news, JOIN OUR FREE FACEBOOK GROUP by CLICKING HERE
Checkout our latest podcast!
[powerpress_playlist limit=1]