After A&M's 31-0 shutout win over Sam Houston, we're looking at A&M first touchdown of the 2022 season. A&M scored on a slant wheel concept, a 66 yard pass from Haynes King to Yulkeith Brown. A basic two-man concept, the pass took advantage of Sam Houston's coverage and Brown's speed in the open field.
Slant Wheel Play Concept
Slant wheel is a simple passing concept often used in Air Raid and pro-style offenses. The play is an easy high-low read for the QB that stretches the defense's coverage vertically.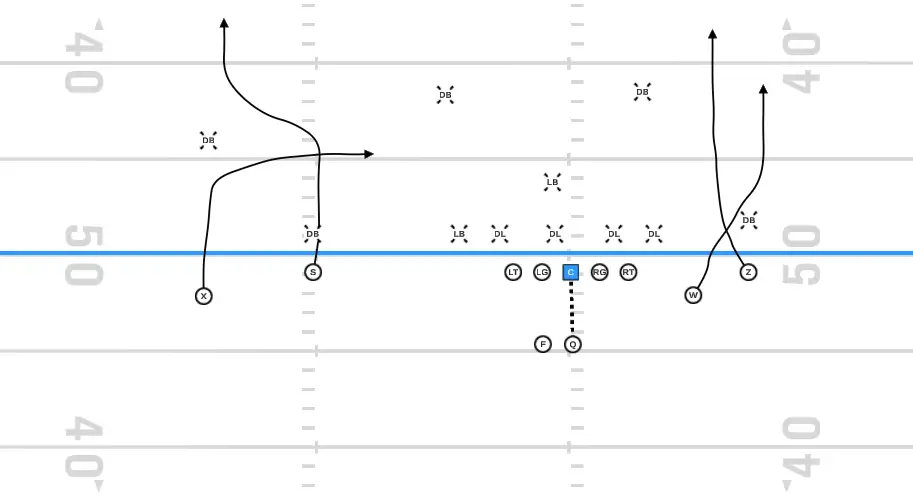 Offense is in 10 personnel with receivers aligned 2×2. Field receiver runs a five yard slant. Field slot runs a 10 yard wheel, beginning to  flow vertical towards the numbers  after seven yards. Boundary receiver establishes inside leverage on the cornerback and runs vertical. Boundary slot looks for a quick outside shoulder throw and then converts to a rail route.  QB reads low to high, if the field corner bails for wheel, hit slant. If field slot has outside leverage, hit hit wheel at top of numbers.
Executing Slant Wheel
Haynes King is in shotgun with Devon Achane aligned to his left. Chase Lane is the field receiver with Yulkeith Brown in the slot. Evan Stewart is the boundary receiver with Ainias Smith the boundary slot.
At the snap, Achane stays back in six-man pass protection. Brown runs a wheel rout, and Lane runs a five yard slant behind him. Stewart pushes vertical because he has inside leverage. Smith looks for a back shoulder fade and then goes into a rail route.
King sees Brown has three steps on the safety and launches a pass. King's pass flies from the boundary hash at the 26 yard line to outside the numbers at the 34 yard line, 40 yards in the air. The landmark for the pass is outside the numbers. Brown slows momentarily to catch the ball in stride and then flies into the end zone.
Result of the play is a 66 yard TD reception.
For More Great Football Content
Follow us on Twitter at @GridironHeroics for more great content. We appreciate you taking time to read our articles. To interact more with our community and keep up to date on the latest in Football news, JOIN OUR FREE FACEBOOK GROUP by CLICKING HERE
Checkout our latest podcast!
[powerpress_playlist limit=1]