The situation surrounding the Cleveland Browns quarterback Deshaun Watson is a strange one. Watson injured his shoulder in week 3 and missed some games. He returned for the game against the Indianapolis Colts but then left in the first quarter and didn't return. Many fans and analysts have speculated that Watson is not motivated to play now that he has secured a $230 million guaranteed contract. Watson fired back at the narratives in a recent media session.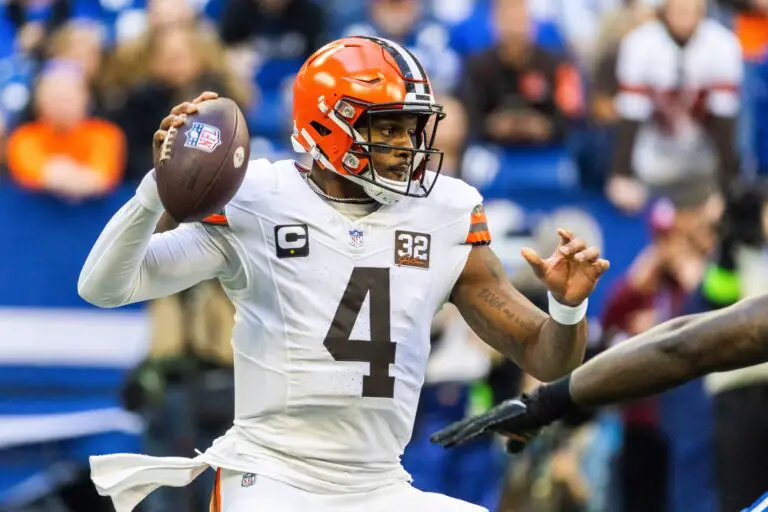 Cleveland Browns Deshaun Watson Fires Back At Critics
Watson admitted to reporters that he should not have played against the Colts. "I thought I was ready, I wasn't ready," Watson told reporters. He gave it a go through warmups but he clearly wasn't himself in the game. Reporters asked him to respond to the idea that he doesn't want to play and he gave a fiery answer. "Why wouldn't I want to play? I just worked my ass off for two years to get back TO play." He then added, "If it doesn't come from me, all that other stuff is BS." Watson is tired of hearing how he doesn't want to play especially as he is dealing with an injury.
Comes With The Territory
Because of the situation surrounding Watson, everything he does (or doesn't do) is going to be a big deal. The team gave up a king's ransom of draft picks on top of the largest guaranteed contract by a mile for a player with over 20 accusations against him of sexual misconduct. Watson is a polarizing figure for that reason and then you throw in the contract and it makes it worse. He has to live up to the contract or this trade will go down as one of the worst in NFL history.
When will Deshaun Watson play quarterback for the Cleveland Browns? Everything seems on the table right now and the team has been so quiet about the injury that it makes it difficult to decipher what is going on.