The San Francisco 49ers have yet to see star defensive end Nick Bosa join the team in the preseason. The reigning Defensive Player of the Year is in the midst of a full-blown contract holdout with the Niners as he looks to secure a new long-term deal with the team.
In spite of his prolonged absence, however, San Francisco head coach Kyle Shanahan does not seem to be too concerned.
Kyle Shanahan Unfazed by Nick Bosa's Absence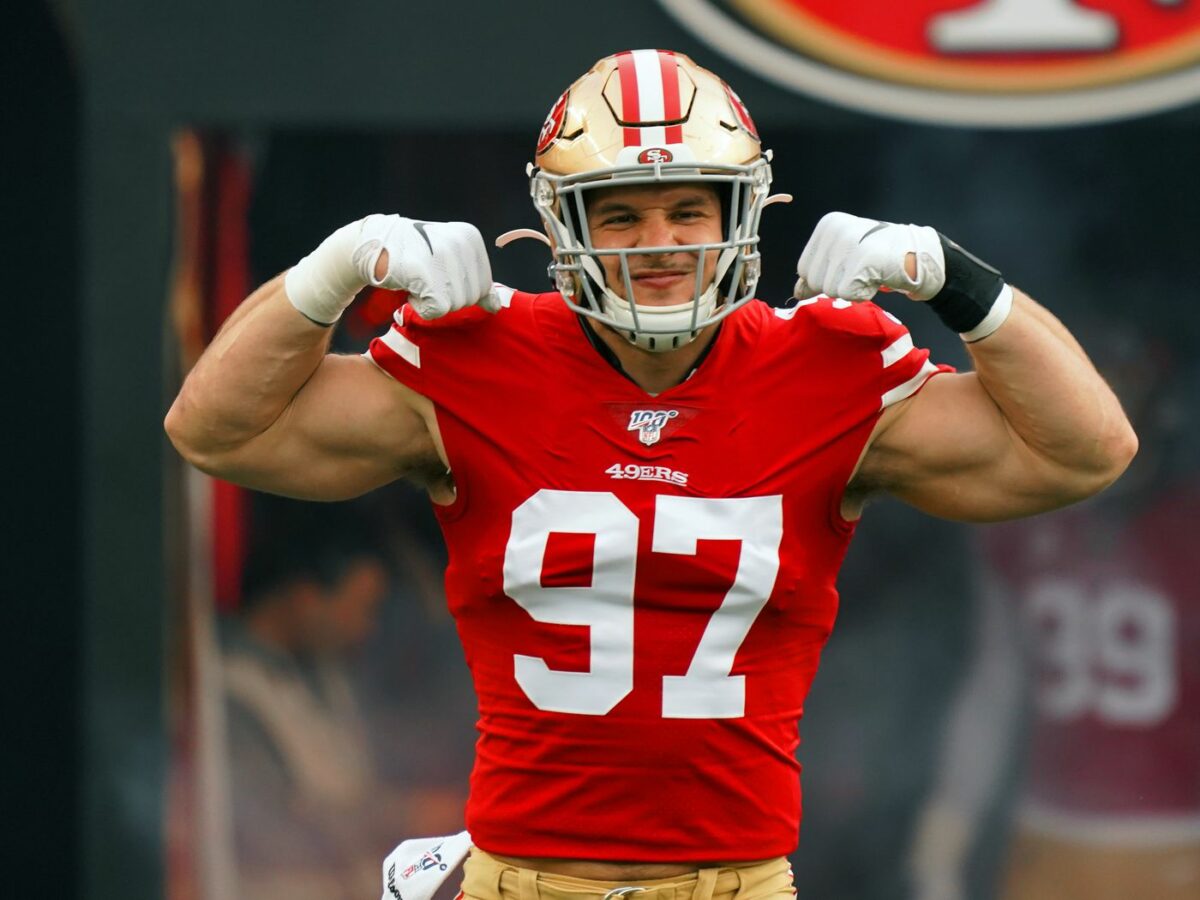 Speaking to reporters on Tuesday, Shanahan was asked to comment on Bosa's extended hiatus. While the tenured head coach avoided any discussion surrounding his star's contract negotiations with the front office, Shanahan also made it abundantly clear that he isn't worried about Bosa's current absence:
"Nothing's changed," Shanahan said, via David Bonilla of 49ers Webzone.

"You never know until you put him through that. I think Bosa's first year here, I think he got a high-ankle sprain. I think he went the first week of practice, and then we didn't see him again until the Wednesday versus Tampa Bay, and he played in that game.

"It's different for every player. I have as much confidence [in] Nick as any player I've ever been around. You always want it to be more time. I wish it was three weeks. I wish it was five weeks. [I'm] not sure how many weeks it's going to be, but you always would like more."
We are now just a couple of weeks away before the new season kicks off, which is why it has become quite concerning that the Niners have yet to agree on a new deal with their superstar DE. Well, for his part, Kyle Shanahan isn't at all surprised by the length of the negotiations:
"It's going pretty much exactly how I expected it to go," Shanahan said. "It's kind of just been exactly what I thought. … Yeah, I had a feeling it would [take this long]."
Shanahan did admit that he would like to see Bosa back with the team in the near future as he hopes that the contract talks are settled "sooner [rather] than later." Until then, though, 49ers fans will need to wait patiently for one side to budge.
For More Of My Content
Follow me on Twitter at @PaoloSongcoNBA. You may also reach out to me personally at pao.songco@gmail.com.