After a disastrous 5-7 season under first-year head coach Mario Cristobal, the Miami Hurricanes look to improve themselves. Thankfully, they were able to sign a top seven recruiting class filled with elite talent. With that, we take a look at Miami Freshmen who can play early.
5 Miami Freshmen Who Can Play Early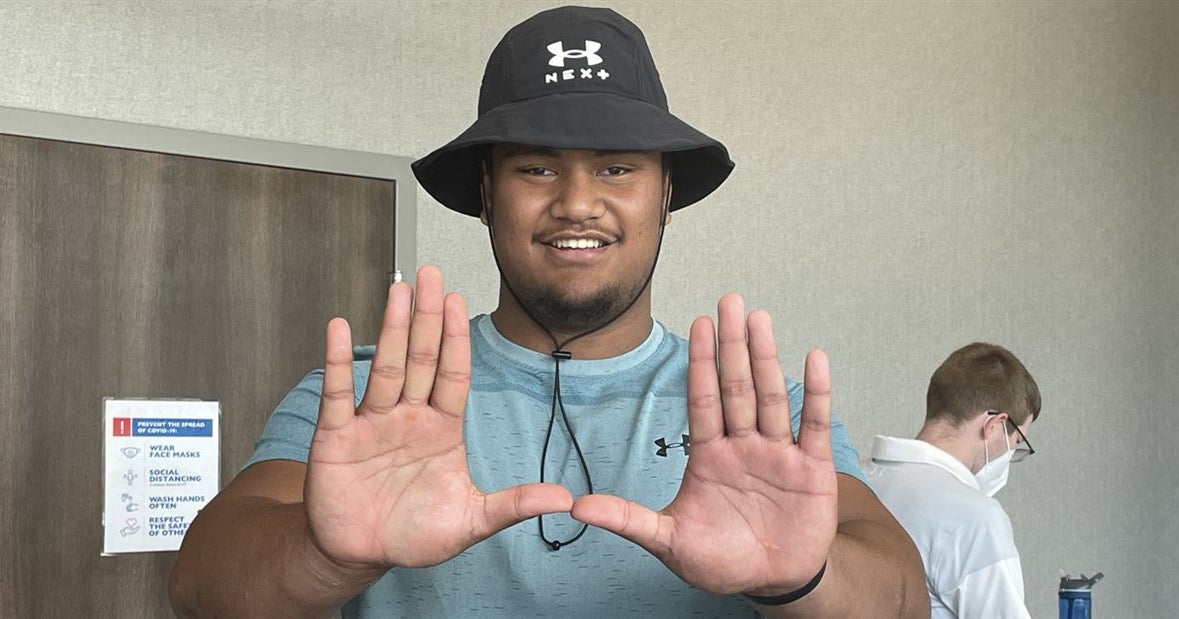 The crown jewel of Miami's 2023 recruiting class, Francis Mauigoa is arguably the top offensive lineman regardless of position. Measuring in at 6'6 330 pounds, Francis carries his weight exceptionally well for a person that size, showing the ability to move quickly. He is as battle tested as they get, playing top tier competition for over the past two years as part of IMG Academy's National Team. Francis has held his own against the likes of Venice's Damon Wilson (5-star Georgia Commit), Miami Central's Rueben Bain (Future Teammate), St. Francis' Dashawn Womack (4-star LSU Commit), and American Heritage's Marvin Jones Jr. (Former 5-star Georgia commit).
With the departure of John Campbell to the transfer portal, and D.J Scaife declaring for the NFL Draft, there is an open spot at both tackle positions. Zion Nelson is expected to return from injury and start at right tackle, while redshirt-freshman Matthew McCoy expected to fill the left tackle spot. However, I'd still expect Francis to push for a starting job somewhere on the offensive line, especially given how they've dealt with injuries.
What's more impressive than signing one of the top three offensive tackles in the country? Signing two of them. Not only were the Hurricanes able to land Francis Mauigoa, but they were also able to land Thayer Academy's five-star offensive tackle, Samson Okunlola. Samson measures in at 6'5 305 pounds and carries his weight exceptionally well for someone his size, as he is an elite athlete.
Like stated before, both John Campbell Jr. and D.J. Scaife are departing from the program, leaving open spots open for the tackle positions. As of now, Matthew McCoy is slated to start at left tackle, the position Samson played in high school, however it's expected that Samson could probably be moved around from left or right tackle. Regardless, given his elite athleticism, and refined technique, Samson will most likely see the field early.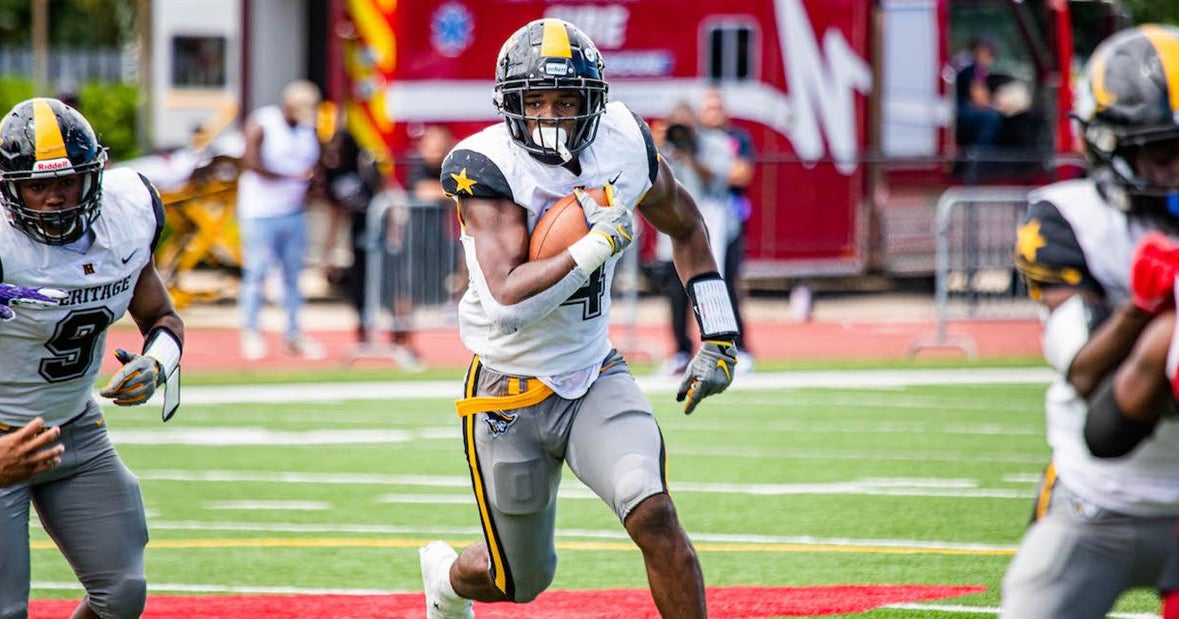 Arguably the most talented running-back in South Florida, Mark Fletcher ended up choosing Miami in a tight race between the Canes and the Gators. Fletcher is a powerful back, using his speed and strength to dominate the running game in between the tackles, while also being able to stiff arm defenders in the open field for extra yards. While downhill and physical is Fletcher's style of play, he is still a capable pass catcher, as seen in the All-American game.
The running-back room dealt with an injury bug this past season, with Don Chaney Jr. and Trevonte Citizen dealing with season-ending injuries, while Henry Parrish Jr. and Jaylon Knighton missed games due to injuries. What makes this entire situation worse is that both Jaylon Knighton and Thad Franklin have entered the transfer portal. Outside of their freshman running-backs, Miami is down to three scholarship running-backs, two of which as previously mentioned, recently suffered season-ending injuries. With limited depth at the position, Mark Fletcher will most likely get significant playing time.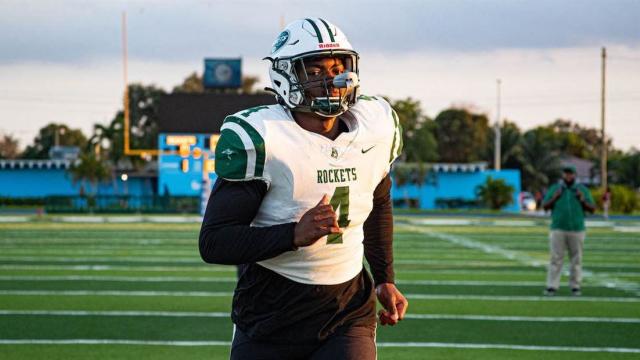 Miami Central capped off their undefeated season by winning the state championship for the fourth consecutive year. A large part of their success comes from their elite defensive end, Rueben "Hurricane" Bain. After a nation leading 29.5 sacks last year, Bain added another elite performance, this time with 29 sacks. Bain had arguably the best game of his career against No. 4 nationally ranked IMG Academy, where he tallied three sacks and seven tackles for loss.
Miami is in need of more pass-rushers. Mesidor has been great, and Harvey has emerged as a potential star. But even then, the Canes could use more pass rushers on the defensive line. Adding Rueben Bain to the rotation gives Miami an edge rusher capable of moving inside to a 3 tech on passing downs. Bain might not be the biggest guy (measures in at 6'2 250 pounds), but his elite technique and first step, along with his relentless motor will help Bain push for early playing time.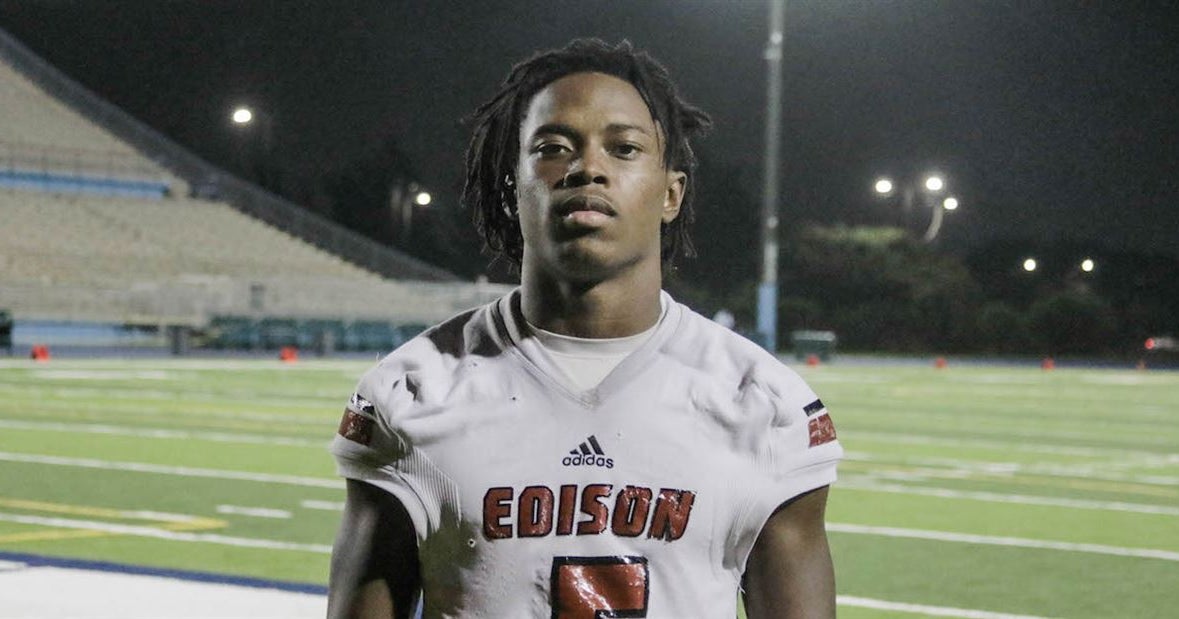 One of the fastest playmakers in South Florida, Nathaniel "Ray Ray" Joseph has proven time and time again he is one of the best receivers in the country. With his elite speed, Ray Ray has the ability to turn a 5-yard hitch into an 85-yard touchdown. He is slippery and fast, making defenders miss tackles and look embarrassed. Not only is he a dangerous slot receiver, but he is also a dangerous returner, having the ability to return kickoffs or punts for touchdowns.
This past season, the Hurricanes struggled at the wide receiver position, with players constantly dropping balls and failing to create separation from defenders. Their passing attack was one of the worst in college football and will need to improve drastically if the Canes hope to improve next year. Ray Ray will help improve the passing attack with his elite speed and ability to create separation.  Even though Miami has plenty of options in the slot with guys like Brashard Smith and Xavier Restrepo, Ray Ray will help the passing attack take a step forward with his elite speed and ability to create separation. 
For More Great Football Content
Follow us on Twitter at @GridironHeroics for more great content. We appreciate you taking time to read our articles. To interact more with our community and keep up to date on the latest in Football news, JOIN OUR FREE FACEBOOK GROUP by CLICKING HERE
Checkout our latest podcast!
[powerpress_playlist limit=1]