A significant report for NFL news Sunday morning by the league throws a wrench into the popular idea by fans and pundits that Michigan head coach Jim Harbaugh can escape the sign-stealing scandal by taking an NFL head coaching job.
Harbaugh and the Michigan program are under scrutiny for allegedly using a low-level staffer, Connor Stalions, to go to college football rival games to scout signs. The NCAA is currently investigating the incident, and it could take months before they reach a verdict.
However, Harbaugh's job security at Michigan has been speculated to be up in the air due to the investigation. Harbaugh was set to become the highest-paid coach in the Big Ten before the allegations of sign stealing were made public.
After the allegations, many thought Harbaugh, who had a successful run with the San Francisco 49ers before taking the head coaching job at Michigan, could make his escape to the NFL.
NFL News: Jim Harbaugh's NFL escape might not happen
According to the NFL, that might not be possible for Harbaugh.  League sources say the league could apply the same suspension to Harbaugh in the NFL as what he would have received from the NCAA:
"The NFL is unlikely to make itself a safe harbor for Harbaugh to escape what could be substantial NCAA discipline, league sources say, raising the strong possibility Harbaugh would need to serve some or all of any possible suspension he could face in college if he returns to the pros.
There isn't a bylaw governing the matter. But sources pointed to former Ohio State head coach Jim Tressel as precedent for how the NFL and its teams could handle a college suspension of Harbaugh, who already served a school-imposed three-game suspension this year for alleged recruiting violations during the COVID-19 dead period and not cooperating with investigators, could still be further disciplined by the NCAA in that case and now faces allegations against the program for an elaborate sign-stealing operation."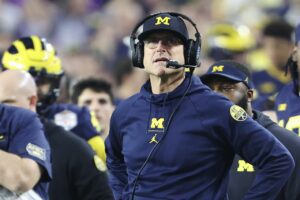 Several NFL teams fanbases were hoping for Harbaugh next season. But owners might not want to take the chance on hiring Harbaugh if they know the league plans to suspend him.
This isn't a great look for the league, in my opinion. The NCAA is a sham political body and one that is losing more power by the year as conferences and schools understand they don't add enough value to college sports.
The NFL needs to start separating from the NCAA as well.
For More Football News:
Follow me on Twitter at @JordanSig. You can also reach out to Jordan Sigler via email at jordanmsigler@gmail.com. To read more of our articles and keep up to date on the latest in college and NFL news, click here!