The Michigan Wolverines have completed their non-conference schedule to start the 2023 season. Now, heading into a tough stretch of their BIG schedule, Jim Harbaugh is back on the sidelines in week four against the Rutgers Scarlet Knights this Saturday.
Harbaugh Is Back On The Sidelines To Start BIG Play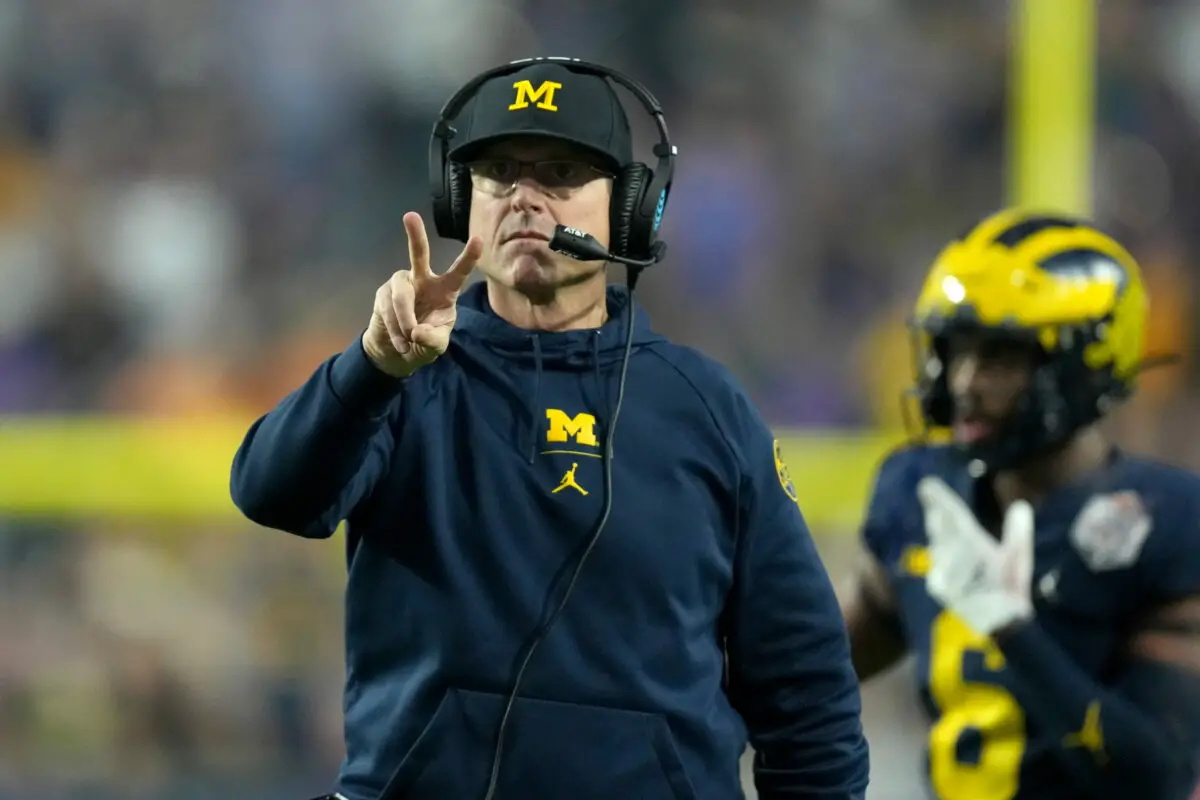 Jim Harbaugh was sidelined for the first three non-conference games of this season due to violations during the 2020 COVID year. This was a University self-imposed suspension for the Wolverines head coach, currently in his ninth season.
Of course, the Wolverines are getting chemistry together in all phases of the game before conference play begins. It is time to see if the Michigan Wolverines quarterback, offense, and defense can keep their level of intensity and improve as the schedule moves forward.
J.J. McCarthy And The Michigan Wolverines Offense
J.J. McCarthy has one of the top quarterback passer ratings in all of college football at 85.7 so far in three games this season. Sure, it has only been non-conference play, so he was on a roll until last week against Bowling Green. McCarthy went 8-13 for 143 yards, two touchdown passes, and three interceptions in their night game last Saturday.
The third-year quarterback blamed himself for the turnovers thrown, saying, "I can't wait to watch the tape and see the mistakes that were made and get better from it, honestly," McCarthy said. "I'm gonna take all those on the chin. They were on me." Those were his first three picks of the season. That was not smart decision-making on his part. But, he will learn from them with his quarterback's coach, Kirk Campbell.
As well as, his head coach is back on the sidelines this week. Senior running back Blake Corum led the team in rushing yards with 12 carries for 101 yards and two touchdowns. It was his first 100-yard game of the season. Cornelius Johnson was the leading wide receiver with three catches for 71 yards and one touchdown. Roman Wilson also had one score on two catches for 42 yards.
The Michigan Wolverines offense will be tested in their first BIG game on Saturday by the Rutgers' defense in Ann Arbor. We will see how the team responds.
Michigan Defense
Junior Colson was the leading tackler for the Wolverines, with five in the secondary. The defense had three sacks total against Bowling Green, made by Mike Sainristil, Cam Goode, and Jaylen Harrell. They also combined for 10 tackles for loss. The Michigan Wolverines were still without Rod Moore and sophomore cornerback Will Johnson.
Defensively, they will be looking to create more sacks in the backfield as conference play is starting. Switching schemes and looks should give them a better opportunity to get to the next opposing quarterback for Rutgers in Gavin Wimsatt. Senior Kris Jenkins was able to capture an interception on the defensive line for Michigan that sparked a touchdown for the offense close to the end zone in the third quarter.
One good thing for the Michigan Wolverines is that they will be at home for their first BIG opponent. The Michigan Wolverines will face the Rutgers Scarlet Knights at Michigan Stadium on September 23rd. This will be their annual homecoming game before their first road game in the following week.
With Harbaugh returning to the sideline, it will fire up the team and give them an extra boost of confidence as the season goes forward. The Michigan Wolverines look to continue their quest for a third consecutive BIG title this upcoming week.
For More College Football Content
Follow me on Twitter (X) @michfan20. To read more of our articles and keep up to date on all things in college football news and the NFL, click here!