Journalist Jemele Hill recently gave a few reasons she believes the NFL "blackballed" former San Francisco 49ers quarterback Colin Kaepernick. Hill was a guest on Nessa Diab's radio show this week. Diab is Kapernick's girlfriend.
Hill and Diab discussed the controversy surrounding Kaepernick and his former 49ers teammate, Eric Reid. Kaepernick posted an Instagram story of Diab and Hill's conversation and captioned it by promoting the conspiracy the NFL worked to keep Reid from the NFL.
Jemele Hill says the NFL is afraid of Kaepernick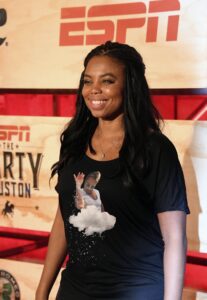 Diab asked Hill why she thought Kaepernick was "blackballed" from playing in the NFL since the 2016 season. Hill said she thinks the league is afraid of Kaepernick.
"The thing is, the answer is so simple that people, I think that's why they reject it," Hill said, via footage from Diab's Instagram account.
"It's not only because he stood up for Black people," she said. "It's because he's somebody that, with the way that the NFL does things, can't be controlled. So the presence of somebody like Colin in the locker room is a threat.
It's a threat to how they do business because Colin is able to make people think, and that is dangerous, and they don't want that in their locker room."
 

View this post on Instagram

 
Kaepernick penned a letter to the New York Jets asking them to give him a chance on the practice squad this season. The Jets declined.
There have been numerous injuries to key quarterbacks this season. Kaepernick's name has been floated as a potential signing by a few teams, including the Cleveland Browns, now that Deshaun Watson is out for the season.
But league owners don't appear to be more interested in signing him than they did in the Donald Trump era.
For More Football News:
Follow me on Twitter at @JordanSig. You can also reach out to Jordan Sigler via email at jordanmsigler@gmail.com. To read more of our articles and keep up to date on the latest in college and NFL news, click here!