As the Mr. Irrelevant led 49ers prepare for the NFC Championship game this weekend, there remain a few questions as to the direction of their franchise in the 2023 season. More specifically, who is going to be their starting quarterback: Brock Purdy or Trey Lance?
Because of the triumphs by Brock Purdy after stepping in following injuries to both quarterbacks ahead of him on the depth chart, the rumor mill has been in full swing regarding San Francisco's future at the vital position. Many believe that Purdy will be the de facto starter with Jimmy Garoppolo leaving via free agency and Lance not wowing in his previous games at the beginning of the season.
Would the 49ers be willing to part with the former third overall pick, and what would they be asking for in return?
The Price of Doing Business
Coming out of college from North Dakota State, Lance was seen as a potential rising star. According to Mel Kiper's 2021 Draft Rankings, he had the young quarterback as the 13th best prospect in the draft. Though he was ranked fourth among his fellow quarterbacks, that should come as no surprise. Looking back on the players Kiper ranked ahead of Lance, it's easy to see why they were better perceived by national media. Trevor Lawrence was view as the best quarterback prospect since Andrew Luck, Justin Fields had led his team to the National Championship, and Zach Wilson and Mac Jones were both coming off of incredible seasons with their respective teams. No wonder the kid from North Dakota wasn't getting much attention.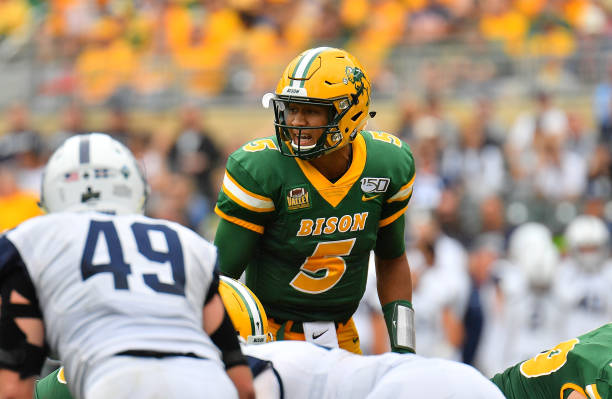 Lance is one of the most fascinating prospects I've ever studied. He started only 17 games in college, all against FCS opponents. The 20-year-old would have been the No. 1 overall pick in next year's draft. Now? He's a wild card in the top 10.
But when it mattered most, Trey Lance caught the attention of Kyle Shanahan and the 49ers front office. So much attention, that they traded three first round picks and a third to select him.
So far, that hasn't entirely worked out in their favor. After deciding to sit him his rookie year he has only started two games. The second of which, he suffered a season ending ankle injury. What was seen as an unfortunate setback turned into a question of if he should start when he returns in 2023, and the farther the 49ers advance in the playoffs, the more it seems the answer is Brock Purdy.
If San Francisco does indeed decide to trade away Trey Lance, they could have a bidding war on their hands. Though they would not be able to recoup the number of picks they gave away in selecting him.
Michael Silver of the San Francisco Chronicle has recently reported that the bidding would likely peak around a third round pick. Silver asked his contacts from various front offices, league officials that included some general managers, and they believe the 49ers wouldn't get more than a third rounder as compensation.
Is that a trade worth making when you have already given up so much? Absolutely.
Any Returns are Good Returns
In an ideal world for the 49ers, they would be able to get at least a first round pick for Trey Lance, but that just isn't possible. In his first game as the starter, Lance put up rather disappointing numbers against the Chicago Bears in their season opening monsoon game.
On a flooded field, his completion percentage was just under 50% for 164 yards and an interception. He also rushed for 54 yards on 13 attempts, but when you're in a torrential downpour, there isn't going to be a whole lot of successful passes. For comparison, Justin Fields, in that same game, also was under 50% completions with 121 yards through the air. He may have had two touchdowns and a single interception, but he also had been adjusting to the speed of the NFL earlier as he had been the Bear's starter since the prior season.
Because of his lack of playing time, there is very little tape for teams go off of in their determination on whether to trade for Trey Lance or not. The 49ers are the only ones who have seen what Lance can do, and would likely only build up his potential to attract big spending suitors. One team, however, has seen what Lance can do in a limited capacity. The Minnesota Vikings.
This past preseason, the two teams held a joint practice ahead of their pre season game in Minnesota. If anyone outside the bay area has an idea of what Lance can do, it would be the Vikings. And they have plenty reasons to bring him in.
INTERESTING: Should the Minnesota #Vikings trade for QB Trey Lance?

49ers insider Michael Silver notes several NFL executives tell him it might not cost more than a 3rd round pick, unless there's a team out there motivated to give more. pic.twitter.com/Shd8L2IFSI

— SKOR North (@SKORNorth) January 24, 2023
Will the Vikings Bring Trey Lance Home?
Having been raised in Marshall, Minnesota, about three hours away from the Vikings training facility in Eagan, this could very well be a match made in heaven. Kirk Cousins, the 34 year old current starter of the Vikings is about to enter the final year of his contract. Now is the time for the team to begin exploring all options for the future at that position, and if all it takes to bring in Cousins' successor is a third round pick, no doubt general manager Kwesi Adofo-Mensah would be interested.
As noted at his hiring, Adofo-Mensah's most notable point of reference on his resume is his background as a Wall Street trader. He isn't one to back away from a risky move, and in fact, he's made plenty since he was hired.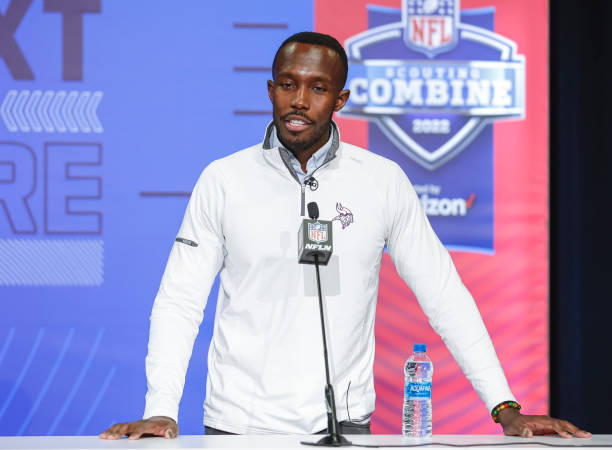 In his first draft as GM, Adofo-Mensah made splashy trades in the first and second rounds of the draft with NFC North partners in the Lions and Packers respectively. The trades were a means for the Vikings to build capital and control their destiny in the draft, but also allowed their division rivals to snag speedy receivers.
The players selected by Adofo-Mensah also fit his criteria as upside picks. Players like Andrew Booth Jr. and Lewis Cine were both noted for having big boom or bust potential. But so far, injuries have derailed the outlook on both rookies but that doesn't mean the Vikings GM is re-thinking his strategy.
I need a Brock Purdy masterclass tonight to fuel the reckless Trey Lance trade speculation. pic.twitter.com/oUNLon9Fzx

— JV (@JVSwaps) January 22, 2023
He was brought in under the premise that the Vikings had an aging quarterback with a bloated contract. He and head coach Kevin O'Connell have likely been on the lookout for a quarterback worth the risk, and Trey Lance might just be the big swing they've been waiting for. A player with a first round grade costing only a third round is the sort of profit margin that Adofo-Mensah was brought in to find.
And O'Connell would definitely love to have a young quarterback to coach up after finding success with Cousins. If O'Connell can lead an eleven year veteran to a career year, imagine what he could do with Trey Lance…
Like the article? Read more of my writing here!
For More Great Football Content
Follow us on Twitter at @GridironHeroics for more great content. We appreciate you taking time to read our articles. To interact more with our community and keep up to date on the latest in Football news, JOIN OUR FREE FACEBOOK GROUP by CLICKING HERE
Checkout our latest podcast!
[powerpress_playlist limit=1]