The 2023 USFL draft was an interesting process for all involved. With many unknowns about who would sign with the league and who would make it to the NFL, USFL teams found themselves in a limbo of sorts. Pursuing the NFL will always be the dream and the USFL offers another opportunity to do just that. This is exactly the case for Eastern Michigan tight end, Gunnar Oakes, a college standout selected by the Michigan Panthers, hoping to continue his football career at the next level.
From Small-Town Ohio to Mid-Major Football:
Hailing from small Swanton, Ohio, Gunnar Oakes has always played on a smaller stage, but that never held him from on-field success. In a town of just under 4,000 people, football was one of the larger communities. Oakes cited, "I grew up with my friends loving to play and that's how things got started. A lot of the town would come to watch the guys play football too."
A four-sport athlete, Oakes excelled in football, baseball, basketball, and track, something that would have been talked about all over the recruiting media if Oakes came from a recruiting hotbed. Nonchalantly, Oakes explained it was just something he did, saying, "I played basketball and baseball. I did track too, but football was always what I was best at."
Oakes didn't just play other sports, he dominated. With 15 varsity letters in his high school career, he did something no other Ohio high school athlete had before, he became a four-sport all-state athlete. Ironically, as Oakes explains, "The one (varsity letter) I didn't get was football because freshmen weren't allowed to play on the varsity team." The one accolade out of his reach was only restricted by red tape.
Humbly, Oakes credits his parents for his success, detailing his appreciation he said, "My parents just wanted me to play as much as I could and play all the sports I could in high school. I'm grateful for that. Some parents will recognize a kid's strength and force them into things. Mine just let me play what I wanted."
It wasn't until his junior year that the realization of next-level football hit for Gunnar Oakes. His coaches, Coach Vickars and Coach Speiss sat him down and really explained his full potential that year. Oakes explained, "My coaches knew earlier on, but in my junior year I remember talking with Coach Vickars and Coach Spiess and they were the ones who said I could be serious about this and play division 1 football." Adding, "That's when I really started focusing on football more than those other things (baseball, basketball, and track)."
That commitment proved to be the right one, as Oakes would dominate in both his junior and senior seasons. In his final season as a Swanton Bulldog, Oakes caught 51 passes for 831 yards and 12 touchdowns, a stat line impressive enough to earn him first-team all-Ohio honors. As a two-star recruit, with numerous accomplishments in multiple sports, one would expect scholarship offers to come rolling in for Oakes, but that wasn't the case.
With offers from Eastern Michigan, Bowling Green, and Toledo, Gunnar Oakes only received any other interest from Wake Forrest and Wisconsin during his recruiting process. This wasn't for a lack of skill though, it was almost political, as all things recruiting are. Many schools like to compare offers and see who they are competing with for a prospect before offering a scholarship of their own. Simply, they ask which other schools have offered that player. Whereas this is an easy answer for most recruits, Oakes' program ran a little differently. Oakes explained, "My coach did this (recruiting) differently. When other teams would ask about offers, we wouldn't say what offers I had."
Sure this may seem like it holds recruits back, and in some cases, it can, but really it ensured that the team wanted Oakes for his play, work ethic, and ability, not because of recruiting competition. Oakes said, "We were looking for a team that wanted me to play for them, not wanting me because Bowling Green (or some other team) wanted me." Of course, he could have doubled back on what his coach said, and told anyways, but Oakes has that respectable quality of honesty. He said, "When a team would ask what offers I had, I wouldn't tell them because that was our policy. I stood by it. You either want me or you don't."
Ultimately, that moral compass is what landed him at his home for the next four years, Eastern Michigan. Gunnar Oakes, again with modesty said, "That's what helped me find Eastern though because they really wanted me to come to play for them just because they liked me." Adding, "When I got there I really saw that because Coach Creighton and the coaches he puts around him are building a culture that's unlike any other. Transfers come in from all around the country and say the same thing."
Proving he made the right choice, Coach Creighton provided the perfect blend of structure and knowledge to grow his players, including Gunnar Oakes. "It's a really good environment to grow as a football player and as a man in general. It helped me mature pretty fast. When you get here, you are full steam ahead with everything," Oakes detailed.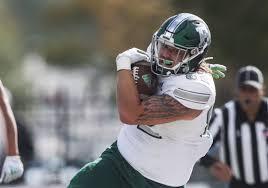 Despite the work ethic that he has, he was redshirted freshman year. Commonly, young players don't have the size needed for coaches to justify playing them in their first season, even if they are exploding with talent. At only 215 pounds his freshman year, Oakes barely missed out on the size benchmark wanted out of a college-level tight end. he said, "I guess I didn't realize when I first came into college how difficult it can be to gain weight sometimes, especially when you're burning so many calories training."
Even with the emotions that went through his young mind at the time, Oakes used it as an opportunity to grow both physically and mentally, "I was on the scout team my first year and I was upset about it, but now looking back on it I'm so thankful it happened because that extra year grew me physically and mentally. I'm in a lot better place than I'm sure I would've been if I had lost that year." Soon after that Oakes jumped up in size, allowing him to take the field by storm his next season.
With his first game occurring on the road, at Purdue, Gunnar Oakes got a taste of next-level football fast. "My first college game was Purdue at Purdue, I had four catches I think for close to 50 yards. It was my first time being out there with 330-pound grown men who are just monsters and we ended up upsetting them. The team stormed the field, and I was don't the game-winning field goal team as a wing guy, I remember watching the field goal go through as time expired and then everyone started sprinting and celebrating in the locker room after that was one to remember," he said.
That wasn't the only big day of Gunnar Oakes's college career, as he had an amazing one-handed touchdown grab against Western Michigan, nabbing him a spot on Sports Center's Top Ten Plays of the Week. He looked like a seasoned veteran out there despite it being his first collegiate touchdown. Oakes said excitedly, "I'll remember that day for the rest of my life because, outside of that my mom had gotten breast cancer, and she was at the game with my grandma sitting next to her. There's a picture of both of them when I scored, and I have never seen her so happy. They have a picture of me pointing at her getting off the ground after I scored and that was really special."
Gunnar Oakes didn't make his name by making flashy plays though, he's a mauler by definition. A massive six-foot-five, 256lb frame with shocking speed, Gunnar Oakes showed an amazing ability to block. That is the most prominent part of Oakes's game. He'll tell you himself too, "I wasn't getting that many targets, but I had found more playing time as I got better at blocking, so that's what I did." That ability isn't just chalked up to his frame though, most of it should be credited to his IQ. Oakes has a vast knowledge of the game and puts in a ton of work. That mentality is what has allowed him to succeed at the next level.
"When you come in as a receiver and then you have to learn a playbook for the entire o-line and all of what the receivers do as well, what side the runningback is setting to, it was a lot mentally to learn. Once you get that down, you start looking at the tape to start finding the tendencies on different d-ends and what they give away during the games. It's a lot of little stuff. Getting the play from the sideline, thinking which side you're going to lineup, do you have a motion, is the receiver on your side, which guy is one removed from the mike, always needing to know what I'm doing," Oakes said.
The mental side of football gets more and more important as one get's to the higher levels and Gunnar Oakes didn't just accept that, he lived that, saying "Mentally that was the biggest part for me. Getting it down so I could go out and play with confidence, not worrying about if I am going to mess the play up, that's when you start playing the best you can." Then adding, "I think that the high-IQ play is something that teams will really notice about me. Having a motor and being relentless in plays will be a big part, I hope they see that in me, I think they should."
That ability along with a solid 621 receiving yards and two touchdowns in his college career popped on tape and in person despite not jumping off the stat sheet. Sometimes, that is more important at the next level too, which proved to be true when  Mike Nolan and his new Michigan Panthers staff selected Gunnar Oakes in the seventh round of the 2023 USFL draft.
Gunnar Oakes, Pursuing the USFL and NFL:
The pursuit for greatness doesn't stop at the USFL level though for Gunnar Oakes, or for most players drafted by USFL teams.  Of course, the league is a great source of talent and entertainment, but Daryl Johnston, the USFL Vice President of Operations said, "We know what kind of brand of the NFL is, and we know that we're not going to be able to compete with that," adding, "We want to be a stand-alone professional football league that provides a non-traditional route to the NFL."
With the 48th pick of the 2023 USFL College Draft, we have selected TE Gunnar Oakes #LetsHunt 🐾 pic.twitter.com/YBC1wKjGfG

— Michigan Panthers (@USFLPanthers) February 21, 2023
Gunnar Oakes sees it similarly, as do many players in his shoes. He explained, "I think a lot of guys look at it like senior bowls for guys who didn't get any. They have a chance to showcase that they can play with the best of the best. It allows them (NFL organizations) to see guys playing with good players and competing with those good players, then they might be worth a shot. It's an amazing opportunity for everybody in the league."
Hoping to make it to the NFL level, as all do, Gunnar Oakes is spending his time training for his pro day. The event will be held in Ypsilanti, Michigan, on March 16th, and will allow Oakes to showcase his ability and mentality to NFL scouts and the Michigan Panthers, who will also be in attendance.
Working Monday through Saturday with Eastern Michigan Performance Coach, Deonte Mack, Oakes is doing everything he can to prepare, saying, "We do our lifting, some of the drill stuff on the field, and then later in the day me and some of the guys run some routes and do hand-eye coordination stuff." Of course, his high IQ and blocking ability will be well on display, but Oakes hopes to impress in other ways too. When asked about what he wants to show scouts he said, "I think my speed that I'll showcase on my pro day because during the season I was mainly just trying to maul guys with my hand in the ground and then I got the ball and was breaking tackles, but my pro day will be a good chance to show I can move too."
From there, only time will tell where Oakes' career will go. With the USFL already calling and the NFL possibly right behind, exciting things are coming for the up-and-coming tight end. Of course, it's a lot going on for a young player, which Oakes admitted, "Looking back, it's a lot. I have a lot going on and I'm pretty nervous you can have a lot of anxiety about stuff, but I know how important it is to me. It feels good to know they (The Michigan Panthers) drafted me and that they gave me an opportunity." Remaining thankful, Oakes is excited about what's next, adding, "If I play for the Michigan Panthers, I'll play as hard as I can and try to win as many games as I can with them and see where it goes from there."
One thing is for sure, If Gunnar Oakes suits up in a Michigan Panthers uniform this spring, his family will be right behind him at Ford Field. As Oakes said, "I'd be very excited about that (playing at Ford Field) because they already bring a lot of people up to the Eastern games. Those ticket sales won't hurt because I know my parents would bring their friends who bring their friends. We would have a very good showing at Ford Field for sure." 
For More Great Football Content
Follow us on Twitter at @GridironHeroics for more great content. We appreciate you taking time to read our articles. To interact more with our community and keep up to date on the latest in Football news, JOIN OUR FREE FACEBOOK GROUP by CLICKING HERE
Checkout our latest podcast!
[powerpress_playlist limit=1]