Hey all and welcome to the DFS Wildcard Weekend! On DraftKings we have 4! different slates to choose from:
Saturday Only 2 Game Slate
Saturday – Monday 6 game Slate
Sunday Only 3 Game Slate
Saturday – Sunday 4 Game Slate
For the DFS Wildcard Weekend I am doing the 2, 6, and 3 game slates and ignoring the 4 game as it has the worst contests.
While I will still be taking ownership projections into account, some chalk is going to have to be eaten here. There are some other ways to get a little different such as triple stacking, playing a defense against a QB, and playing 2 RBs from the same team to name a few. For these games I feel it is warranted to dive deeper into matchups and history, so to that end I'm going to break down each game for the DFS Wildcard Weekend. You're welcome haha.
Full disclosure – Natasha and I will be galavanting with the family in Disney this weekend. I'll be keeping up to speed with news and anything on the Discord, but please understand that I may not be available to answer immediate questions.
Let's get into it!
DFS Wildcard Weekend Ownership Projections
These are for the DFS Wildcard 6 game slate. Expect each player to have higher ownership numbers if it's the Saturday or Sunday only contests.
Ownership projections have been a bit of a struggle to hone down for the DFS Wildcard games. A general rule is that more ownership should gravitate to the first four games. As a reminder, they are but a guide and not representative of 100% accuracy.
Also, due to the aforementioned trip, this article is out a little earlier and the projections most definitely will change. I'll up the Discord either late Friday or on Saturday prior to kickoff should any major changes occur.
Saquon Barkley – 33.2%
Justin Jefferson – 31.6%
Austin Ekeler – 30.9%
Stefon Diggs – 27.3%
Ja'Marr Chase – 27%
Richie James – 26.5%
Travis Etienne – 25.7%
Christian McCaffrey – 23.9%
Joe Mixon – 22.5%
Leonard Fournette – 22.5%
Josh Allen – 21.2%
Dalvin Cook – 20.2%
Keenan Allen – 19.7%
San Francisco 49ers – 17.9%
Gabe Davis – 16.5%
Saturday
Seattle Seahawks @ San Francisco 49ers
49ers  -10
O/U 42.5
Of all the teams on the DFS Wildcard slate, the Seahawks are allowing the most rushing yards per game. It just so happens that the 49ers running game has become increasingly efficient in recent weeks. Brock Purdy, in his limited sample size, has shown himself to have a very safe floor. 200 – 250 passing yards and 2 TDs are likely in play for him, but I have a hard time seeing him emerge as the optimal QB, especially on the DFS Wildcard 6 game slate.
The Seahawks are also the worst team in the league vs the TE position. I expect Kittle to have some significant ownership on the DFS Wildcard 2 game Saturday only slate.
In two games against the Niners this season, Tyler Lockett has 16 catches for 175 yards. In both games the Seahawks trailed the 49ers and had to play catchup ball. The aging S Jimmie Ward, due to injuries, has had to drop into the slot to cover. He's allowing over 80% of the balls thrown his way to be caught. Lockett runs a good amount of his routes out of the slot. On the other hand, DK Metcalf has received 15 targets in the two games catching 12 of them for 90 yards and zero TDs. Metcalf will face the tougher matchups, but if Seattle wants to win they will likely have to get him involved.
The 49ers defense has looked awesome of late. They allow the least amount of rushing yards (77.7) and the least amount of total yards (300.6) per game in the league. They are, however, middle of the road against the pass, but part of that is because teams have been forced to throw on them in order to stay in games. North of 50% ownership on the DFS Wildcard 2 game slate should be expected. Expectations around Kenneth Walker should be lowered. As a result though, his ownership numbers will be lower as well.
Los Angeles Chargers @ Jacksonville Jaguars
Chargers  -1
O/U 47.5
If we travel all the way back to Week 3 of the NFL season when the Jaguars drubbed the Chargers to the tune of 38 – 10, we can see that all of the Jags wideouts had decent days. Kirk had 19.2 DK points, Zay Jones had 24.5 , and Marvin Jones had 13.3. James Robinson, the RB1 at the time, went for over 100 yards rushing and a score while Etienne added 45 rush yards of his own.
Justin Herbert had a rough day. He completed only 25 of 45 passes but still came just 3 yards shy of 300 yards. Austin Ekeler had an even worse day as he rushed 4 times for a grand total of 5 yards, though he did have 8 catches. Keenan Allen did not play in this game. Josh Palmer had the best output with 6 grabs for 99 yards. Mike Williams had but 1 catch, though it was a TD.
I do not expect a similar result this time around during DFS Wildcard Weekend.
The Chargers are allowing the most rush yards per carry (5.4) in the entire NFL. They are also allowing the 5th most rush yards per game which is 2nd most of the remaining teams in the playoffs. Statistically speaking, they are much better against the pass. This makes Travis Etienne an attractive play.
Trevor Lawrence has looked to be full of nerves down the stretch of the regular season. He also might be the highest owned QB on Saturday. I'm not sure that is going to hold to be true, but if it does then I will consider a fade.
The Jaguars are averaging 238.5 passing yards allowed per game. That's bottom 5 in the league. Justin Herbert set a career high this year with an average of 41.1 passing attempts per game. Since Keenan Allen returned to the lineup in Week 11, he's averaged 10 targets a game. He'll see a good amount of CB Tre Herndon, who isn't very good. The status of Mike Williams needs to be monitored.
This game should be close, could definitely be high scoring, and it has the potential to be ugly considering the erratic play of both QBs this season. Both DSTs intrigue me, though both teams are averaging just over one turnover per game.
Where I'm at for the DFS Wildcard 2 game slate:
Justin Herbert is my QB. I want to stack him with Keenan Allen, Ekeler, and I am interested in Josh Palmer if Williams misses or is limited due to injury. Donald Parham is my long shot pick to catch a random TD. I will run this back with Etienne and one or two pass catchers on the Jaguars side.
I love Tyler Lockett this week as it appears DK Metcalf will be higher owned.
CMC is tough to get away from. A blowout could mean carries for Mason and Mitchell again though. Also, I expect Mitchell to have a role on Saturday and get carries regardless of the score or game script. CMC and Mitchell in the same lineup is unique.
I'm not going to fade the 49ers DST, but getting a TD out of the Chargers or Jaguars could upset the apple cart here and send one of them into the optimal lineup. The Jags did get 9 DK points in Week 3.
Sunday
Miami Dolphins @ Buffalo Bills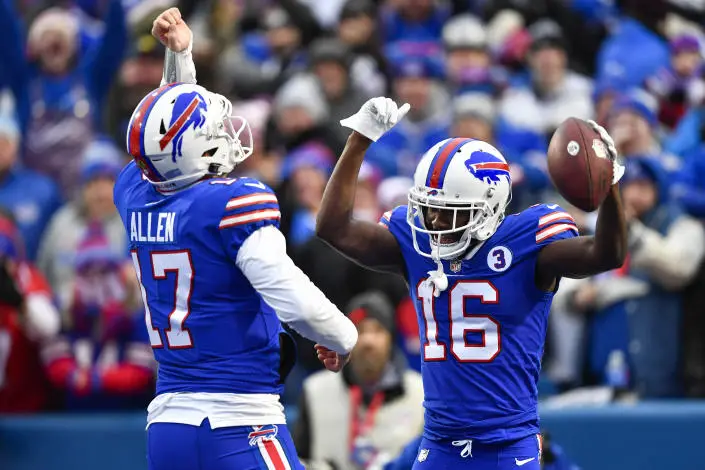 Bills  -10.5
O/U 45
While the total of this game isn't as high as others, the Bills have the highest implied team total of 27.5 on the DFS Wildcard slate. The Dolphins yielded an average of 234.8 passing yards per game, good for 6th worst in the NFL. Josh Allen has not looked the same as he did earlier in the season, though he did score over 30 DK points both times the Bills played Miami this season. In the second meeting, which took place in the snow, Allen threw for over 300, had 4 TDs, and added 77 rush yards.
According to Adam Schefter, the Dolphins are proceeding as if Skylar Thompson is going to start on Sunday. That's a problem. In his two starts he has averaged 32 pass attempts, 158 yards, and .5 TDs. He was pressured on 45% of his drop backs, highest in the NFL. This significantly caps the upside of both Tyreek Hill and Jaylen Waddle. Should Teddy Bridgewater be at the helm, then I'd be more interested in both Dolphin WRs, as well as stacking this game overall in DFS Wildcard GPPs.
I honestly think this one gets ugly if Thompson starts or sees the field at any point. Miami should already be trying to land Derek Carr or Tom Brady, but then again, their recent history with trying to get QBs isn't all that glowing.
New York Giants @ Minnesota Vikings
Vikings  -3
O/U 48.5
Though the Vikings are favored in this game, I like the Gmen to pull out the victory here, but I do think it will be close. At 25.1 points per game, the Vikings are allowing some of the most points in the league to their opponents. They are also allowing the 2nd most yards per game (388.7) to opposing offenses in the entire league. Teams are finding a little more success against the Vikings in the passing game, but it's not like the Vikings are stalwarts against the run as they are giving up 123 rush yards per game and 4.5 yards per carry. The Vikings are particularly bad against perimeter WRs, so this could be a good game for Isaiah Hodgins and/or Darius Slayton. Richie James also received 11 targets when these teams met in Week 16.
The Giants are giving up 144.2 rushing yards per game, 3rd worst of the playoff teams. They're also allowing a healthy 5.1 yards per carry. They are surrendering 358.2 yards per game, good for bottom 10 in the league. They are not particularly bad against the pass, so a Vikings RB may be the way to go here. Dalvin Cook was dealing with an injury in the regular season finale and his overall efficiency numbers on the season aren't that great; nor were they great in this matchup in Week 16. It should be noted that Justin Jefferson was targeted 16 times in the previous matchup with the Giants. He hauled in 12 of them for 133 yards and a score.
This game has the highest total on the DFS Wildcard Weekend and the statistics justify why.
For what it's worth, in Week 16 the Milly Maker winner stacked Daniel Jones with Saquon, Richie James and Isaiah Hodgins then ran it back with Jefferson and Hockenson. The Gmen were dealing with multiple injuries on their defense in that game, so just temper expectations for a repeat performance during DFS Wildcard Weekend.
Baltimore Ravens @ Cincinnati Bengals
Bengals  -6.5
O/U 43.5
The Ravens gave up an average of 232.2 passing yards per game, 7th worst in the NFL. However, they were pretty good against the run, only allowing 92.1 rushing yards per game. The Bengals like to pass but the Ravens like to slow games down almost to a snail's pace. So in order for Burrow and company to come in as the best stack, they are going to have to be very efficient or somehow be trailing late.
With news that Lamar is not going to play, the interest in the Ravens offense dwindles. Outside of Mark Andrews, I doubt any significant ownership comes in on Ravens' players. The contrarian play I like here is to play Baltimore's DST. Don't get me wrong, I am a noted Joe Burrow fan. This is just not a pace up spot for the Bengals, and I don't think the Ravens gave the Bengals their best game last week. Also, if the Ravens win, it's because their defense showed up during the DFS Wildcard Weekend.
Where I'm at for the DFS Wildcard 3 game slate:
Fortune may favor the bold if you choose to not stack up the Vikings v Giants game in this 3 game DFS Wildcard slate.
If stacking that game, I personally prefer Jones, though I am definitely going to run it back with a Viking or two.
Who am I kidding? I'll have a couple Burrow stacks.
Making a bold call and fading Josh Allen if Thompson starts. I might get burned, but I'm letting my research and instincts lead the way. I redact this statement if Bridgewater is healthy and good to go. Tyreek Hill's ownership is 6.7% while Jaylen Waddle's is 3.5%.
Monday
Dallas Cowboys @ Tampa Bay Buccaneers
Cowboys  -2.5
O/U 45.5
The good news about this game is that it will probably be one of the lowest owned on the DFS Wildcard slate considering the state of both teams, the game total, and the fact that it is the last one.
Tom Brady has been inefficient this year despite breaking his own single season record for completions. The Cowboys defense have limited big plays down the field this season, and their goal is to slow down the pace of the game. The Bucs want to run as many plays as possible, but the likelihood here is that Tampa will have to settle for the short passing game offense that they have relied on for most of the season. As such, I like Godwin and Fournette to potentially get there on passing volume.
The Cowboys offense has spread the ball around more than I like, so picking a player from their side becomes tricky. The Cowboys want to run, but Vita Vea and the Bucs defense is quite good at stopping it. If playing a Cowboy in the 6 game DFS WIldcard GPP contests, I prefer Pollard for potential receptions, Ceedee Lamb, Dalton Schultz or maybe even Noah Brown.
Where I am at for the DFS Wildcard 6 game slate:
First and foremost, when it comes to this 6 game DFS Wildcard slate, I would argue heavily to utilize late swap. If you don't know what that is, it's basically putting yourself in position to make changes as the DFS Wildcard slate evolves. Depending on how the first half of the DFS Wildcard slate goes, many players will stop paying attention, outright quit, or play heavy chalk in later games that they should not. If early chalk hits (CMC, Ekeler, Etienne, Allen, Diggs, Saquon, Jefferson), then pivoting to players who are lesser owned in later matchups may be the move.
At QB I'm using Herbert, Cousins, Jones and Burrow.
I want a player from the Bucs v Boys game in my flex spot.
I want to make sure I have at least one other player from the back 2 games in my lineups.
Thanks for checking out my DFS Wildcard Weekend breakdown. Good luck in your DFS Wildcard contests!
Follow me on Twitter at @Borisnow00 and follow my man Danny Carpenter too!
Visit our fantasy football page for more analysis!
For More Great Football Content
Follow us on Twitter at @GridironHeroics for more great content. We appreciate you taking time to read our articles. To interact more with our community and keep up to date on the latest in Football news, JOIN OUR FREE FACEBOOK GROUP by CLICKING HERE
Checkout our latest podcast!
[powerpress_playlist limit=1]