At the end of Italian American Heritage Month we will be discussing one of the NFL's most loved sets of siblings – the Bosa Brothers.
Sibling sets
We all love a set of siblings in the league together.
Some of our favorites (besides the Bosas) include: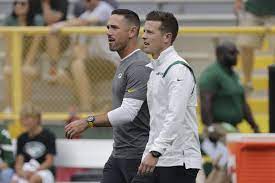 Back to the Bosas
The Bosa brothers were born and raised in Ft. Lauderdale, Florida in a tight-knit, football oriented family. Joey was born in 1995 to Cheryl and John Bosa, with Nick following shortly after in 1997.
Nick Bosa recalls his father's NFL mementos around the home, and was described as a "super fan" by his mother Cheryl. The brothers fondly remember watching and cheering on their favorite teams each week during the season. They didn't wait long to jump in either – Joey and Nick began playing at age and 9 and 7 respectively.
Both brothers attended St. Thomas Aquinas High School in Ft. Lauderdale.
Joey was a 4-star recruit, and ranked as one of the best defensive ends in his class. He became a Buckeye in 2013, where he received numerous accolades his three years there. Joey's junior year in college was shadowed with a suspension of one game for undisclosed reasons and ejection from another game for a problematic hit on the opposing team's quarterback.
Nick was a 5-star college recruit and also one of the top defensive ends in his class. Injuries affected Nick's college career as a Buckeye, but he was still interviewed by 8 teams in the NFL combine.
Despite being of Italian heritage, it was disappointing to find that the only media reports surrounding this topic was the brothers familial ties to organized crime as if that defines their background or is the most interesting part of it. It is one component of a rich family history we get to see a small part of. Another component being the sheer number of football talents.
A family of footballers
Their father:
John Bosa played high school and college ball before being drafted in the NFL as a Miami Dolphin in 1987. He played for three seasons in the league as a defensive end, ending his career due to injuries. With the drafting of Joey, the Bosas became the second family to have three members drafted in the first round. John is not a one trick pony either – he was an actor, and is a successful entrepreneur along with wife Cheryl who is an independently accomplished businesswoman.
Their uncle:
Uncle Eric Kumerow was also in the league, drafted one year after brother-in-law John by the same team, using the same pick (16th overall). Kumerow played four seasons in the league as a linebacker and defensive end – three for the Miami Dolphins, and one for the Chicago Bears. He retired after a bad injury.
Their cousin:
Jake Kumerow, Eric Kumerow's son, is currently in the league. He has been a wide receiver in the NFL since 2015 and has played for a few different teams. Jake is currently playing with the Buffalo Bills, and has been a Bengal, Patriot, Packer, and New Orleans Saint.
Their grandfather:
The brothers' grandfather, Palmer Pyle played in the league. He was drafted in 1959 and played six years in the NFL and AFL for the Baltimore Colts, Minnesota Vikings, and Oakland Raiders.
Their great-uncle Mike Pyle, Palmer's brother, also was in the league for nine years as a Center for the Chicago Bears during George Halas' reign. Pyle was a pro-bowler, offensive team captain, and one of the "100 greatest Bears of All-Time."
The elephant in the room
Any discussion on the Bosa Brother's family would be remiss without talking about great-grandpa Anthony Accardo. Mr. Accardo was better known as "Joe Batters" or "Big Tuna" on the streets of Chicago beginning in the 1920's. Accardo was involved with a Chicago crime Syndicate, recruited by Al Capone (and you thought you're boss was a handful).
Tony may have had a checkered past, but there are many great qualities he had that may be visible in his great-grandsons.
A family man:
Mr. Accardo was a family man, married to his wife Clarice, and the father of a large brood of four. Tony was born in Chicago's West Side, the second of six kids, one year after his parents immigrated from Italy. Accardo was intelligent, with a photographic memory, but dropped out of school at 14. As a teenager, Tony began running in minor organized crime groups. Things escalated from there.
Regardless of his career choices, Accardo supported his family by doing things like watching his grandson Eric play in high school football game in the stands. Kumerow describes his grandfather as a great and caring man whom he loved.
Strong work-ethic:
It goes without saying that the Bosa brothers are no schlups on the field.
Just to name a few accolades, Joey Bosa was named First-Team All-American more than once, as well as Big Ten Defensive Player of the Year, Big Ten Lineman of the Year and All-Big Ten at The Ohio State.
Nick Bosa's talent is apparent to fans – at The Ohio State he won titles like First-team All-Big Ten and the Smith-Brown Big Ten Defensive Lineman of the Year.
Joe Batters was similarly successful in his field. Much like his great-grandsons his job description did require a certain level of calculated violence he excelled at. He was able to take leadership, becoming co-boss with the change of hands in command in 1940's, and in his older age contributing by serving as a sort of senior consultant and lead mediator.
Tony also helped bring in the sort of 'Golden Age' of his organization, where profit and influence increased dramatically. In Big Tuna's hay day he was involved in the slot machine business – bringing the slots to different industries in the Chicago area. and other locations such as Las Vegas. Tony also brought "liquid" to "dry" states, and helped distribute certain substances in an increased way. Accardo's biggest accomplishment? Dying of natural causes with his shoes off. If you know, you know.
Joey Bosa's NFL career
A Los Angeles Charger since 2016, Joey has taken the NFL by storm. The young man was drafted third overall in the draft. Bosa was named NFL Defensive Rookie of the Month in October of 2016 and later the Year. In 2017, Joey broke another record – the most sacks (19) in a player's first 20 games. Some notable QB's he has sacked are Ryan Tannehill, Joe Burrow, and Josh Allen.
In the 2020 season, Joey signed a 5-year, $135 million contract  extension with the Chargers. At the time he was the highest paid defensive player in the league. Other notable career achievements include being nominated for the Pro Bowl four times in the first five years of his career and being named one of the "NFL Top 100 Players" each year from 2017 to 2022.
Unfortunately, we likely won't be seeing much of Joey for a while. He underwent surgery for an injured groin muscle and is currently on IR as of late September. The projected timeline was 8-10 weeks out to heal, but likely will be longer.
Nick Bosa's NFL career
Nick Bosa has set out to make a name for himself independent of his brother starting with being the 2nd overall pick in his draft. Another way he has done this is by tweeting out controversial political and social ideologies, such as calling Colin Kaepernick a clown. Something he had to apologize for his first day on the San Francisco 49ers team – not the greatest debut to the NFL.
However, he was far more skilled on the field then he was in social media management. Nick won the AP NFL Defensive Rookie of the Year Award. However, he was too busy in the Super bowl to accept the award in-person.
In 2020, Bosa tore his ACL in week 2 of the season, and was out for the remainder of it. Despite this setback, in 2021 Nick had the fourth highest record of sacks in the league – a whopping 15.5. He is raining in forced fumbles and sacks of QB's such as Aaron Rodgers, Patrick Mahomes and Kirk Cousins,
2022 has been a mixed bag of injuries and incredibly sacks for Nick Bosa. What is with the groin muscles in this family? This impediment hasn't kept Bosa from being a sack-machine much this year – most recently, on October 30th, when he took down Matthew Stafford. This isn't the first time he's ruined the Rams life this season – he has a pension for pressuring Stafford. Nick was reportedly surprised the Rams "gave up early." No one else is – we've all seen what it looks like to be on the other side of the ball from one of the most punishing defensive ends in the league.
For other great Italian American Heritage Month related content look here, here, and here.
For More Great Football Content
Follow us on Twitter at @GridironHeroics for more great content. We appreciate you taking time to read our articles. To interact more with our community and keep up to date on the latest in Football news, JOIN OUR FREE FACEBOOK GROUP by CLICKING HERE
Checkout our latest podcast!
[powerpress_playlist limit=1]