Some NFL fans thought there was a conspiracy on Tuesday to silence Aaron Rodgers during The Pat McAfee Show. Rodgers was a guest on the show and was answered a jestful question by McAfee.
McAfee asked the New York Jets quarterback what his Halloween costume was this year and made a reference to wearing a vaccine costume. The politically outspoken quarterback made a joke that he wore a "spike protein" costume. (The famous spike protein that allowed COVID-19 to enter cells.)
However, some viewers watching the broadcast saw the feed go down after Rodgers' comment. And a rumor spread around social media that ESPN cut the comments due to the vaccine controversy. (Rodgers has made comments that ally with anti-vaxxers in the past.)
NFL fans react to the feed going out on Rodgers
The broadcast issue had nothing to do with ESPN. Many viewers said they were able to see the interview just fine. However, some fans thought there was a conspiracy about why the broadcast cut out when the vaccine talk was on.
Here are the best takes on X about Rodgers' feed being lost when he talked about Vaccines.
This didn't happen lol just was a bad feed someone recorded. It aired as normal on other feeds / services.

— Rob Lopez (@r0bato) October 31, 2023
Why Pat Mcafee shouldn't have sold out to ESPN and should've done his own thing

— jj 🪴 (@planthugg) October 31, 2023
Not true. I was watching live on direct tv and it never dropped

— metropolitan (@metropolitan30) October 31, 2023
They can't handle the truth!

— intoitru2 (@cowboy6070) October 31, 2023
Can't let the normies hear him talk bad about the vaccine he has already done enough damage

— Sword of truth (@SwordOfTruthPod) October 31, 2023
This is why i dont watch this show anymore. Disney or Youtube both are completely ran by devil worshippers.

— Rusty Buckets (@somoneelseho) October 31, 2023
They know We know….Get a booster 🤣🤡🌍

— Petey Pablos Sports Cards.M2 (@Rampage4271) October 31, 2023
This ain't happen where Im at! I was watching this morning and it was fine the whole time, no black out or anything 🤔🧐🤔🤔

— Dflo (@dflo424) October 31, 2023
Not a coincidence at all.

— ReasonableSuspicion (@ReasonableSus) October 31, 2023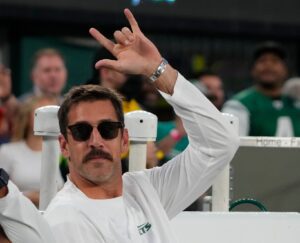 For More Football News:
Follow me on Twitter at @JordanSig. You can also reach out to Jordan Sigler via email at jordanmsigler@gmail.com. To read more of our articles and keep up to date on the latest in college and NFL news, click here!