The 49ers begin an essential season in their historic franchise's history on September 11th against the Chicago Bears at Solider Field. San Francisco has a deep and talented roster at every position in all three phases of the game, offense, defense, and special teams, that can compete with any team in the NFL. These are the five most important position groups that will determine the 49ers' success this season. 
5. Defensive Secondary
The 49ers secondary got younger and more athletic overnight. The addition of free agent cornerback Charvarius Ward and rookie Samuel Womack III look to improve and solidify the 49ers' defensive secondary. If the secondary can stay healthy, they will be a force in the NFC. 
4. 49ers Running backs
When the 49ers run the ball effectively, they can be one of the most explosive offenses in the NFL.  A significant concern with the running backs is health.  If Elijah Mitchell, Jeff Wilson Jr., and Tyrion Davis Price stay healthy, the 49ers will be dangerous and explosive. 
3. Defensive Line
The strength of the team is the defensive line. They got out of training camp with little to no significant injuries heading into week one.  If he can stay healthy, Nick Bosa can be the defensive player of the year and even be in the conversation for the MVP.  Look for young players like Javon Kinlaw and Drake Jackson to take a step forward to help solidify the defensive unit.  A player who needs to take a big step is Arik Armstead. Like Bosa, if Armstead can stay healthy, he can be a dominating presence on the defensive line. 
2. Quarterback
They are in a transition period from going to Trey Lance as the starter. Beyond popular belief, they benefit keeping Garoppolo on the roster instead of trading or cutting him.  The primary question going into the season is if Lance can lead a team with Super Bowl aspirations as a first-year starting quarterback. 
1. Offensive line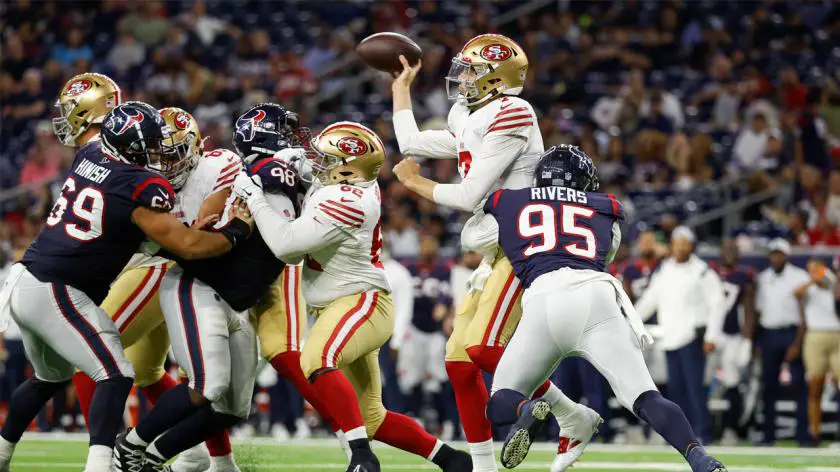 The offensive line is the most crucial position heading into the 2022 season for San Francisco.  They are a run-oriented offense, and the offensive line needs to be able to make holes, and slow the defensive lines down for the offense.  There are a lot of uncertainties on the offensive line left of Trent Williams.  The interior offensive line of Aaron Banks, Jake Brendel, and Spencer Burford will make or break San Francisco's chances of being competitive or ordinary. If the 49ers' offensive line can control the line of scrimmage and keep Lance upright, the 49ers will win the Super Bowl this season.
For More 49ers & NFL Content
Follow me on Twitter at @b_eglesia