Here's my ranking of NFL Head Coaches leading the way in 2022. Feel free to argue or agree, just know it doesn't matter because this is an officially official ranking.
The NFL is one of the most cut throat leagues in professional sports. At most you will be given three years to right the ship before you get the axe. Even for a league that epitomizes the "what have you done for me lately" mantra, there was an exceptional level of turnover after the 2021 season. With that being said there are some coaches who I believe will be successful, but little to no experience. To go along with little experience, a new head coach is entering a poor situation, hence why the last one was fired.
There is a lot that goes into the makings of a successful head coach in the NFL. Jim Harbaugh's infamous "Sometimes people standing on third base think they hit a triple, but they didn't" quote can certainly ring true for some coaches. Other guys have the opposite issue and can't seem to catch a break.
As I go through the list you will notice a common denominator for top coaches is a top tier quarterback. The quarterback position has and always will be the variable that will make or break a franchise. Fair or unfair, the fall guy is often the head coach.
All 32 coaches. From first to last, here we go!

Welcome To The NFL Rookie
It only makes sense to rank these new coaches in the back of the pack right? I mean you aren't going to make an apprentice the job site foreman on his first day are you?
32. Kevin O'Connell – Vikings
Career NFL Record: N/A
Seasons With Team: First Season
Unfortunately someone had to be last. Minnesota not failing to win a game is the only obvious gripe. The first time head coach landed a fairly decent situation. Vikings fell for the NFL copy cat league's greatest offense. It is hard to imagine the 37 year old Sean McVay disciple will have an issue on the offensive side of the ball with the handful of weapons that are there. The defense is getting older, but maybe they can hang on for another year. My guess is they may be good enough to not finish last in the North.
31. Brian Daboll – Giants
Career NFL Record: N/A
Seasons With Team: First Season
If there is one guy to inherit a worse roster than Chicago's Matt Eberflus it's Brian Daboll. The rookie head coach has led one of the most prolific offenses in the league over the past few years and turned Josh Allen into what he is today. Daboll will lead a Giants team that will likely be competing with The Commanders for 3rd place in a crowded NFC East. A miracle season will require Saquon Barkley to stay healthy and Daniel Jones to not get strip sacked every game. Stranger things have happened in the NFL
30. Matt Eberflus – Bears
Career NFL Record: N/A
Seasons With Team: First Season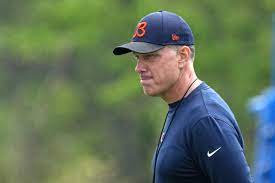 Chicago Bears Head Coach Matt Eberflus
Coach Eberflus will undoubtedly face the toughest challenge in his rookie season. No roster has experienced more turnover than the Bears. Flus' M.O. is disciplined football. Mitigating mistakes and a never die attitude. This young roster fully buying into their new head coach's philosophy will keep them competitive each week. Overall lack of high end talent likely keeps them toward the cellar in the NFC North.
29. Mike McDaniel – Dolphins
Career NFL Record: N/A
Seasons With Team: First Season
Only having one year under his belt as a playcaller is his only knock coming into the season. He is one of the most brilliant offensive minds in the NFL that can also connect with his players effortlessly. Miami will tote one of the fastest receiving corps in the league, but do they have the quarterback that can get them the ball? The Kyle Shanahan coaching tree continues to be sought after and we will find out what his newest disciple can do in a loaded AFC East.
28. Nathaniel Hackett – Broncos
Career NFL Record: N/A
Seasons With The Team: First Season
The biggest question around Hackett is if he was a driver of the Packers offense or simply riding the coattails of Rodgers. He certainly inherited the best situation out of the first time head coaches. One of the rare scenarios in which a new coach is gifted a loaded roster and then immediately upgrades to a Super Bowl winning quarterback. The only downfall is he's in the same divison as Justin Herber, Patrick Mahomes, and Derek Carr.
You're Going Nowhere… In The NFL With These Guys
Some are still green, some have been around the block. Regardless, this group was voted most likely to stay in the loss column this year.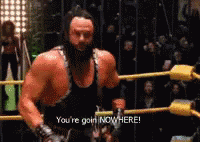 27. Matt Rhule – Panthers
Career NFL Record: 10-23
Seasons With Team: Third Season
It's my job on here to be honest with you. So, in honor of honesty all I'm going to say about Rhule is if there wasn't five rookie head coaches he would be No. 32 on the list. There is no culture or plan to be found. The only scenario they don't finish dead last in the NFC is if Baker Mayfield goes on a otherworldly revenge tour. Prayers up for the Carolina faithful.
26. Lovie Smith – Texans
Career NFL Record: 89-87 | Playoffs: 3-3 | Super Bowl: 0-1
Seasons With Team: First Season
Lovie has been around forever. He led the Bears to three playoff appearances including Super Bowl XLI vs Hall of Fame QB Peyton Manning. After being let go following a 10-6 season in Chicago he landed with the Buccaneers but never found success there. 2016-20 he tried his hand as the Illinois Fighting Illini Head Coach. Last year he took on the role of defensive coordinator for the Texans under head coach David Culley. Lovie has always been known as a players coach and culture builder. It will be tough for this lackluster roster to truly compete in a decent AFC South.
25. Dennis Allen – Saints
Career NFL Record: 8-28
Seasons With Team: First Season
Allen has spent 12 of the past 16 seasons with the Saints. He took a four year hiatus to be the DC in Denver and the Raiders head coach where he posted an 8-28 record before returning to New Orleans to serve as defensive coordinator and right hand man to Sean Payton the previous six seasons. He is well respected within the building and knows the personnel, but we will see if he can take an aging defense the distance and a Jameis Winston-led offense the distance.
24. Robert Saleh – Jets
Career NFL Record: 4-13
Seasons With Team: Second Season
Already bitten by the injury bug it may be another difficult year to evaluate the Head Coach. Adam Gase left the Jets in complete disarray two years ago and Saleh has been left to pick up the pieces. He seems to handle the New York media well, but at some point you have to see results. On paper they seem vastly improved in a couple key areas, but it'll be up to Saleh to maximize the talent. Quarterback remains a question as it has since the days of Chad Pennington.
23. Arthur Smith – Falcons
Career NFL Record: 7-10
Seasons With Team: Second Season
Smith's Falcons had an up and down which is appropriately accompanied by the 7-10 record. They never really got on a roll and never were all that competitive in their losses. Smith has a couple new toys to play with on the offensive side of the ball. The skill positions should be plenty loaded to aid new QB Marcus Mariota.
22. Dan Campbell – Lions
Career NFL Record: 8-20-1
Seasons With Team: Second Season
Lions Head Coach Dan Campbell
"MCDC" Motor City Dan Campbell is entering his third year, second with Detroit, as a head coach. The former third round draft pick turned coach hasn't had the success in the win column, but his players are always willing to go to war for him. Hard not to root for a guy who puts his heart and soul into his guys. The Lions added a lot in the offseason and will be competitive with everyone they play this season.
21. Josh McDaniels – Raiders
Career NFL Record: 11-17
Seasons With Team: First Season
Entering his first season as the Raiders head coach Josh Mcdaniels will need to prove what happened in Denver was just a case of his immaturity at the time. McDaniels has always been one of the best offensive minds in the league, but his only Head Coaching stint was a failure epitomized by his falling out with then quarterback Jay Cutler. On top of change the narrative of him as a head coach he will also be facing the tall order of taking on the most loaded division in the NFL.
Young Guns And The Old Heads
Many of these coaches have experienced a level of success recently, but are they for real?
20. Nick Sirianni – Eagles
Career NFL Record: 9-8 | Playoffs: 0-1
Seasons With Team: Second Season
Seeming unprepared on the field and off with the media made for a slow start to his rookie campaign in 2021. Taking advantage of a weak second half schedule he managed to find a rhythm with the young Jalen Hurts sparking a run into the playoffs. With a loaded roster they could upend the Dallas Cowboys as kings of the NFC East.
19. Mike McCarthy – Cowboys
Career NFL Record: 143-92-2 | Playoffs: 10-9 | Super Bowl: 1-0
Seasons With Team: Third Season
There probably hasn't been a coach who's done less with more. McCarthy not only has had the benefit of weak divisions his whole career, he also had one of the best quarterbacks of all time in Green Bay for 13 years. All of the help in the world and he's miraculously amassed one Super Bowl appearance and several early exits in his 16 seasons. He's a coach that can steady a franchise, but the moment will always be too big for him to lead a true contender.
18. Kliff Kingsbury – Cardinals
Career NFL Record: 24-24-1 | Playoffs: 0-1
Seasons With Team: Fourth Season
The fourth year coach falls into the categories "born on third" and "does little with a lot". His last two seasons have couldn't have started any better, but have completely fallen apart at the seams in the second half. Some of that could be his lackadaisical, smaller stature quarterback. Most, if not all the blame should be directed toward the head coach. It will be on him and Kyler Murray to change the narrative in a difficult division.
17. Todd Bowles – Buccaneers
Career NFL Record: 26-41
Seasons With Team: First Season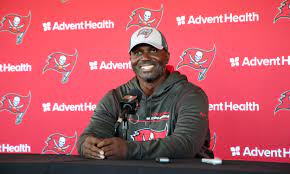 In New York he took over an aging roster left behind by Rex Ryan. His first year they won 10 games, but barely missed out on the playoffs. That would be the closest he would come to sniffing the postseason. The next three years he would post a 14-34 record before being fired. Bowles is one of the most revered defensive minds in the league and had the fortune of learning under the great Bruce Arians. Tom Brady should make for an easy transition this year, but after that there will be a lot of question marks in Tampa.
16. Brandon Staley – Chargers
Career NFL Record: 9-8
Seasons With Team: Second Season
With one of the best rosters on paper the aggressive head coach will be looking to claim the insane AFC West. The inexperience showed itself last year on a couple of occasions and may have singlehandedly cost them a playoff birth in the final game of the year letting their division foe into the dance. A healthy Austin Ekeler and the addition of Khalil Mack could get them over the hump. Anything less than a playoff run will result in fair criticism.
15. Zac Taylor – Bengals
Career NFL Record: 16-32-1
Seasons With Team: Fourth Season
Zac is the epitome of this group of coaches. A Super Bowl appearance last year was probably the last thing even on his mind last September, but the NFL is a funny league that way. Winning 10 games last year nearly doubled his win total from the previous two seasons combined. Finding your quarterback and a top five receiver will do that for you though. As much as I don't believe Taylor is a top 15 coach in the league, I do believe this roster is full of too much talent to post a losing season.
14. Kevin Stefanski –  Browns
Career NFL Record: 19-14 | Playoffs: 1-1
Seasons With Team: Third Season
Stefanski's short campaign as the Brown's head coach has been riddled with quarterback controversy for the better part of his three seasons. Baker Mayfield looked the part in Kevin's rookie season in 2020 leading to Cleveland's to a playoff appearance breaking the longest playoff drought in the NFL. With the most recent drama of Deshaun Watson being suspended for the initial 11 games of this season. Could be a sloppy season if Stefanski can't hold the locker room together.
Been There Done That
This group has been around and have seen it all. They always seem to run a middle of the road operation at worst with maybe a couple playoff runs to their name. Or maybe not.
13. Ron Rivera – Commanders
Career NFL Record: 90-82-1 | Playoffs: 3-5 | Super Bowl: 0-1
Seasons With Team: Third Season
Rivera has been steady his whole career and his teams are always disciplined ball clubs. His best season came in 2015 when his squad went 15-1 and cruised to his lone Super Bowl before running into the Denver Broncos and Peyton Manning. The Sheriff's Broncos rode off into the sunset after besting the Panthers in a defensive struggle. Rivera hasn't come particularly close since that season and the Commanders don't figure to be a threat in the NFC East this season either.
12. Doug Pederson – Jaguars
Career NFL Record: 42-37 | Playoffs: 4-2 | Super Bowl: 1-0
Seasons With Team: First Season
Before Pederson had a falling out in Philly he led them to Super Bowl LII beating the Patriots with journeyman quarterback Nick Foles after Carson Wentz went down at the end of the season. It will be up to him to bring the most out of second year quarterback Trevor Lawrence.
11. Frank Reich – Colts
Career NFL Record: 37-28 | Playoffs: 1-2
Seasons With Team: Fifth Season
Frank might be better Nos. 9 & 10 on this list, but he is slightly lacking in the playoff department. I think in due time he will crack the top ten in these rankings. He was part of the Super Bowl run in Philly and always runs a tight ship as head coach of the Colts. But, the NFL is a what have you done for me lately league and and lately he failed to come out of lowly Jacksonville with a win to solidify a playoff spot at the end of last season. This year will be his best chance to make a deep run with Matt Ryan as his new signal caller.
Cream Of The NFL
These guys are who everyone in the league is trying to imitate.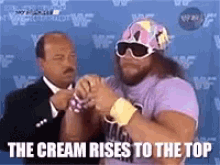 10. Matt Lafleur – Packers
Career NFL Record: 39-10 | Playoffs: 2-3
Seasons With Team: Four Seasons
Managing to win 13 games in each of his first three seasons as a head coach is nothing to sneeze at. However, he hasn't been able to get over the hump that is the NFC Championship game. Last year they didn't make it out of the divisional round getting bounced at home in the snow by the San Francisco 49ers. Not only did they lose, but the offensive genius with Aaron Rodgers and Davante Adams at his disposal only mustered 10 points in the game. That can't happen in Titletown.
9. Mike Vrabel – Titans
Career NFL Record: 41-24 | Playoffs: 2-3
Seasons With Team; Fifth Season
All Vrabel has done since becoming a head coach in the NFL is win. Nothing fancy, just Solid X's and O's and perfect execution has been his calling card. What has been a fairly average division has helped, but the culture he has created in Nashville is top tier. Marcus Mariota, Ryan Tannehill, it doesn't matter. The Titans are coming to play so you better strap those pads on tight. His biggest accomplishment was 2019, knocking the Patriots out in the Wild Card round in Brady's final year with New England. That magical run eventually ended in the AFC Championship game against the eventual Super Bowl Champion Chiefs.
8. Pete Carroll – Seahawks
Career NFL Record: 154-104-1 | Playoffs: 11-10 | Super Bowl: 1-1
Seasons With Team: Thirteenth Season
Pete Carroll jumped into the NFL after his run with juggernaut USC came to an abrupt halt, later found out to be due to recruiting violations that would destroy the program for years to come. His time with the Seahawks is most famous for the "Legion of Boom" in 2012 and none other than Russell Wilson who he will open the 2022 season against. Carroll has been dominant reaching the postseason 9 of 12 seasons with Seattle. Has the NFL began to pass him by or will he be able to revamp one of the least talented rosters after this year?
7. Kyle Shanahan – 49ers
Career NFL Record: 39-42 | Playoffs: 4-2 | Super Bowl: 0-1
Seasons With Team: Sixth Season
Opposite of McCarthy, I don't think there has been a coach to do more with less than Shanahan has. There have been more injuries and sudden retirements on that team than you can count. An absolute brilliant mind that gets the most out of his players every Sunday. A perfect mix of ground and pound and gadget plays keep defenses on their heels. His only fault is he has to coach against Sean Mcvay and Pete Carroll four times or more every year. Once he finds his quarterback they'll become the team to beat in the NFC West.
6. Sean McDermott – Bills
Career NFL Record: 49-32 | Playoffs: 3-4
Seasons With Team: Sixth Season
The perfect coach to lead the Bills Mafia into battle every Sunday. From laughing stock to owning the AFC East McDermott has the Bills as one of the biggest cinderella stories in the NFL. Amidst the chaos in the stands around him and his quarterback making big plays off script he remains collected. Yin and Yang if you will. He has done a great job of spotting talent and putting the best coaching personnel around his team. The Bills have made more and more progress toward winning the Franchise's first Super Bowl title. Can they withstand the pressure of Super Bowl expectations?
5. Mike Tomlin – Steelers
Career NFL Record: 154-85-2 | Playoffs: 8-9 | Super Bowl: 1-1
Seasons With Team: Sixteenth Season
Doesn't have a single losing season on his record. There has been nobody who has reinvented himself as well as Tomlin does every year. He's had good and bad offenses, good and bad defenses, franchise quarterback go down in the middle of the year, and everything in between. Tomlin is truly one of the best coaches in the NFL and if he decided to hang it all up today he would be a first ballot Hall of Famer.
4. Bill Belichik – Patriots
Career NFL Record: 290-143 | Playoffs: 31-13 | Super Bowls: 6-3
Seasons With Team: Twenty-Third Season
If what i just gave Tomlin is flowers then Bill deserves a whole garden. Name a better culture setter than Bill Belichik. You can't. 22 years and counting and he still gets players to buy what he is selling. You know why? Because it works! Tom Brady or not, there is no doubting that Bill will go down as a top five NFL coach when its all said and done, and he won't be number five. Even in his recent struggles, which is why he's 4 on this list, it is hard to bet against him. If Mac Jones can be an average quarterback the Patriots will be in the playoffs more often than not.
3.  John Harbaugh – Ravens
Career NFL Record: 137-88 | Playoffs: 11-8 | Super Bowl: 1-0
Seasons With Team: Fifteenth Season
Another guy that has stood the test of time and has had many winning clubs using many different tactics. A players coach who demands execution and fits in with the "Black and Blue Division" perfectly. Air attack, on the ground, or by solid defense it doesn't matter his teams find ways to win ballgames. Maybe its the special teams coach in him, but his attention to detail is rivaled by very few. Going from Joe Flacco to Lamar Jackson and not missing a beat is insane when you look at how vastly different those two quarterbacks are. It doesn't matter the players on the field, as long as Harbaugh is on that Baltimore sideline the Ravens will be in contention every year.
2. Andy Reid – Chiefs
Career NFL Record: 233-135-1 | Playoffs: 19-16 | Super Bowl: 1-2
Season With Team: Tenth Season
It's hard not to root for the beloved Andy Reid. After years of just missing the ultimate prize he finally got his in 2019. The rapid pace of the NFL has not only failed to pass Reid by, but it has failed to keep up. He has managed to be the trend setter since arriving in Kansas City. Reid boasts a .710 winning percentage with the Chiefs in nine seasons, his only team to not win 10 or more games was his 2014 squad that won… 9 games. Andy Reid is a staple in the NFL and has transcended the game in so many ways, and at the ripe age of 64 he is showing no signs of slowing down.
Drumroll please….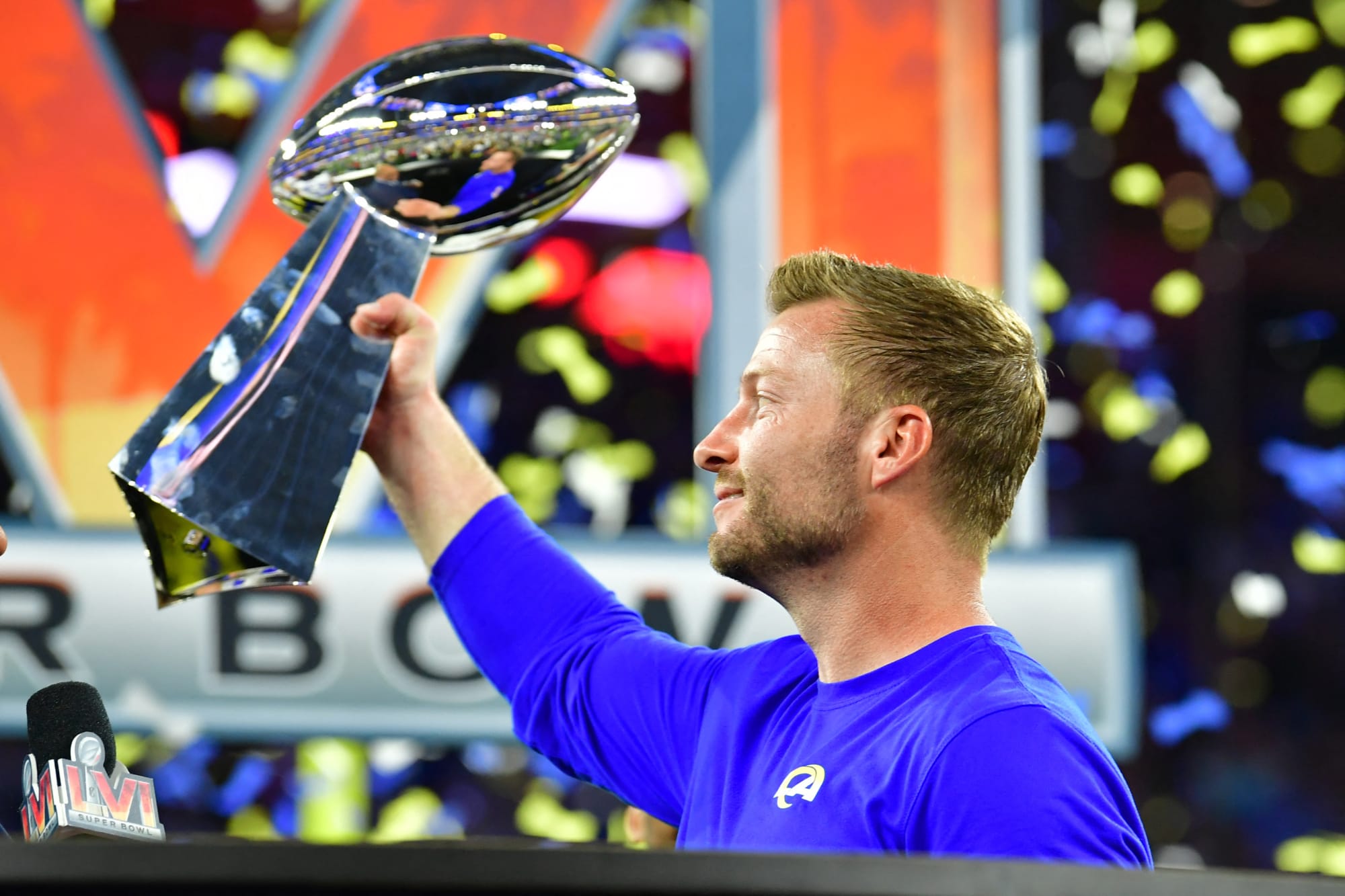 1. Sean McVay – Rams
Career NFL Record: 55-26 | Playoffs: 7-3 | Super Bowl: 1-1
Seasons With Team: Sixth Season
If I am being truthful there is a fair amount of recency bias laced in my decision to not put Reid at the top. Can you fault me for putting the youngest coach in the league who has already rattled off two Super Bowl appearances in his first five seasons. When an NFL team is interviewing coaches, they are looking for the next Sean McVay. No other coach on this list has accomplished what he has in such a short period of time. 36 years old, .629 regular season win percentage, and a .700 playoff win percentage.  It's not like they playin a week division. Seattle and San Francisco are in the playoffs almost every year as well. The most amazing part of that is he did the majority of that, short of a Super Bowl win, with Jared Goff at quarterback. He was so good at creating space and dismantling defenses with perfect flow that we thought Jared Goff was elite for a season and a half. It will be interesting to see how long he can keep his team ahead of the curve, but for now the only problem with Sean McVay is there will never be another Sean McVay.