A new wide receivers coach for Rutgers has been hired ahead of the 2023 season. This is another addition to this new offense for 2023. Recently the Scarlet Knights hired a new offensive coordinator, Kirk Ciarrocca. Now there has been a new wide receivers coach for Rutgers, which is Dave Brock. Here is some insight on Brock and what he can bring to this Scarlet Knights offense.
Wide Receivers Coach for Rutgers: Coaching History
Dave Brock is not new to the Scarlet Knights. Brock was with the school in 2012. Before becoming the wide receivers coach for Rutgers, Brock was the offensive coordinator for the Scarlet Knights in 2012. Rutgers went 9-4 that season, and Brock only lasted one year there.
One of the more notable teams that Brock was with is the Atlanta Falcons in the NFL. Brock was with the team from 2017 up until 2021. According to Pro Football History, Brock began with the Falcons as an Offensive Assistant Coach. That was in 2017 when the Falcons went 10-6 and made the playoffs. He then became the Wide Receivers coach, in addition to the Offensive Assistant coach in 2018. He became a running backs coach in 2019 then his last two years there he went back to being the wide receivers coach.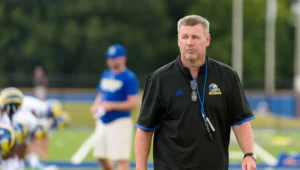 Having Brock with his experience as a wide receivers coach for Rutgers can be a great thing for the school that needs help on offense. According to Pete Thamel, College Football Writer for the Athletic, Brock was most recently a Texas Senior Analyst. This is overall good news that he was brought in to be the wide receivers coach for Rutgers.
Wide Receivers Coach for Rutgers: What Brock Brings to the Table
First and foremost, Brock brings a great deal of experience. He has worked with one of the best wide receivers, Julio Jones. Even if the Falcons never won the Super Bowl with Brock as a coach, he still has worked with great players and he can use this knowledge and bring it to the wide receiver's room with the Scarlet Knights.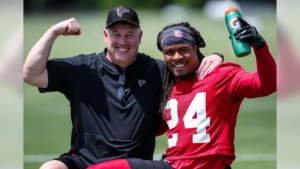 In the 2022 season, the Scarlet Knights only had a total of 1,847 receiving yards, according to ESPN. While that is not just the fault of the receivers, there were many issues with the offense, and a new coach with experience can be a great help. In 2022 the team also only averaged 153.9 receiving yards per game, which they will want to improve on.
New Wide Receivers Coach for Rutgers: Other Staff Changes
With the addition of a new wide receivers coach, there were a couple of other changes that went into effect. According to The Knight Report, two other coaches were moved. Damiere Shaw is the new running backs coach, and Andrew Aurich is the new tight ends coach.
Rutgers has done a strong job this offseason attempting to make their offense better than it was in 2022. The Spring Game will take place on April 29th. This will be the first time the new wide receivers coach and the other new staff can come together and see what they can do in a game.
For More NFL Content:
Here is an article on the press conference by the Rutgers Head Coach. Also, check out this article on the Breaking News regarding the Penn State Nittany Lions. Check out this article on Penn State gaining wide receiver Malik McClain.
Be sure to look back on the history of the 49ers vs Cowboys in the playoffs here, ahead of their divisional game this weekend. Be sure to check out this 49ers article here, on their NFC West Wild Card win. Check out my most recent article on why their game came down to mentality over physicality. Also, check out this article on where defensive coordinator DeMeco Ryans will coach in the 2023 season.
For More Great Football Content
Follow us on Twitter at @GridironHeroics for more great content. We appreciate you taking time to read our articles. To interact more with our community and keep up to date on the latest in Football news, JOIN OUR FREE FACEBOOK GROUP by CLICKING HERE
Checkout our latest podcast!
[powerpress_playlist limit=1]