There's never a dull moment when you're playing football in the AFC North.
From the Bengals' 4th-and 12 touchdown against the Ravens on New Year's Eve, to the Antonio Brown catch to win the division on Christmas night against Baltimore, to the Garrett-Rudolph catastrophe, the AFC North always has quality gameplay and memorable matchups. The Bengals are the most recent division winner, taking the crown and making a frantic run at the Super Bowl last season.  Meanwhile, the Steelers are the most consistent division winner with 24 titles under their belt.  Lamar Jackson has kept Baltimore in the mix since he first donned the purple and black.  And the Browns…well, let's just say that the Titans have won their division more recently than they have.
2022 is different, though.  Only one week of play has stained the players' jerseys.  Each team looks to have some striking assets that could help them contend for the division.  However, all four football squads also have leaks that need sealed if they hope to stay afloat in a talented AFC.  Without further ado, let's ask ourselves who will win this challenging division?
The Bengals
The Good
You can't bet against talent and experience in sports, right?  Cincinnati is plenty talented, from Joe Burrow to Ja'marr Chase to Joe Mixon and other unsung heroes.  They did go into Kansas City and beat Patrick Mahomes twice last season, once with a trip to the Super Bowl on the line.  Chase set franchise receiving records as a rookie.  Burrow was a clutch Comeback Player of the Year.  Their biggest hindrance, the offensive line, has been retooled this offseason.  A stout defense rounds out a competitive team.
Most importantly, this young group of talented players is now experienced.  The 2021 playoff run set Cincinnati up for future success in terms of battle-testing the roster,  Last week's game in Pittsburgh may have just been rust from the starters not playing during the preseason.  Joe Burrow was also recovering from surgery and could look like his old self shortly.  Don't count out the cats to rule the jungle in 2022.
The Bad
Did you see that fiasco last week?  The Bengals had a home opener against a division rival that they beat handily last season, and they bungled it.  The offensive line, while different in names, was similar in protection, allowing 7 sacks.  Burrow looked like a shell of his 2021 version, throwing picks to four different Steelers.  Joe Cool also fumbled twice, losing one to  Pittsburgh captain Cam Heyward.  Even though their defense played quite well, the Steelers gave the NFL a blueprint on how to slow their offense.  Additionally, Cincinnati will have a target on their back after winning the entire AFC last season.  All opponents will bring their best.
The Steelers
The Good
That defense was lethal on Sunday.  Alualu and Ogunjobi have reinforced the defensive line.  Devin Bush looks to be better than he was last year.  Highsmith notched three sacks which was half of his total last season.  Witherspoon and Sutton played better than advertised.  Minkah Fitzpatrick proved he was worth every penny of his extension he received this year.  Myles Jack may have done the best thing for his reviving career by signing with the Steelers.
The offense had encouraging moments.  Matt Canada was able to throw in some trick plays he couldn't call last year.  Freiermuth and Gentry showed how they can be a dynamic receiving duo from the tight end spot.  Chase Claypool established his value in the run game while copying Diontae Johnson with a highlight reel catch.  Despite failures, the offense put some points on the board and gave the special teams unit two chances to win the game in overtime.  A top-three defense combined with an opportunistic offense could make for a lot of wins in Pittsburgh.
The Bad
Mitch Trubisky missing George Pickens for a wide-open touchdown was a cataclysm that showcased the shortcomings of the offense this season.  Canada's play calls remain suspect, running only 33% of the time.  Will Trubisky continue to win games with his inconsistency and vision and accuracy errors?  Can Kenny Pickett step up to the plate if called upon?  Will it matter who is back there if the offensive line is about as effective as five traffic cones?  Is Pittsburgh capable of not running on EVERY SINGLE FIRST DOWN?  The defense may be excellent, but this offense could keep the Steelers out of the running for the AFC North.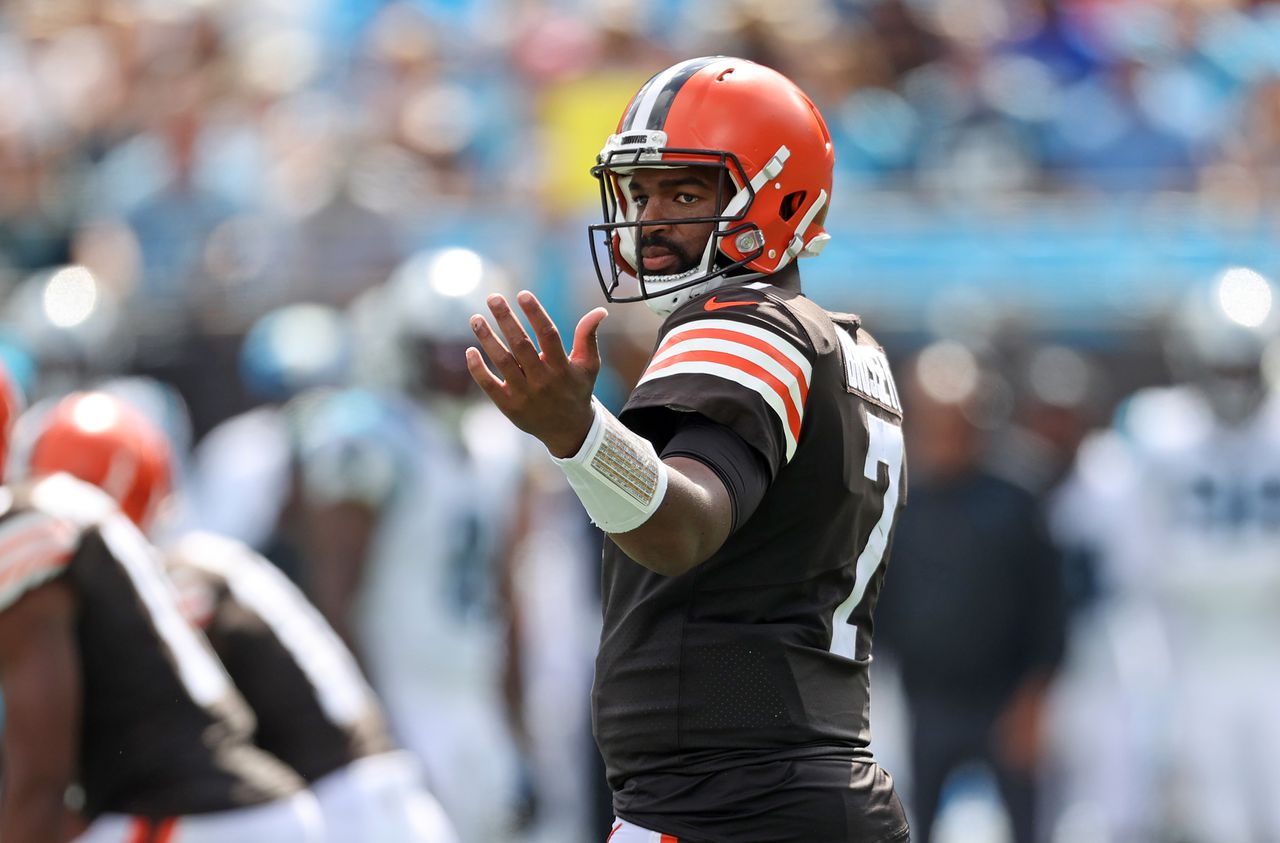 The Browns
The Good
The Browns haven't won on opening week since 2004.  Maybe that era of Cleveland football is over.  Kevin Stefanski took his team into a city they were 0-6 in and defeated his former #1 overall quarterback with a career backup.  If that sentence doesn't get your blood flowing, you're probably not a Cleveland fan.  The Browns put up 26 points against a potential playoff team and don't even have Deshaun Watson back.  Imagine what a Pro Bowler can add to this team.
The defense played well, even though Greedy Williams is now missing time.  Nick Chubb continues to run like a man possessed.  Kareem Hunt makes the duo into one of the best in the league.  Myles Garrett will continue to make turnstiles out of offensive tackles.  Special teams was instrumental, as rookie kicker Cade York chipped in with a 58-yard field goal to win the game.  This is not a team that will roll over and play dead against competition.
The Bad
Why is there so much faith in Watson, anyway?  His off-the-field controversy was only amplified by his interception-filled training camp.  His last full season at QB ended with his team sitting at 4-12.  Brissett can win some games in the meantime, but there's no guarantee that the rushing attack will support the offense fully when it gets stale.  Isn't it worrisome that Myles Garrett seems to disappear later in the season?  Does the Browns receiving core really inspire confidence?  This is a team that has much to prove before they can be crowned AFC North winners.
The Ravens
The Good
Any time you have a guy like Lamar Jackson who can turn a 3rd-and-long into a first simply by being elusive, you have a chance to do big things.  J.K. Dobbins is working his way back and will hopefully prove why he was drafted early in 2020.  Rookie Tyler Linderbaum was regarded as the top center in college last year by numerous fans and analysts.  Demarcus Robinson had a solid game Sunday and could replicate those efforts.  Who can argue against the clutch factor Justin Tucker brings?  The most accurate kicker in NFL history was paid as such this offseason and should keep paying dividends this year as always.
The defense will be tough to get through as always.  With Campbell, Queen, Oweh, Madibuke, and Houston all having chances to rush the passer, opposing quarterbacks will not be comfortable in the pocket.  Marlon Humphrey has long been regarded as a top-tier talent at his position.  Rookie Kyle Hamilton was drafted highly to solidify the safety position for years to come in Baltimore. The Ravens ended 2021 with the top-rated rush defense, not letting most opponents hit 85 ground yards per game.  If they can replicate that this year, look for the Ravens to be a complete team with an electric offense and tough defense.
The Bad
Hello, injuries.  With Kyle Fuller, Ja'Wuan James, J.K. Dobbins, Marlon Humphrey, Marcus Peters, Ronnie Stanley, James Proche, and Pat Ricard already dealing with injuries this early in the season, shades of 2021 must be flashing through Ravens fans' minds.  Even with a fully healthy team, would we really trust Duvernay, Robinson, and Proche to be a top-level receiving core for the more passing-focused Jackson this year?  Has the team been successful in recent years in spite of Greg Roman's play calls?  Can the Ravens really muster a dominant season after rolling around in mediocrity for years?
Who Will Win the AFC North?
Faith in Deshaun Watson will sink the Browns.  Expect average-at-best gameplay when he returns.  They will be in salary cap purgatory for the next several years because of him as well.  The rushing attack will not be able to negate the shortcomings of the passing game.  Don't look for a playoff win from Cleveland again for quite some time.  They will be fourth in division standings when it's all said and done.
The Ravens have some excellent potential.  I see 2022 as the season that "could have been" but will get hampered by Greg Roman and another brutal wave of injuries.  Maybe the Ravens should look into hiring new conditioning coaches and staff.  I could see the Ravens finishing second with a wild card spot, but the early injuries from a beat-up team last year have made me move them down to third.
Another injured team last year, the Steelers are fully healthy this week.  Former quarterback Ben Roethlisberger expects the strong defense to be a regular component of the team instead of an opening week fluke.  I tend to agree with Roethlisberger, even in the absence of T.J. Watt.  Assuming the offense continues to progress and develops into something that can put up more points than they just did, this team could be a tough out.  I have the Steelers finishing second and taking a Wild Card spot.
The Bengals have talent.  They have a highly rated defense by PFF (although what Cincinnati-based company wouldn't rate the Bengals well?) and an offense with explosive pieces.  After appearing in the Super Bowl, they now have experience.  Although I think this is the last season they win the North in a row, I predict Cincinnati will take home the crown for a second year straight.
Do you think the AFC North will fall this way?  Let me know in the comments below, or follow me on Twitter @therealcmcb for more analysis!
For More Great Football Content
Follow us on Twitter at @GridironHeroics for more great content. We appreciate you taking time to read our articles. To interact more with our community and keep up to date on the latest in Football news, JOIN OUR FREE FACEBOOK GROUP by CLICKING HERE
Checkout our latest podcast!
[powerpress_playlist limit=1]