About a week ago, I wrote an article predicting who I thought would clinch the last three playoff spots. Let's just say that didn't go so well. I correctly predicted the Jaguars to beat the Titans, but after the Dolphins won in lackluster fashion and the Packers fell to the Lions, neither Pittsburgh nor Green Bay were able to prove my psychic abilities. But I won't go down that easy. As this week is the NFL wildcard round, I've decided to try my hand at predicting outcomes yet again, this time, hopefully, with better luck.
12 teams will play in the NFL wildcard round, giving me six opportunities to predict the future. Although none of the matchups are particularly exciting, there are still opportunities for some major upsets. Below are Kyle Starrett's predictions for the NFL wildcard round.
NFL Wildcard Round Game Predictions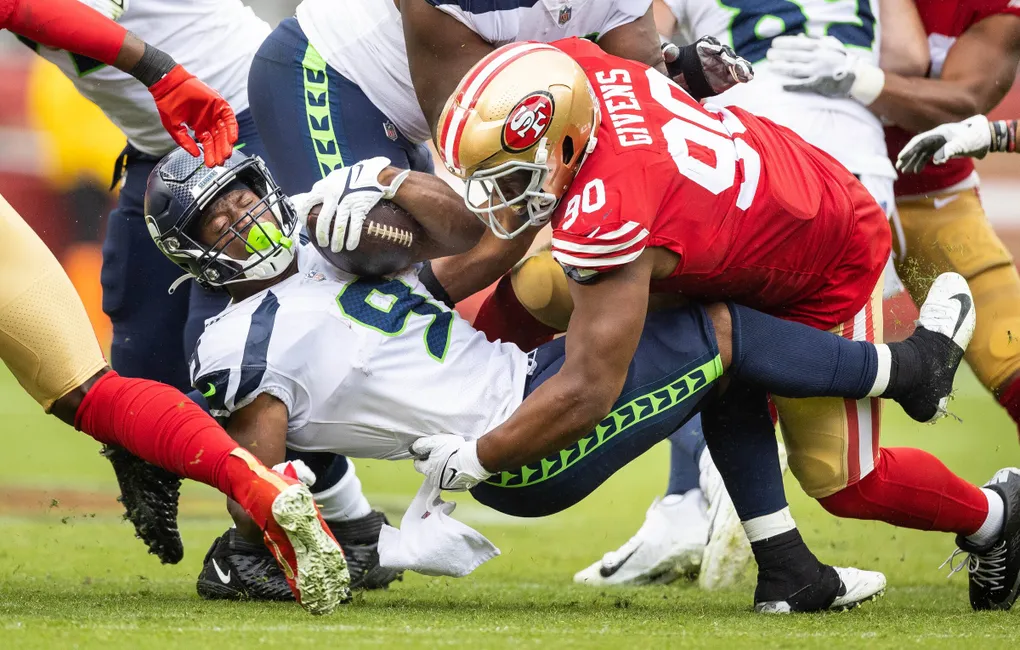 #2 San Francisco 49ers vs #7 Seattle Seahawks
C'mon NFL. If there are only going to be a handful of "interesting" wildcard games, you've gotta at least start with a good one. Okay, so this is a divisional game, maybe there's a chance it ends closer than we expect… no, who am I kidding, this is destined to be a blowout. The 49ers have already beaten the Seahawks in both of their regular season contests. This one is bound to be the same.
Final Score Prediction: 49ers 35 – Seahawks 13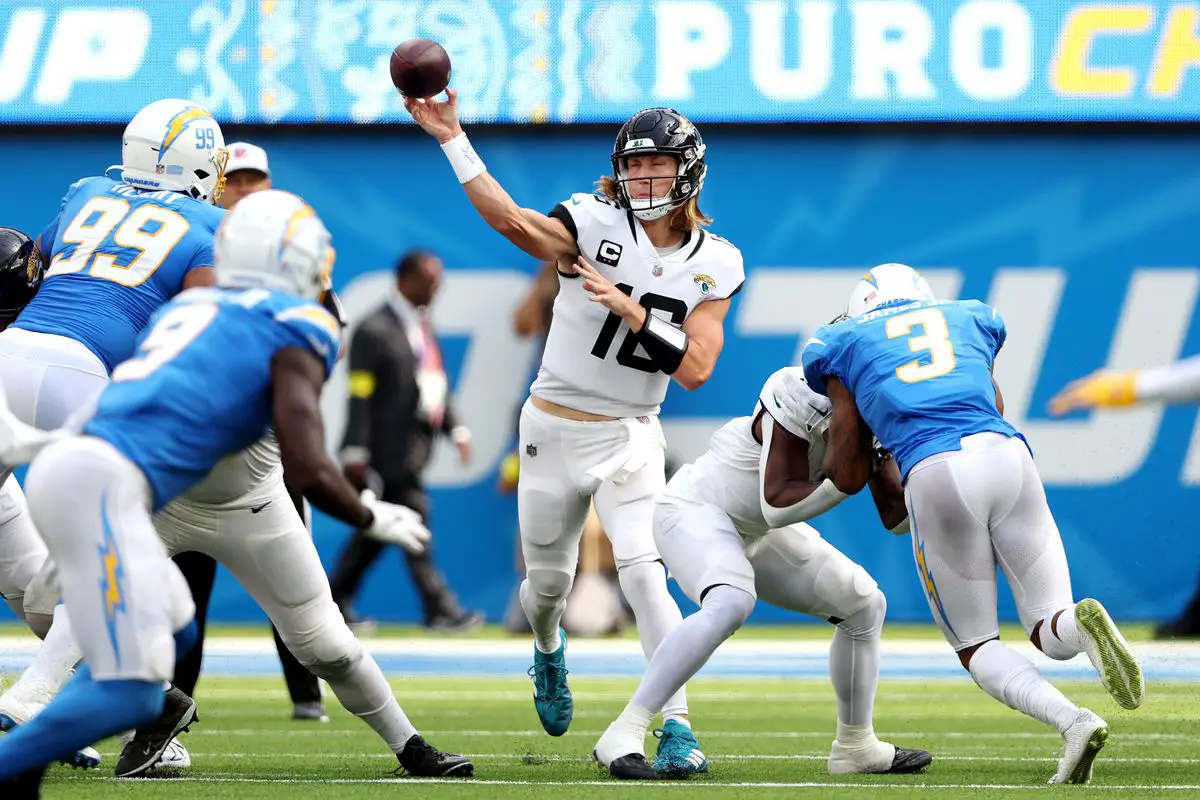 #4 Jacksonville Jaguars vs #5 Los Angeles Chargers
Now this is what I'm talking about. The Jaguars, who bounced back from a 4-8 record to win the AFC South, host the banged-up Chargers. The two teams played back in week three where the Jaguars won in dominant fashion, 38-10, but since then, both teams have made improvements. The Jaguars come into the game with a win streak and a young star quarterback on the rise, while the Chargers roster a rising quarterback of their own.
You can really chalk this game up to just that: a battle between Trevor Lawrence and Justin Herbert. Lawrence, who struggled in year one under head coach Urban Meyer, has since flourished with the help of Super Bowl champion Doug Pederson, taking Jacksonville's offense to another level. Meanwhile, Herbert, who, unlike Lawrence, didn't stumble out of the gate at all, has become one of the league's premier young quarterbacks despite various injuries to his supporting cast. Whether or not Herbert's weapons are able to play on Saturday, this is brewing to be an incredible offensive battle.
In this contest, I'm going to side with the hot hand. On paper, the Chargers are pretty clearly the better team, but given uncertainty with the availability of key players and the Jaguars' momentum, I'm taking Jacksonville in this one. It should be close (the odds, at one point, had this game as a coin flip) and should be an exciting kickoff to the 2023 NFL playoffs no matter how the game ends.
Final Score Prediction: Jaguars 24 – Chargers 23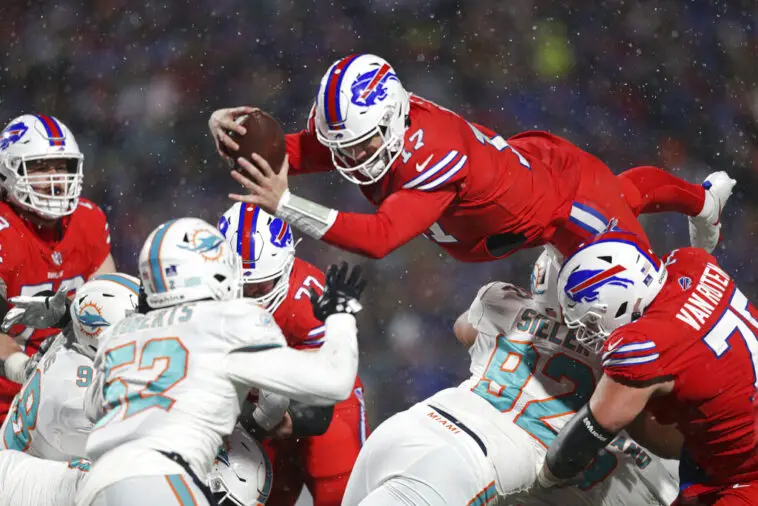 #2 Buffalo Bills vs #7 Miami Dolphins
Way back in week three, the Dolphins defeated the Bills in a thriller, 21-19. Then in week 15, the teams played again, this time with Buffalo coming out on top, 32-29. With two incredible games already under our belts, this tiebreaking game should be just as good, right? Unfortunately, that's probably not the case.
Tua Tagovailoa has already been declared out for this contest meaning the Miami Dolphins will be leaning on rookie quarterback Skylar Thompson for a second straight week. In case you missed it, the Dolphins managed just 11 points under his leadership in week 18, none of them coming from touchdowns. As fun as this game could have been, it's unlikely to provide anything but a precursor to the afternoon madness. Missed opportunity, Bills win big.
Final Score Prediction: Bills 42 – Dolphins 14
#3 Minnesota Vikings vs #6 New York Giants
And here we see the first big upset possibility. The Vikings, coming into this game 13-4, needed a 61-yard game-winning field goal to knock off the Giants just three weeks ago. Then, to make matters worse, the Packers (a non-playoff team) eviscerated the Vikings, 41-17, just one week later. In as professional a manner as I can put it, the Vikings are clearly fraudulent.
Now this is not to say that the Giants are much better. Brian Daboll has been a godsend to the organization, elevating them to the level they're at now, but it doesn't change the fact that this roster is incredibly underwhelming. Saquon Barkley is a phenom, but outside of him, there isn't much to write home about in New York.
However, while the Vikings may win on paper, they won't on Sunday. That's right, I said it: the Giants will avenge their week 16 loss and knock the three-seed Vikings out of the playoffs. Truthfully, it's been brewing for some time. The Vikings have escaped with lackluster wins all season despite the bevy of talent on the roster, but for once (or technically the fifth time), it will come back to bite them. The Giants may not have much more success after the NFL wildcard round, but for this one week, I believe they're going to be playoff winners.
Final Score Prediction: Vikings 16 – Giants 20
#3 Cincinnati Bengals vs #6 Baltimore Ravens
A rematch from week 18, this game seems destined for the same fate as the last. The Bengals, hot off of an eight-game win streak, take on the Lamar Jackson-less Ravens. Whether it's Tyler Huntley or Anthony Brown conducting the offense, it likely won't end well for Baltimore. The Ravens have averaged just 12.5 points per game since Lamar's absence with a single-game high of 17. Cincinnati has broken that point total in every game during their win streak. Needless to say, this game shouldn't be all that competitive.
Final Score Prediction: Bengals 31 – Ravens 13
#4 Tampa Bay Buccaneers vs #5 Dallas Cowboys
And finally, to end off the NFL wildcard round, we get a week one rematch between the Buccaneers and Cowboys. The first time these teams played, the Bucs won handedly, 19-3, but since then, the teams have taken two entirely different trajectories. The Cowboys have, despite dramatic inconsistency, scraped off a 13-4 record, good for the strongest record of any wildcard team in the tournament. Meanwhile in Tampa Bay, the Buccaneers struggled to win the weakest division in football, needing multiple last-second comebacks against bad opponents to cement their spot.
If you really look at it, this is a weird matchup. On paper, neither roster is bad–these might be two of the most complete teams in the league. However, whether it's inconsistency or underperformance, neither has fully lived up to expectations, which might actually make for a good game. Many are probably predicting the Cowboys to win this game fairly easily, but I'm not so sure they do coming off of an embarrassing loss to the Washington Commanders. With that, give me Tampa Bay here.
Final Score Prediction: Buccaneers 17 – Cowboys 14
For More Great Football Content
Follow us on Twitter at @GridironHeroics for more great content. We appreciate you taking time to read our articles. To interact more with our community and keep up to date on the latest in Football news, JOIN OUR FREE FACEBOOK GROUP by CLICKING HERE
Checkout our latest podcast!
[powerpress_playlist limit=1]