In this edition of which player is the serial killer in your division, we will be discussing the AFC East and NFC East.
NFC East
Dan Snyder's culpability speaks for itself.
Most likely method: E-Coli related death from wastewater.
Runner up
Travis Rudolph formerly of the New York Giants primarily and the Miami Dolphins (we will talk about those Dolphins later).
He allegedly had a very rough night, when he allegedly laid hands on his significant other.  Four men allegedly showed up to his house to talk about this alleged domestic abuse unarmed – and unsurprisingly that didn't do go well.
He is currently bonded out on house arrest, facing first-degree murder, attempted first-degree murder, and premeditated first-degree murder charges. Bullets directed at a vehicle by an individual resulted in the death of one person, severe injury of another, and two people who were left uninjured.
Ya no, in this instance, it really would be ideal to keep an eye out for obvious reasons.
AFC East
Matt Araiza.
Matty boy is being sued along with other men for allegedly performing nonconsensual physical acts on a 17-year-old girl at a party as a group. The victim allegedly experienced injuries due to this act.
I'm sure the NFL will do the right thing when it comes to holding their players accountable for alleged violence against women since they have such a strong history of holding men accountable in the league…
Matt Araiza lost his job two days after the lawsuit was filed, and the alleged victims attorney reached out to the team. He was known as the "punt god" at San Diego State, and was drafted by the Buffalo Bills in the sixth round of the 2022 draft.
Bills you get a A+ plus on crisis management. We definitely will need to keep an eye out – there's a few other men who hated women and took it out on them (Ted Bundy, Ed Kemper, to name a few).
It is worth pointing out that Buffalo Bill is a novel character who attempted to create skin suits out of women victims. Quite a namesake for the team, but we will let it slide this time.
Runner up 
Dolphins in Miami.
I don't wish SeaWorld on any living being, but Dolphins invade the personal space of more humans than certain quarterbacks allegedly.
That doesn't make having a live dolphin as a mascot back in the day for this team okay, but we will leave that for another day. There's already enough cruelty discussed in one article – and not just the photo of Dan Snyder.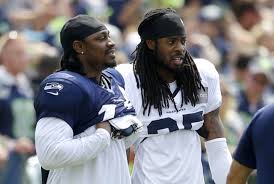 For the alleged serial killers of the AFC South and NFC South, look here.
For More Great Football Content
Follow us on Twitter at @GridironHeroics for more great content. We appreciate you taking time to read our articles. To interact more with our community and keep up to date on the latest in Football news, JOIN OUR FREE FACEBOOK GROUP by CLICKING HERE
Checkout our latest podcast!
[powerpress_playlist limit=1]