What a fantastic series of games to kick-off the NFL playoffs. Growing up in Upstate, NY with a family of sports fans, especially in pro football, I can't believe that three of the teams that I cheered for with my family, have moved on to the Divisional round.
My father and I are die-hard Buffalo Bills fans, while my mother cheers for Dem Boyz in Dallas, and my Uncle roots for the Big Blue in New York.
These three-teams all played hard, so let's talk about how they faired against their opponents, along with the other three winning teams.
Los Angeles Chargers (30) -vs- Jacksonville Jaguars (31)
It's one thing to shine on a big stage in college and win your school a national championship, but to lead a comeback of this magnitude in only your second-year as a pro quarterback is another. Jaguars signal caller Trevor Lawrence was frustrated for three quarters, but showed his maturity and growth when his team needed him to in the fourth quarter.
Lawrence started out the game 4 of 16 with four picks and it looked like the Chargers were going to cruise to victory after going up 27-0. But much like Frank Reich's perseverance in the Buffalo Bills 1992 Wild Card comeback vs. the Houston Oilers, Lawrence finished strong. He threw for four touchdowns and remained under control to complete the third largest comeback in postseason history.
Because of his tenacious ways and heroic effort, #16 of the Jaguars is already being compared to former Indianapolis Colts quarterback Andrew Luck. This is a pretty fair comparison. For starters, both Luck and Lawrence were selected #1 overall in their draft class and each displayed poise and maturity soon after jumping into the league.
Even though the Chargers lost the game, Justin Herbert is still a good quarterback. He and his offense did score 27 points in the half. I think the blame should be on Renaldo Hill their defensive coordinator as Joe Lombardi's offense did their part. It's just the other side of the ball couldn't protect that big of a lead, despite winning the turnover battle. So basically, Lombardi is being blamed when it was the defensive side that couldn't hold down the fort.
Seattle Seahawks (23) -vs- San Francisco 49er (41)
How about those San Francisco 49ers Bay Area fans? It was a "Purdy" good day for the 49ers, especially in the second half. Geno Smith and the underdog Seattle Seahawks embraced that mentality after going up 17-16 in the first half.
It looked as if the magical story of Brock Purdy and "Mr. Irrelevant" was going to come to an end.  But the 49ers started to pour it on, scoring 25 unanswered points to go up 41-17. Seattle scored a late garbage touchdown and a missed two-point conversion to give San Fran a huge 41-23 win over the Seahawks.
Without Trey Lance and Jimmy Garoppolo who have been out for the year with season ending injuries, it looked as if the team by the Bay would be without a true starting quarterback. Don't tell Purdy that. The last pick of the 2022 NFL Draft has been quite a success story since Tom Brady's magical second-year in 2001 with the New England Patriots.
There are quite a few similarities as both guys were not seen as players who were going to contribute anything in the NFL. The reason Tom Brady came in and started for the Patriots was because on Sep 23, 2001, longtime starter Drew Bledsoe suffered a punctured lung after a hit on the sidelines by Jets Linebacker Mo Lewis.
After that fateful day, Brady would enjoy a successful 20-year-run with the New England Patriots that led to six Super Bowl rings. Then he left in March 2020 to sign with the Tampa Bay Buccaneers and won a seventh title in his first-season in the Sunshine State. Brady went from being a no body all his football life to a Pro Football Hall of Famer.
Ironically, Purdy's first start was a game against the legend himself, Brady. His team crushed the Bucs at home 35-7. Purdy had a successful collegiate career at Iowa State, but it still wasn't enough for NFL teams to take note of him.
After 253 selections of not hearing his name called, Mr. Purdy was finally selected with the last pick of the draft by the 49ers. And that's how "Mr. Irrelevant" popped into national relevancy. Now all he needs is a Super Bowl ring this year and beyond.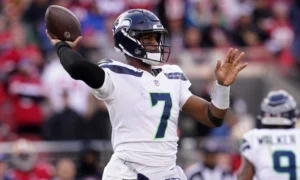 As for the Seahawks, their magical and surprising season has sadly come to an end. Despite that though, Geno Smith changed the narrative completely about how efficient he played as the Seahawks starting quarterback.
Wilson was dealt to the Broncos and nobody could have imagined the type of season the Seahawks would have. For starters, Smith had to beat out Drew Lock for the starting job and the talent was always there, but Smith still had baggage coming over from his time he spent with the Jets.
But being the religious and faithful young man he is, Smith cleaned up his image and was good enough to be named a first time pro bowler. Where he ends up next is yet to be seen, but Smith now has a lot of great film to show to other teams who may be interested in him.
Baltimore Ravens (17) -vs- Cincinnati Bengals (24)
It was not a pretty showing by either team. The Cincinnati Bengals had what it took to flip the game around. In this case, big Sam Hubbard picked up a fumble by the Ravens and returned it 98-yards to the house. What looked like a possible Raven's touchdown to take the lead, flipped on just one mistake.
While the Bengals can chalk this one up as a home play off win, they will need to play a lot better if they want to pull off another playoff upset on the road at Orchard Park. Quarterback Joe Burrow or as everyone calls him, "Joe Cool", will need to stay Zen for the entire game.  The Buffalo defense will look to pressure him on every snap he takes. This applies for the Bills too, as Allen has been "turnover prone" lately.
As for the Ravens, bad news already traveled faster than when the game started as Lamar Jackson never made it on the flight to Cincinnati, as the star QB still suffered from a knee injury. That meant backup Tyler Huntley who was activated from the previous week made his first-career playoff start and he acquitted himself well in a losing effort. He would surely like to have that fumble recovery back as that was the difference between moving onto Kansas City and going home.
New York Giants (31) -vs- Minnesota Vikings (24)
Once again, here come the New York Giants. They enter the postseason at the #6 seed and then are written- off by so called "NFL analysts" and then boom, they're in and headed to the Play offs.  Those same experts who laughed at the G-Men's front office when they selected Daniel Jones, #6 overall in the 2019 NFL draft, aren't laughing anymore.
They're regretting that now as the former Duke signal caller had his best game as a pro so far against the Minnesota Vikings. "Danny Dimes", as he is known as, did it all on Sunday through the air with 300-yards passing for 2 TD's and 0 INT's. He also was very mobile with his legs as he showed teams why he is more of a dual threat quarterback then you think. You can also attribute his success to first-year head coach Brian Daboll, who was a quarterback whisperer with Josh Allen as the Bill's offensive coordinator.
Previously, I wrote an article explaining why Daboll should be my pick for 2022 NFL Coach of the Year.  Now with this major upset win, I think he's sealed the deal regardless if the G-Men win or lose against Philly on Saturday night.
As for the Vikings, all their good fortune of pulling out last minute games just basically ran out on what was otherwise a turnaround season for quarterback Kirk Cousins. Much like the success of Jones, Cousins achievements turn to the great coaching job and culture set by first-year head coach Kevin O'Connell.
Miami Dolphins (31) – vs- Buffalo Bills (34)
The Buffalo Bills are capable of beating anybody they line-up against on any given Sunday. Yes, that's right, anybody. They also have had a great deal of not so good moments that could have themselves knocked out of any round of the playoffs. The Bills blew a 17-0 lead against the Miami Dolphins and had to survive as Miami gained the lead right back.
Josh Allen was turnover happy and the Bills gave the Dolphins a short field which lead to field goals. The only long touchdown drive the Dolphins had was late in the fourth quarter to cut the lead to 34-31.  The Bills found a way to win, but they will need to play more of a complete game if they want to beat "Joe Cool" and the Cincinnati Bengals this Sunday.
Overall, it was an inconsistent game by the Bills and bottom line, they will have to have all their kinks corrected if they want to make the AFC Championship game.  Give credit to the Miami Dolphins who were a double-digit underdog and played better than expected with Rookie QB Skyler Thompson.
Mike McDaniel strutting around with his pants rolled up wearing a "i wish it were colder" t-shirt is priceless😭 pic.twitter.com/McFeUT7NDf

— Smoke (@nickysmokess) December 14, 2022
They will be a dangerous team in the near future with head coach Mike McDaniel. As long as they don't continue to wish it was colder outside in Buffalo and parade around in those silly tee-shirts.
Dallas Cowboys (31) -vs- Tampa Bay Buccaneers (14)
The Dallas Cowboys easily defeated Tom Brady and the Tampa Bay Buccaneers on MNF for the last game of the 2022 NFL Super Wild Card Playoffs. Dem 'Boys' quarterback Dak Prescott was 27 for 33 and threw for five touchdowns with NO INT's. This win marked the first-road playoff win for Dallas since 1993.
Luckily the game wasn't a close one for the Cowboys and it didn't come down to an extra point or a field goal. Not actually sure what was up with kicker Brett Maher on MNF. I have never seen a kicker miss four extra point attempts during a single game. Hopefully I will never see it again.
No kicker had ever missed four-extra points in a single NFL regular season game or playoff game dating back to 1948 per "Fox Sports" research.
Are the Cowboys hiring?

— Morten Andersen (@GreatDane2544) January 17, 2023
Maher only missed three out of 53 PAT's in the regular season. His blunders quickly went viral and caught the attention of Hall of Famer Morten Andersen.
Wednesday afternoon, the Cowboys did add kicker Tristan Vizcaino as insurance to their practice squad, but plan to stay with Mahar.
Meanwhile, Bucs quarterback Tom Brady was 35 of 66 for 351 yards, with 2 TDs, and 1 INT and was shut out in the first-half. The 45-year-old hasn't been shut out in the first-half in the playoffs since The "Tuck Rule" game on Jan. 19, 2002.
"Kind of typical how we played all year –  inefficient in the passing game, not very good in the run game, so, it's hard to beat good teams like that." Brady said.
Being the legend that he is, he managed to throw and complete more passes than any other quarterback in the league and even more than he ever had in a single season, regardless of it being the worst regular season record he has posted, (8-9).
"I'm going to go home and get a good night sleep," he said.
Brady was 7-0 against the Cowboys before last Monday night's playoff game.
So now you read my thoughts, what were your favorite moments of the NFL's Super Wild Card Playoff games?
For another interesting NFL story, please check out:
https://gridironheroics.com/how-can-t-y-hilton-help-the-dallas-cowboys/
For more NFL and Twitter content, please follow me:
https://twitter.com/djdawgtagz
For More Great Football Content
Follow us on Twitter at @GridironHeroics for more great content. We appreciate you taking time to read our articles. To interact more with our community and keep up to date on the latest in Football news, JOIN OUR FREE FACEBOOK GROUP by CLICKING HERE
Checkout our latest podcast!
[powerpress_playlist limit=1]