Hey all and welcome to my Week 9 GPP review.
Here is another plug to join the Discord. Much changed in the hours between the publication of my week 9 GPP breakdown and kickoff. Those who are in the free Discord were apprised of those changes.
Week 9 Ownership Review
Below are the last ownership projections available prior to the 1 PM EST kickoff. There was much in flux this week, and I did my best to keep up with the trends. Below are my top 15, original ownership on the left, actual on the right.
Travis Etienne – 27%    37%
Deandre Hopkins – 22.4%     19.8%
Tyreek Hill – 22%     16%
Josh Jacobs – 21.7%     13.2%
Rhamondre Stevenson – 21.5%     38%
Joe Mixon – 20%    13.2%
Austin Ekeler – 17.5%     21.5%
Kenneth Walker – 15.8%     14.2%
Stefon Diggs – 15.7%      9.2%
Aaron Jones – 15.6%      21.5%
Amon-Ra St. Brown – 14.6%      16.4%
Josh Allen – 14.6%     10.8%
Tyler Higbee – 14.2%    8.5%
Buccaneers – 14.2%    14.5%
Justin Jefferson – 13.6%    12.6%
My spreadsheet did an admirable job of keeping up with Rhamondre who skyrocketed from a 16% projection to 38%. What it didn't do well though was adjust for other players' ownership projections for week 9. Something for me to keep in mind for next week.
Surprises were Josh Palmer at 25%, Evan Engram at 22%, and the Panthers D at 14.5%.
My Best Week 9 Lineup – 186.4 DK Points
Allen
Mixon
Walker
Amon-Ra
Godwin
Bandy
Engram
Ertz
Patriots
The Week 9 Winning Lineup – 262.52 DK Points: There's 2!
Fields
Walker
Mixon
Adams
Kirk
Mooney
Dissly
Lockett
Patriots
Fields
Etienne
Jackson
Tyreek
Adams
Palmer
Kmet
Mixon
Jets
The Good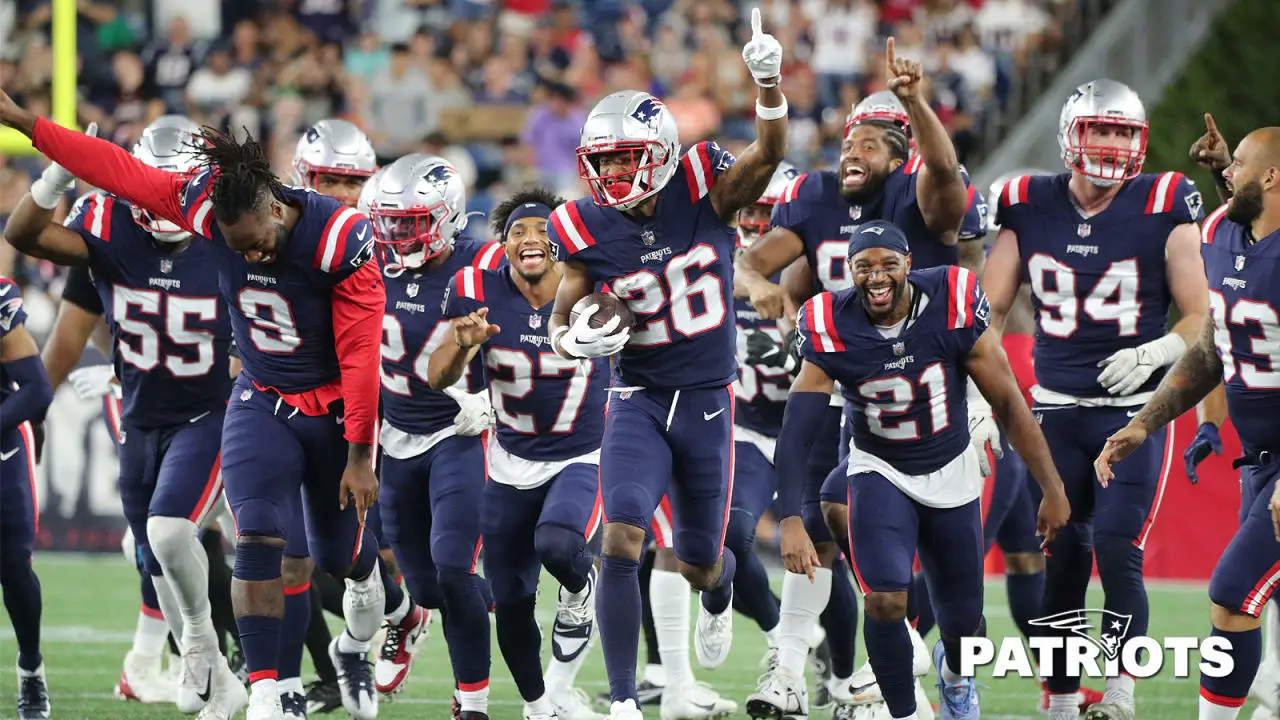 My featured image in my Week 9 GPP Breakdown was the Patriots defense. I feel vindicated.
Joe Burrow was my highest owned QB. While that did not work out, the situation vs the Panthers was indeed the right place to attack. I was initially going to fade Mixon due to ownership, but I added him to my player pool once his ownership started going down on Sunday morning. I wish I had more of him because he broke the slate with 5 TDs.
I faded Aaron Rodgers. Do you know why I did that? Because he sucks.
Trevor Lawrence was also a fade for me. Someone call Mensa.
I played a ton of Kenneth Walker. I actually ended up with more of him than Rhamondre due to ownership reasons. At the same $6200 price, Walker was leverage off Stevenson and paid off. With their next game in Germany and a bye in Week 11, I'm hoping Walker's price and ownership do not go up for their Week 12 matchup against the Raiders.
The Neutral
Josh Allen was my 2nd highest owned QB in week 9. While his rushing yards and 2 rushing TDs were awesome, I played him because I thought he would throw multiple TDs to one of Diggs or Davis. He didn't. And the Bills lost. LOL.
At 3.7% ownership, Dal Cook was indeed a leverage play, just not a good one. A late receiving TD saved his day.
TJ Hockenson was 3% owned. He had 9 grabs for 70 yards. I played zero. This didn't hurt, but I did not see this usage coming in game 1 for TJ.
Jamaal Williams continued to see a lot of usage, he just didn't have the TDs this week.
Terry McLaurin's ownership (14%) was much higher than anticipated. Doesn't really matter though as it was Curtis Samuel who stole the show. Can't believe Heinicke threw this ball into triple coverage though.
The Bad
It starts with Justin Fields. I have been watching him quietly the last few weeks and saying to myself: "Hmm, how about that? Fields looks like he is learning." That being said, I did not anticipate an outing like this. I also did not anticipate him being the highest owned QB in week 9. Had I known he'd be the highest, I probably would've faded anyway. While I'm excited about Fields' prospects going forward, I think we need to recognize that the Dolphins defense is not good.
Justin Herbert and his triaged WR group did not look particularly good. The Falcons defense is suspect, but Herbert and company could not take advantage like I thought they could. I only ended up with like 15% Herbert at QB, but it was still akin to lighting money on fire.
Josh Jacobs was a huge disappoint again this week. Also, for some reason the Raiders stopped playing football after they built a 17-0 lead.
Deandre Hopkins and Devante Adams got equal treatment yesterday. Both started out great and looked like gang busters in the first quarter of their games. Then both offenses forgot they existed for the rest of the game. Befuddling.
The Buccaneers are broken. Why do I keep playing Chris Godwin?
Catch you all next week!
Follow me on Twitter at @Borisnow00!
Join the free Discord! Updates will be posted there on Sunday morning!
Visit our fantasy football page for more analysis!
For More Great Football Content
Follow us on Twitter at @GridironHeroics for more great content. We appreciate you taking time to read our articles. To interact more with our community and keep up to date on the latest in Football news, JOIN OUR FREE FACEBOOK GROUP by CLICKING HERE
Checkout our latest podcast!
[powerpress_playlist limit=1]