Hey all and welcome to the Week 15 GPP Recap. Things were a little rough yesterday. I made a couple errors in ownership judgement and faded some chalk that hit.
Anyway, let's get into it.
Week 15 GPP Ownership Review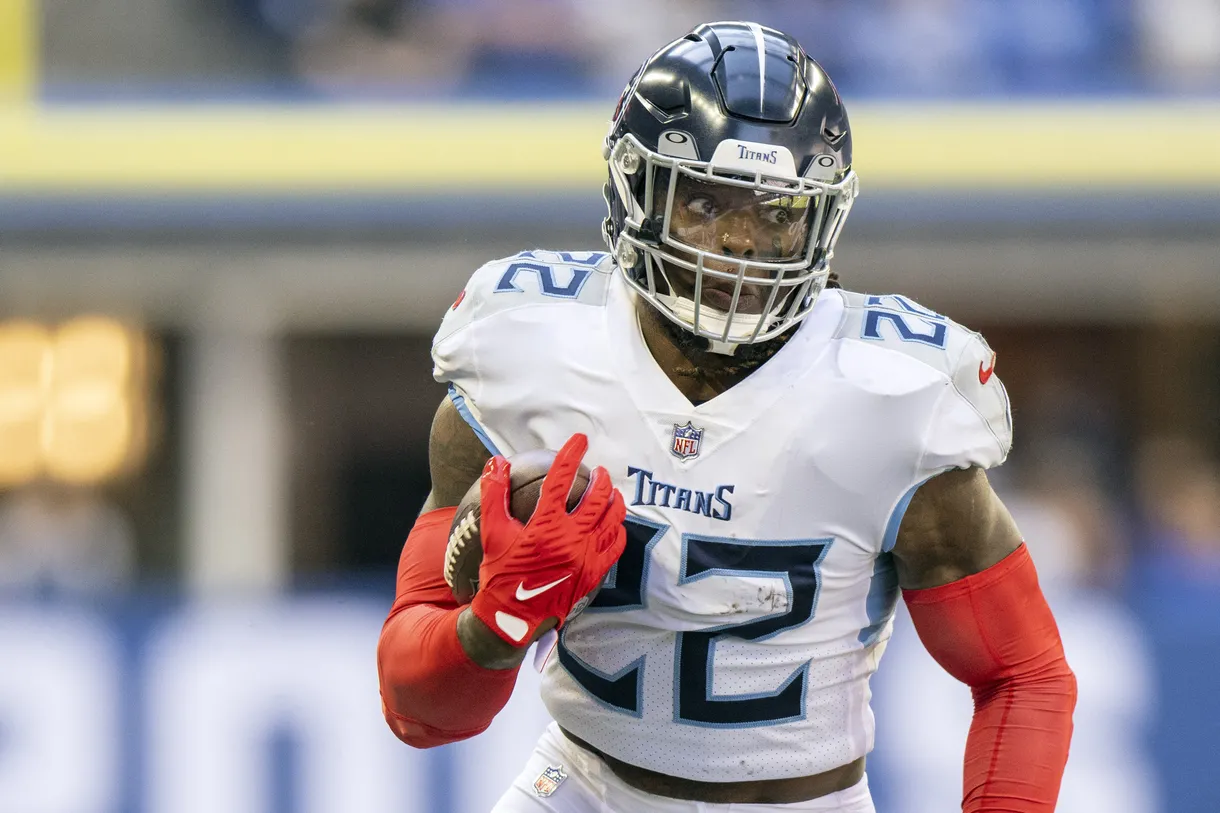 Below are the highest owned players in Week 15 GPPs. To the left are the Sunday morning final ownership  projections, on the right are the Week 15 GPP actual ones.
Derrick Henry  –  20.7%% / 31.3%
Denver Broncos  –  14.4% / 28.5%
Chris Moore  –   21.1% / 28.1%
Miles Sanders  –  12.7% / 26.7%
Mike Williams  –  9.7% / 26.3%
Keenan Allen  –  15.3% / 24.9%
Isiah Pacheco  –  12.5% / 22.5%
Justin Herbert  –  13.1% / 20.9%
Ja'Marr Chase  –  14.4% / 20.7%
Zonovan Knight  –  14.7% / 20%
Zay Jones  –  10.2% / 20%
Dalton Schultz  –  11.1% / 18.87%
Week 15 GPP Ownership Takes
Honestly, I feel my algorithm was a near complete failure for Week 15 GPPs. Part of the issue is on me. I should have adjusted for Herbert and Charger pass catchers being higher owned because they were being talked up by many national outlets.
A lot of other players came in at higher than originally projected ownership. Conversely, many a player came in under his projected ownership. I suppose there will be weeks like this, but I find that personally unacceptable. Fixing it is now my primary Week 16 goal.
I say "near complete failure" because I did have high ownership attached to Henry, Moore, and the Broncos. That guided my decision making correctly.
My Best Lineup – 149 DK Points
Hurts
Henry
Conner
Smith
Watkins
Marshall
Kmet
Mike Williams
Patriots
The Winning Lineup – 226.3 DK Points
Hurts
Henry
McKinnon
Jeudy
AJ Brown
Zay Jones
Engram
Raymond
Broncos
The Good
I played a good amount of Hurts yesterday, and what money I did get back is attributed to him. This offense is absurd, even when they don't look good they still somehow manage to put up a ton of points.
I was on team full fade when it came to Chris Moore. 21% projected ownership was way too high for a player whose name no one knew a few weeks ago.
I was also on full fade with the Broncos. Though they are in the winning lineup, they were outside the top 5 DSTs.
I played a ton of Derrick Henry. Though his ownership was high, he was much more trustworthy in a plus matchup on team where he is basically their entire offense.
I faded Isiah Pacheco. Despite the plus matchup, I just thought that his potential fantasy output was not going to be enough to end up in the optimal lineup considering that other RBs (McKinnon) get time back there.
The Neutral
I'm putting Mahomes and company here because I did write them up as a potential stack. I played zero Mahomes. I didn't think the Texans would be able to make this a game. I was wrong. Ultimately though, Mahomes was not the optimal QB.
Ja'Marr Chase was my highest owned player in Week 15 GPPs. He and Joe Burrow showed up in the second half against the Bucs, but again, neither were in the winning lineup.
The Bad
I played zero Lawrence because, well, I'm an idiot. I need to re-evaluate the Cowboys defense because they cost me in both DFS and seasonal yesterday.
The larger reason I'm listing Lawrence here is because I wrote them up but fully faded Engram and Zay Jones, both of whom are in the winning lineup. I don't like chasing last week's points, I honestly believe that is a ticket to losing in the long run. Not this week though. Zay Jones went off with 3 TDs. Engram had 14.2 DK points. That may not sound like much until one realizes that it was good for TE4 on Sunday.
Speaking of TEs, Juwan Johnson was nowhere on my radar. I forgot about him. That's completely on me.
Speaking of chasing points, Jerick McKinnon ends up in the winning lineup again. The Chiefs, especially this time of the year, employ pass catching RBs quite heavily. Pacheco doesn't seem to be catching passes.
I considered CPatt (and he did find the endzone) because I figured the Falcons would want to protect Ridder. Again, another mistake for me this week as it was Tyler Allgeier who was the Falcon RB to own. He was .6% owned.
Due to Christmas, next week we have a special Saturday slate, so I'll shoot for having my act together by Friday!
Thanks for checking out my Week 15 GPP Recap!
Follow me on Twitter at @Borisnow00!
Visit our fantasy football page for more analysis!
For More Great Football Content
Follow us on Twitter at @GridironHeroics for more great content. We appreciate you taking time to read our articles. To interact more with our community and keep up to date on the latest in Football news, JOIN OUR FREE FACEBOOK GROUP by CLICKING HERE
Checkout our latest podcast!
[powerpress_playlist limit=1]