Week 1 of Sunday games in the NFL is tomorrow, and all fans are in great anticipation for how their favorite team will set the tone for the rest of the season. With some early divisional games and other great matchups, the first week of the 2023 season has all analysts with different outcomes in their week one predictions. According to ESPN, here are how Sunday's games will play out.
49ers at Steelers (Spread: SF -2.5)
This game is set to be a close matchup to pay attention to. The San Francisco 49ers look to pick up right where they left off a season ago, and will try to dominate early on. The Pittsburgh Steelers will try to counter the 49ers as much as they can, with the defense set to make some noise now that star pass rusher T.J. Watt is healthy and ready to go, and the offense led by quarterback Kenny Pickett is poised to improve from their 2022 campaign.
Bengals at Browns (Spread: CIN -2)
A key divisional matchup in week one will be important for setting the tone in the AFC north, as the Cincinnati Bengals and Joe Burrow try to set the tone for the division early in the season. As for the Cleveland Browns, their defense led by pass rusher Myles Garrett will look to limit the success of the high octane Bengals' offense, keeping this a close game throughout.
Panthers at Falcons (Spread: ATL -3.5)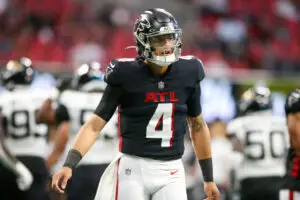 Another divisional matchup in week one will determine who will start in first place in the NFC South. Quarterback Desmond Ridder of the Atlanta Falcons will show why he is the new leader of this team by picking apart the promising Panthers' defense. As for the Carolina Panthers, they will look to get rookie quarterback Bryce Young going early on to build his confidence for the rest of the 2023 season.
Jaguars at Colts (Spread: Jax 5.0)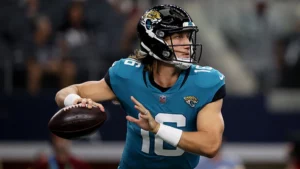 This AFC South matchup will show just how much the tide has turned for this division to not be as competitive as it usually is. The Jacksonville Jaguars, led by rising star quarterback Trevor Lawrence, will set out to prove that last seasons' success was not a fluke. As for the Indianapolis Colts, rookie quarterback Anthony Richardson will try to prove that he is the Colts' undisputed starter for the 2023 season.
Buccaneers at Vikings (Spread: Min -5.5)
This game will be eye opening for fans to say the least. The Minnesota Vikings led by quarterback Kirk Cousins will strive to build off of last season success by scoring early and often. For the Tampa Bay Buccaneers, newly acquired quarterback Baker Mayfield will just try to prove that this team is not completely doomed for the entire season.
Titans at Saints (Spread: NO -3)
This interconference matchup should be a great on in The Big Easy. The New Orleans Saints new starting quarterback, Derek Carr, will show out to prove that he was not the problem in the downfall of the Raiders last season by having early success with his new offense. As for the Tennessee Titans, running back Derrick Henry will get the ball frequently, and run all over this aging New Orleans' defense.
Cardinals at Commanders (Spread: WSH -7)
In a lopsided game in Washington, this matchup will show how different these teams will look this season. The Washington Commanders' defense will get their star defender Chase Young back from injury, which will be a formidable force in this game. As for the Arizona Cardinals, they are expected to be the worst team in the league this season, so they'll most likely just be looking which players to rebuild around.
Texans at Ravens (Spread: BAL -10)
Yet another lopsided matchup in the NFL on Sunday in Maryland. The Baltimore Ravens led by former MVP quarterback Lamar Jackson will look to dominate Houston throughout the entirety of this game. As for the Houston Texans, rookie quarterback C.J. Stroud will be making his first start as an NFL quarterback, and will try to show the world why he was the number one pick in the NFL draft.
Packers at Bears (Spread: CHI -1)
One of the league's most storied rivalries will prove that this NFC North Matchup will be one to watch for years to come. The Chicago Bears, led by quarterback Justin Fields, will look to rewrite the narrative of the Packers' dominance over their franchise in past years now with Aaron Rodgers gone. As for the Green Bay Packers, new starting quarterback Jordan Love will set out to prove that he can still lead this team to success with a dangerous air attack.
Raiders at Broncos (Spread: DEN -3.5)
Another key divisional matchup will take place in the AFC West this week, which should end up being a tight game throughout. The Denver Broncos will look for early success against their division rival with the help of new mastermind head coach Sean Payton. As for the Las Vegas Raiders, newly acquired quarterback Jimmy Garoppolo will seek establishing a dangerous air attack with star receiver Davante Adams, giving the opposing defense torubles.
Eagles at Patriots (Spread: PHI -4)
This former Super Bowl 52 matchup will bring a competitive game out in Foxborough. The Philadelphia Eagles led by quarterback Jalen Hurts will look to continue to their success from their stories season a year ago. As for the New England Patriots, the defense led by head coach Bill Belichick will look to expose the Eagles' weaknesses on offense, in which they are one of if not the best in the league in doing so to their opponents.
Dolphins at Chargers (Spread: LAC -3)
A fun matchup from last year is destined to bring the same energy in week one. The Los Angeles Chargers, led by star quarterback Justin Herbert, will look to initiate a dominate air attack throughout the game. As for the Miami Dolphins, quarterback Tua Tagovailoa will look to do exactly the same, setting this up to be a high scoring shootout.
Rams at Seahawks (Spread: SEA -5.5)
This NFC West game will set the stage for how these teams will matchup later in the season. The Seattle Seahawks, led by quarterback Geno Smith, will look to translate last years' success to build off of in 2023. As for the Los Angeles Rams, led by quarterback Matthew Stafford, offensive success by way of the air attack will be crucial, as they will be without their star receiver Cooper Kupp for at least four weeks.
Cowboys at Giants (Spread: DAL -3.5)
In Sunday Night Football, fans will be treated to a great NFC East Matchup. The Dallas Cowboys, led by quarterback Dak Prescott will look to pick apart the Giants defense. As for the New York Giants, they will look to establish a strong running attack with star Saquon Barkley, which should set the stage for yet another close divisional matchup in the NFL.