Two Virginia Cavaliers linebackers, Nick Jackson and Kameron Butler, have been named to the 2023 East-West Shrine Bowl 1000. They will join teammates Brennan Armstrong, Anthony Johnson, Billy Kemp IV, Coen King, and Keytaon Thompson. The Shrine Bowl has gathered top college talent in support for the mission of Shriner's Children's Hospitals since 1925.
Nick Jackson's Cavalier Career
Senior Nick Jackson has been a defensive standout for the Cavs since 2019.
Jackson made his freshman debut in 2019 on special teams against Pitt. He was one of 17 true freshman to appear in 2019. Jackson appeared in all 14 games of the 2019 season. As a freshman, Jackson recorded three tackles against Duke and against the University of North Carolina. He made nine tackles in the ACC Championship game against Clemson. Facing off against the University of Florida, Jackson started in the Orange Bowl and made four tackles against the Gators.
In 2020, Jackson started in all ten of UVA's games and was ranked No.2 in the ACC and No.16 in the nation with 10.5 tackles per game. With 105 tackles, Jackson was No.2 in the ACC and No.6 in the nation. He had a career-high of 12 tackles in the season opener against Duke and led the Cavs with 12 tackles at Clemson. Against Miami, Jackson led the Cavs again with 11 stops and added 1 tackle for loss and 0.5 sacks. Off the field, Jackson was named to the 2021 ACC Academic Honor Roll.
During the 2021 season, Jackson was the ACC's top tackler with 117 stops, 54 of which were solo. Jackson achieved seven double-digit tackles, five against ACC opponents. On October 30, Jackson matched a career-high 16 tackles against BYU, giving him the fourth highest total for any ACC linebacker for the season.
For the 2021 season, Jackson started in all 12 games for the Cavs. He also served as one of Virginia's four team captains under coach Bronco Mendenhall.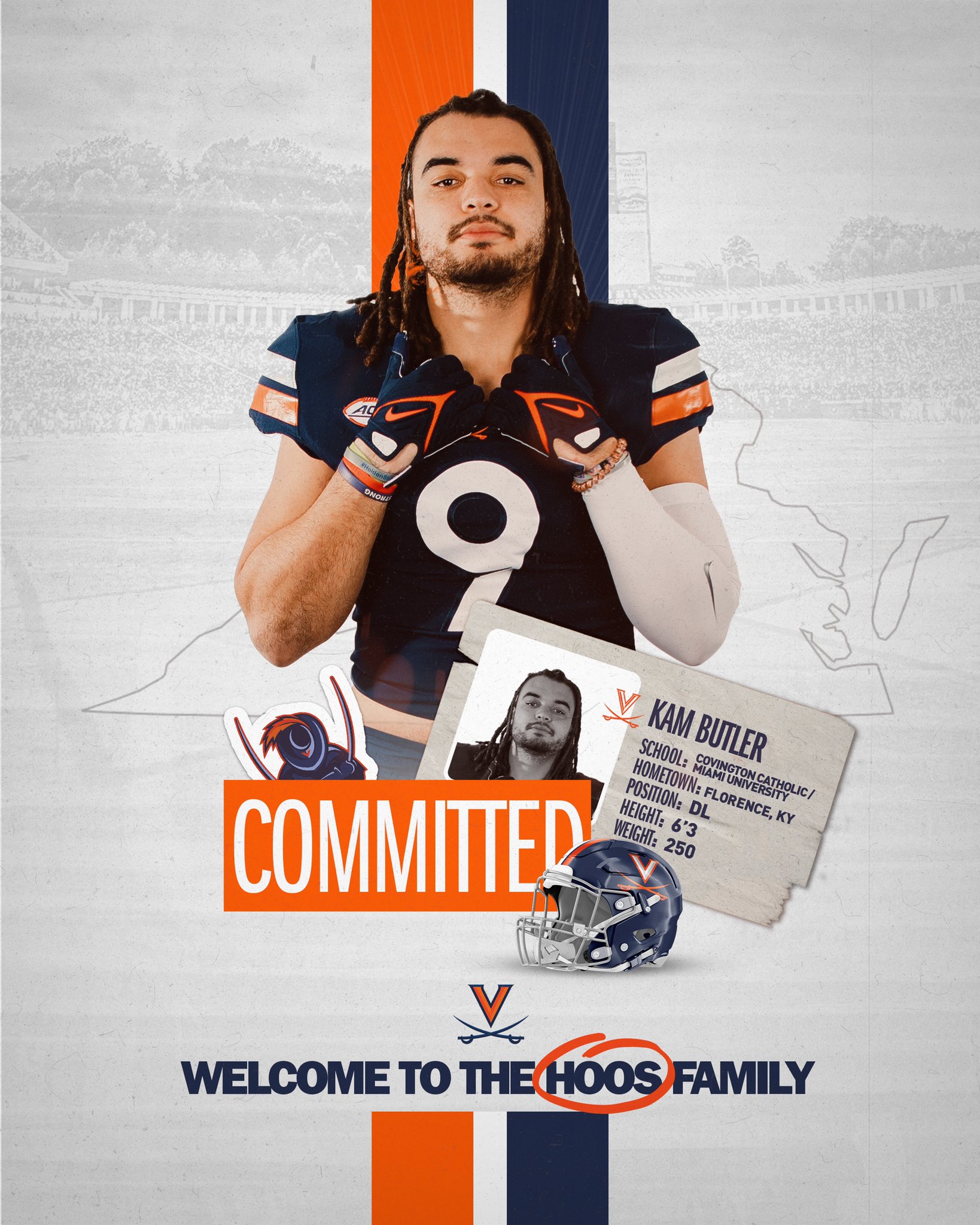 Kameron Butler's Defensive Dominance
Graduate student Kameron Butler is embarking on his first season with the Hoos.
A former Miami (Ohio) RedHawk, Butler has been dominating college defense since 2018. 
In 2018, Kameron Butler appeared in 10 games for the RedHawks and finished his freshman season with six tackles.
For the 2019 season, Butler started all 14 games for Miami and notched 45 tackles, five sacks, and 14.5 tackles for loss. He was awarded the team's Defensive Power Player of the Year Award and was second-team All-MAC. For his performance in the classroom, Butler was named a MAC Distinguished Scholar Athlete and Academic All-MAC.
2020's abbreviated season saw Butler start in all three games for Miami. He finished the shortened season with 16 tackles, 3.5 tackles for loss, and 2.5 sacks. He earned Second-Team-All-MAC honors for 2020.
In 2021, Butler had his most dominant year to date. With a total of 53 tackles and a team-high of 14 tackles for loss, Butler was a first-team selection. He had eight sacks, forced three fumbles, and had one interception. In the Frisco Football Classic, Butler helped Miami achieve a 27-14 victory against North Texas. The RedHawks held the Mean Green to just 89 rushing yards in the Frisco Football Classic. Achieving academic excellence once again, Butler was named to the Academic All-MAC team for the 2021 season.
Breaking It Down
For the 2022 season, Virginia will be filling the field with an outstanding lineup of players including Nick Jackson and Kameron Butler. What does that mean for the 2023 NFL Draft?
Nick Jackson is Virginia's leading tackler going into the 2022 season. Jackson is an explosive player whose athleticism and size are worthy of development. His quickness and flexibility also contribute to his dominance in this position. Following this year's Blue-White Game in Scott Stadium, Jackson confirmed his dedication to the Cavs' 2022 success under new head coach Tony Elliott and staff. Considering the sad state of Virginia's defense, succeeding in this new era could work to boost Jackson's NFL chances.
In early 2022, Kameron Butler became one of college football's hottest commodities after entering the transfer portal. Ultimately, Butler committed to the Cavs for the 2022 season. A highly decorated player already, Butler will bring determination, skill and experience to the Cavs' defensive squad. This is great news for Virginia and its new coaching staff. Another standout season may boost Butler's chances for the NFL, too.
As a college player, Butler has performed well consistently. With Miami, Butler proved an ability to defend himself, play smart football, and redirect the ball well to handlers. Butler moves well, changes direction easily, and has had a productive college career so far. But, Butler lacks a bit in size and in speed and plays with a special teams mentality.
2023 Draft Buzz
Jackson and Butler are both strong players. However, Jackson and Butler will both be playing under a revised style of defense this season. Virginia's new Defensive Coordinator John Rudzinski has been working with players to emphasize fundamentals and simplicity with a healthy dose of aggression. Doing well for Rudzinski may boost Jackson's and Butler's overall NFL prospects.
At this point, Jackson seems the more likely of the two for a shot in the NFL Draft. While his skillset may need some development, he has been a consistent standout for Virginia and is as committed mentally as he is physically. If Jackson demonstrates improvement in his weaker areas of play, the NFL may be well within reach.
Butler is inarguably a strong player on the college level. Like Jackson, Butler will need to better develop his weaker areas to have a chance at an NFL spot. Having been a dominant force for Miami, it will be interesting to see Butler's chemistry with the Cavs in the upcoming season. If Butler meshes well with the Cavs and shows improvement where needed, he could be a contender for a shot with the NFL in 2023.
The East-West Shrine Bowl is an all-star event which gives top players a chance to shine in front of NFL scouts. Held in February, this event takes place before the NFL Draft and a strong performance can enhance a player's chances at a professional football career. Though continued development will benefit Jackson and Butler, their inclusion on the Shrine Bowl's 2023 list helps make the case for consideration ahead of the 2023 NFL Draft.
For More Great Football Content
Follow us on Twitter at @GridironHeroics for more great content. We appreciate you taking time to read our articles. To interact more with our community and keep up to date on the latest in Football news, JOIN OUR FREE FACEBOOK GROUP by CLICKING HERE
Checkout our latest podcast!
[powerpress_playlist limit=1]