University of Tulsa coach Philip Montgomery was let go over the weekend. The national search for his replacement is already underway.
Montgomery's last coached game on Saturday had the Golden Hurricane coming back to beat the favored Houston Cougars at their home stadium in Texas. He certainly had them fired up after the win as well. It just wasn't enough to preserve his own future at the university.
https://twitter.com/TulsaFootball/status/1596739734726139905
Vice President and Director of Athletics Rick Dickson addressed the topic in an announcement over the weekend. "This was an extremely difficult decision, one that affects a number of individuals and is never easy for anyone involved," Dickson said. "Philip's dedication to our student-athletes is unquestioned and we thank him for his tireless efforts in leading our young men. He has represented TU with class and character. We appreciated Philip's commitment to the University of Tulsa, our football program and the Tulsa community."
A local NBC news affiliate's broadcast had a list of potential coaches "Names to keep in mind" for replacements, which were:
Joe Gellespi
Matt Wells
Justin Fuente
Seth Littrell
GJ Kinne
Brennan Marion
The Tulsa coach is heavily embedded
Having lost his starting quarterback for most of the season and still managing a 5-7 record on the year, Montgomery may have thought his job was safe. Afterall, he hosted Thanksgiving with some of his players at his house. His son played at UT, and his daughter is currently a cheerleader at the university as well. The Tulsa coach is heavily embedded in the program.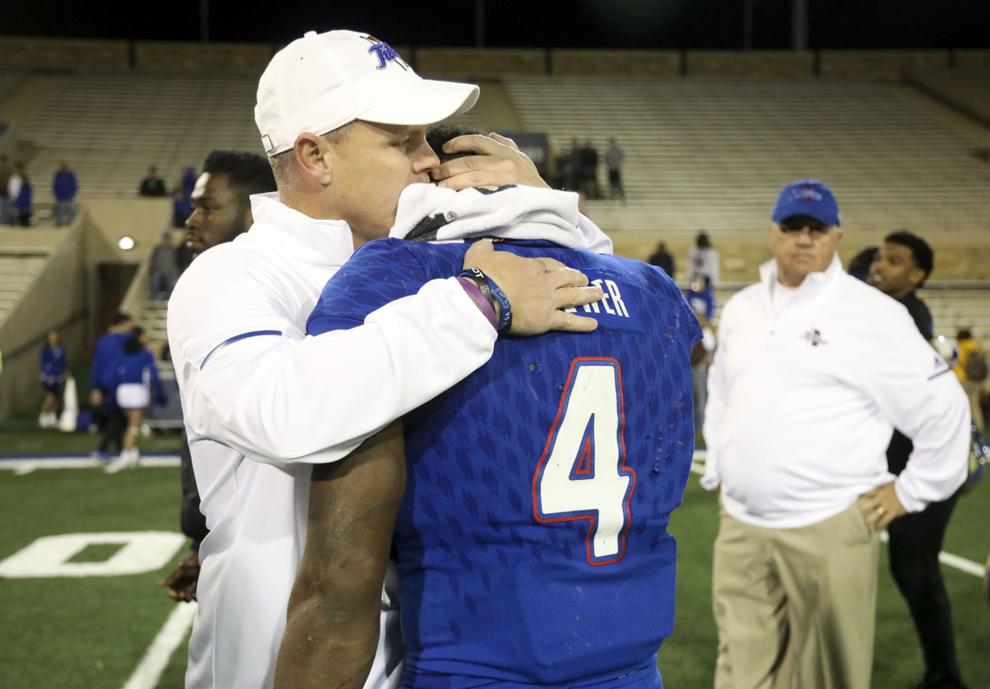 Regardless of what he may or may not have been predisposed to knowing, he handled the situation with an expected measure of class.
"I'm certainly disappointed that I won't have the opportunity to continue leading this program," he was quoted as saying in the school's news release. "For the past eight years, I've given the University of Tulsa, our players, and staff everything I have. I'm proud of the way we locked arms and battled through adversity at every turn."
The Tulsa coach considered his team family. This was shown not only his words but his actions. He talked about how meaningful the experience has been for his family.
"Ashli and I will forever be grateful for the relationships and memories created at Tulsa," Montgomery said. "Our son played here, our daughter cheered here, and I'll always consider those times a blessing. I'm most thankful for the players and staff, past and present, who believed in our vision and gave their all for the team. They mean the world to me, and I'll always be here for them."
https://twitter.com/CoachPMonty/status/1588198784068100099
Montgomery had a couple of really good seasons. In 2016, he coached his team to a 10-3 record and beat Central Michigan in the Miami Beach Bowl by a dominating score of 55-10. In 2020, he led his Golden Hurricane to a 6-3 record (6-0 in the AAC) with a shortened season because of the pandemic.
The space between
The 2022 season had started off promising at 2-1. Over the last four games, Montgomery had lost to Tulane and Memphis before coming back and closing out the season with a pair of victories. The space between, during their 1-7 stretch when they missed out on bowl eligibility is when the decision was likely made.
Despite some early success as being the University of Tulsa coach, Montgomery's overall record was a disappointing 43-53. He won two of his four bowl game appearances. There were certainly cardiac comebacks and inexplicable, heart wrenching losses. He ranks sixth on Tulsa's all-time coaching list.
Montgomery's dedication to his team will not be soon forgotten. Hopefully his replacement will share in this vision of family and football. The bottom line is ultimately what matters to the university, which means the team has to win, and not miss bowl games. In other words, football and family are important, but business always wins in the end.