Is Trey Lance on his way out? News broke on Wednesday that the incoming third-year quarterback has fallen in the San Francisco 49ers' pecking order ahead of the new season. With Brock Purdy taking over the reins in San Francisco, Sam Darnold has been named his primary backup, leaving Lance on the outside looking in.
Sam Darnold Named as 49ers' QB2 Over Trey Lance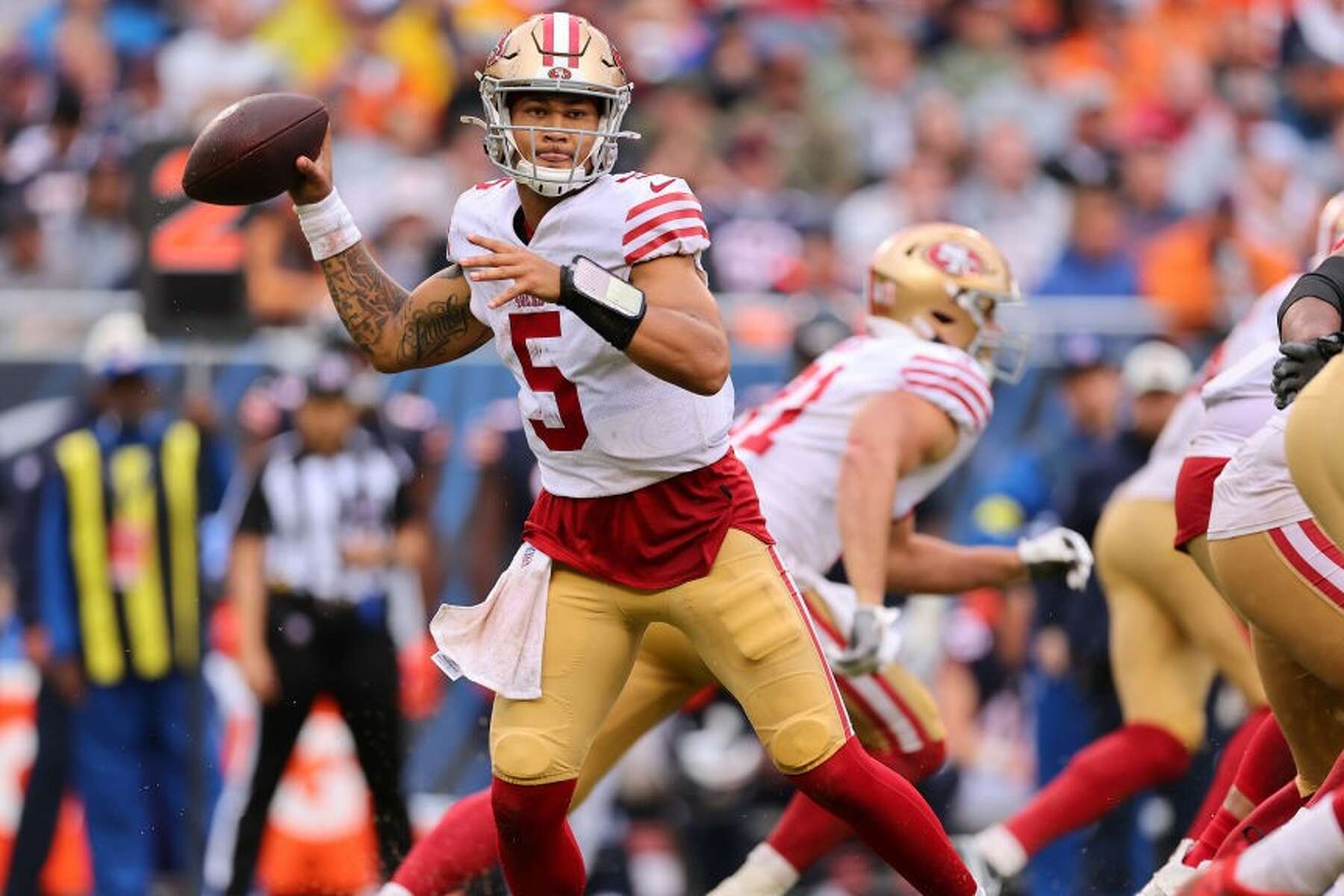 Lance was absent from practice on Wednesday after the 49ers' stunning decision. According to reports, the 23-year-old could now be on the move as San Francisco potentially looks to cash in on their former No. 3 overall pick via a trade.
Niners head coach Kyle Shanahan has now spoken out about this staggering development, and he's made it abundantly clear that they're not waving the white flag on Lance just yet. However, Shanahan also indicated that Darnold, who signed with the 49ers this summer as a free agent, has done more than enough to earn the QB2 spot behind Purdy:
"This isn't a thing that we're giving up on Trey," Shanahan said in the KNBR interview (h/t The Athletic). "This is more about how Brock played in his seven games and that was decided before the season started and how good Sam has looked. They've both looked good. But we do have to make a decision here. And you only get so many reps at it. And we feel that, starting about 10 days ago, Sam really separated himself and we've gotta keep it real in that way."
Kyle Shanahan Hoping Trey Lance Remins in San Francisco
Despite rampant rumors surrounding Trey Lance's looming exit, Shanahan believes that there's still room for the young quarterback on his roster. In fact, the 49ers shot-caller hopes that Lance decides to remain in San Francisco to fight for his place:
"I feel very, very fortunate to have both of them here," Shanahan said. "I really hope when it's said and done that all three of these guys are here and you never know when that's going to come up. We needed four guys last year. It doesn't happen much, but if we can have Trey as an option here, I would feel extremely happy about that. I think the other quarterbacks in our room would and I think our team would."
It is worth noting, however, that Shanahan seems to have also given us a clue as to how Lance has reacted to his demotion. The former North Dakota State standout obviously isn't delighted with these developments, which could be why he decided to skip practice on Wednesday.
While Kyle Shanahan has admitted that he would much rather have Lance remain with the squad, the Niners head coach has also hinted at the possibility of Trey's departure:
"We'll always try to do right for Trey," Shanahan said. "If he's in a better situation that his heart's in and something like that, we're going to make sure to do something that doesn't hurt him in that. So that's stuff I talked to him about this morning, that's stuff that I'll talk to him about tonight and continue to talk to him about. But Trey knows how I feel about him and I hope he ends up being able to be here and that's the best thing for him, but we've gotta see what is the best thing from now until then."
For More Of My Content
Follow me on Twitter at @PaoloSongcoNBA. You may also reach out to me personally at pao.songco@gmail.com.