Kansas City Chiefs tight end Travis Kelce has responded to the heavy criticism regarding the team's wide receiver issues. The team has some pass catchers other than Kelce who can make some plays, however, they are very inconsistent and cannot help determine the outcome of games like former Chiefs receiver Tyreek Hill. Despite this being true, Kelce thinks the team has everything they need to succeed this season.
Travis Kelce rejected the notion that the Chiefs don't have the receivers they need "to be great" https://t.co/WVOx8qzN3x

— Sports Illustrated (@SInow) November 3, 2023
Travis Kelce Responds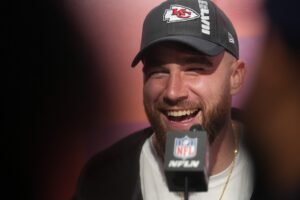 The star tight end had this to say about the significant criticism:
"I know that we've got a team that can put points up and I know we've got the coaches to be able to put us in the great positions to succeed and that's where we're moving going forward and it just takes guys to lock in and just be ready for those big-time moments when we need them most."
Similar comments were being said by NFL fans and analysts last season regarding the Chiefs' receiver room, but they went on and won the Super Bowl. They will look to continue to prove everyone wrong once again as they currently hold the best record in the AFC.
Chiefs Prove Doubters Wrong
Kansas City improved to 7-2 this morning in Germany in a 21-14 win over the Miami Dolphins. Kelce was held to just three receptions for 14 yards, but the defense for the Chiefs is what won them the game at the end. Quarterback Patrick Mahomes looked frustrated in the second half after the Dolphins held them to zero points for the entire half. At the end of the day, they walked out with another win over a very good team.
The Chiefs will have a bye after making the long trip home from across the pond before having a huge matchup in week 11 against the Philadelphia Eagles, a rematch of last season's Super Bowl. Both teams are the best in their conferences, so it should make for an electrifying matchup. Kelce's struggles continue when Taylor Swift is not in attendance, so we will see if she makes an appearance in their next game.
For Additional Content
Please go and follow me on Twitter @TaylorHartmaNFL for more NFL news and updates. If you have any further personal questions or comments for Taylor, connect with him on Linkedin. For more articles on the NFL, go to this site here! Also, go check out our podcast @FSHeroics!