We've officially reached the halfway point in the NFL's regular season, so now feels like a great time to rank the top 5 offensive rookies thus far. Obviously, there is still time for this list to change–as I previously mentioned, the season is only halfway over–but with many rookies off to hot starts, there's more than enough material to talk about. For this exercise, we'll ignore injuries and focus on each player's impact while they were on the field (there's some foreshadowing for you all). Without further ado, here are the top 5 offensive rookies of 2022 (so far) from five to one.
Top 5 Offensive Rookies of 2022
5. Charles Cross (OT)/Abraham Lucas (OT), Seattle Seahawks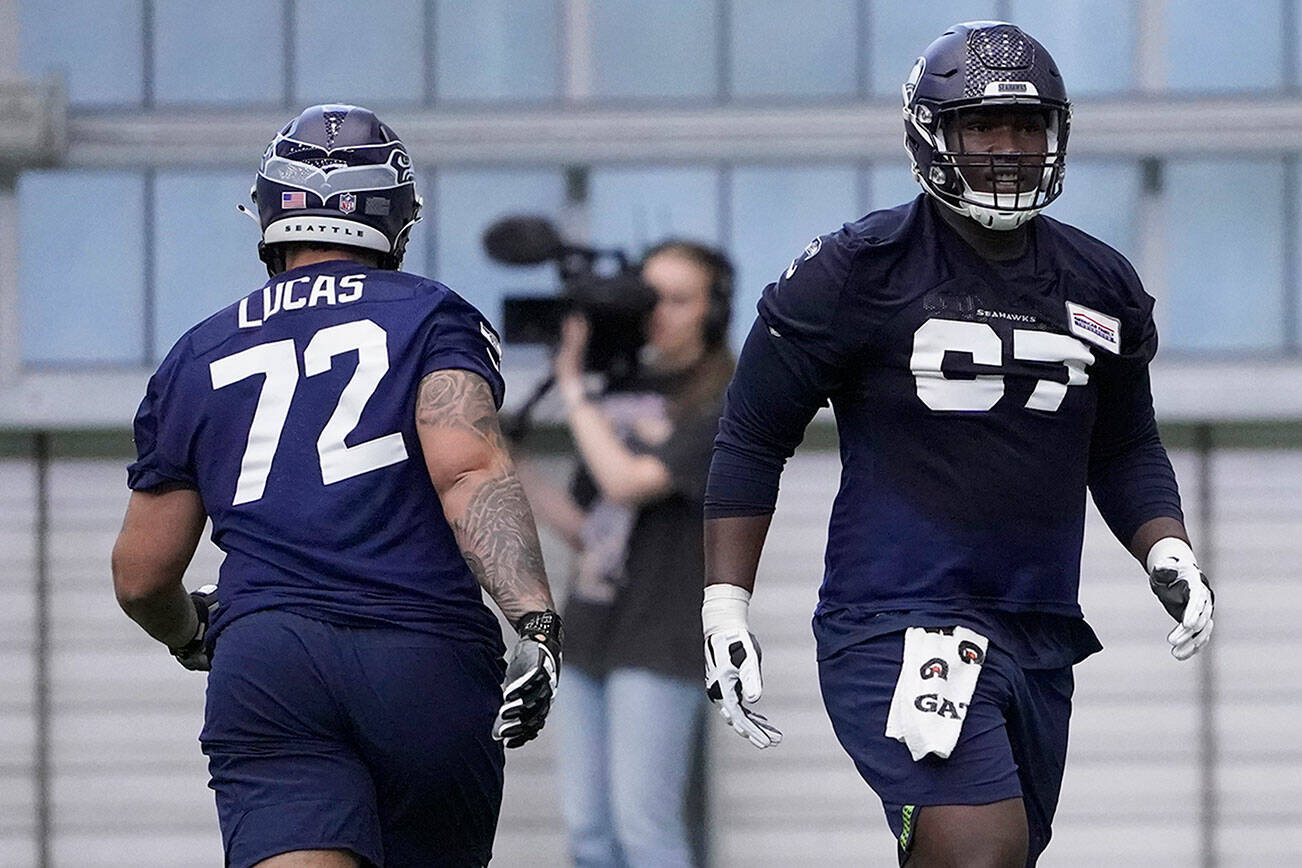 We'll start this list off with some o-line love by mentioning two gamechangers in Seattle. Sure, this is technically breaking the rules as this isn't just one player, but Cross and Lucas, the Seahawks' 9th and 72nd overall picks, have helped transform a line in desperate need of a revamp. During the Russell Wilson era in Seattle, poor offensive line play was a staple, with many combinations tried without success. Going into the 2022 season, Seattle was encouraged to spend some draft capital to help repair the unit for whoever the future quarterback would be.
Much can be made of the Seahawks' offensive production, especially the emergence of Geno Smith. However, none of it would be possible without the guys up front. The offensive line is still young and working through its kinks, but so far in 2022, they have given up the least sacks per game since 2012 for the team. The unit is far from perfect but should continue to develop as the season goes on.
4. Chris Olave (WR), New Orleans Saints
There are a couple of other rookie receivers who could be here, but for my money, I'm picking the most consistent producer of the bunch. Olave was selected 11th overall by the Saints, the third receiver taken off the board, yet leads the pack in every significant receiving stat except touchdowns, where him, Garrett Wilson, and Drake London have just two. As a rookie, he already has the 9th most receiving yards in the league at 618.
Despite playing in just nine games, Olave has already shown an advanced understanding of coverages and route running, consistently finding openings in defenses to give his quarterbacks easy completions. Despite subpar quarterback play, he is emerging as a young star in the league and should only continue to improve once the Saints find their long-term signal caller.
3. Kenneth Walker III (RB), Seattle Seahawks
Ranking the top three rookies was tough given that they all have made major impacts on their respective teams, but I'm giving the other two the benefit of the doubt over Walker III. The Seahawks' running back was selected 41st overall, expecting to be used in more of a committee with Rashaad Penny. However, when Penny went down in week five, Walker III took the opportunity and ran with it (no pun intended).
Walker III has rushed for 570 yards and seven touchdowns, averaging 5.1 yards a carry. This includes a very impressive week seven stat line of 167 yards for two touchdowns and a 7.3-yard average. So far, he has lived up to his reputation of being a home run hitter with five rushes of 20+ yards, tying him for fifth most in the league. Walker III has been impressive to say the least and has given the Seahawk offense balance alongside the Geno Smith-led passing game.
2. Breece Hall (RB), New York Jets
I ranked Hall above Walker III, but only by a hair. Truthfully, Walker III has looked more impressive as a runner than Hall has, but both have made multiple explosive plays and looked the part as true bell cow backs in the league. However, two factors made me rank Hall above Walker III: receiving ability and partners in the backfield.
Hall made more than just an impact with his legs during his seven games played. To go along with his 463 rushing yards, four rushing touchdowns, and three runs of 20+ yards, the 36th overall pick totaled 19 catches for 218 yards and a touchdown. This stat line leads teammate Elijah Moore despite Hall playing almost two less games. Hall established himself as a capable do-it-all back in his injury-shortened season.
As for the second reason Hall is ranked above Walker III, the Seahawks back has had a much easier road to significant production. For starters, Penny's injury made Walker III the feature back in his offense, a privilege Hall did not have with Michael Carter taking significant touches. On top of that, Geno Smith gave the Seahawks a serious passing threat, something Hall didn't have with a struggling Zach Wilson. Because of these factors, I gave Hall the slightest edge in this ranking. However, it truly is a coin flip between the two–I'm not going to argue if you think they should be flipped.
1. Damien Pierce (RB), Houston Texans
But regardless of who you think should be ranked higher of the two aforementioned players, there is one who has stood out above both: Damien Pierce. While Pierce doesn't have the touchdowns like Walker III or Hall (Pierce only has three), he currently sits sixth in the league with 678 rushing yards, also having five rushes of 20+ yards. Sure, his 4.6 yards per carry rank lower than Walker III or Hall, but to be honest, I don't really care–Pierce has done it in an offense that really doesn't have anything else. Really, that's what it comes down to–Pierce has produced in an offense where production is nearly impossible to come by.
What has stood out above all is Pierce's bruising style of running. It was put on full display against the Philadelphia Eagles when he ran for 139 yards with 5.1 yards per carry. In that game, the Eagles–without Jordan Davis–struggled to halt Pierce once he broke the line of scrimmage, missing tackle after tackle and often looking helpless against the 107th overall pick. This was an impressive performance against the league's best team, one that gave the largely hopeless Texans a glimpse of what's to come.