Auburn football is just nineteen days away. The excitement is building as Jordan-Hare Stadium prepares to open its gates for the first time in FORTY-TWO weeks. Optimism permeates social media forums that, after a tumultuous offseason, The Tigers are readying to shock the SEC. And yet, beneath the surface, a nervous undercurrent of dissatisfaction is straining to rear its ugly head. Junior QB TJ Finley is seemingly ahead in the race for the quarterback job. And it appears that hasn't gone down too well in every blue & orange corner of Alabama…
The reasons for this seem pretty clear. In his first season on The Plains after transferring from LSU, Finley was the primary backup for entrenched starter Bo Nix. With Nix missing gametime due to injury, Finley saw the field more than anyone anticipated. He played in nine games in total, going 70/128 for 827 yards and six touchdowns – with just one interception. The numbers suggest a fair level of competence for a backup quarterback, but the aesthetics argued otherwise.
Finley saw most gametime the final three games of the year, which Auburn lost. He also came in for an injured Nix against Georgia State – a game the then-ranked Tigers tried very hard to lose. The offense, and passing game in particular, struggled to move the football. Quite simply, Finley represents the bad times of 2021.
It's an unfair perception. Here's why it's not only fine that TJ Finley is ahead in the battle for QB1, but why he SHOULD be:
Experience
There was a flurry of excitement when Zach Calzada transferred to AU this offseason. The big-armed quarterback had one of 2021's iconic moments, leading Texas A&M to victory over Alabama as a backup. Anybody torching The Tide like that will be an instant fan's favorite on The Plains. So when Calzada made the decision to swap College Station for Auburn, many fans immediately anointed him the starter.
Calzada is a very talented quarterback, with a lot of potential. But he's not got the experience in this offense that TJ Finley has. Head coach Bryan Harsin and OC Eric Kiesau expect their quarterback to know the offense inside out. Admittedly, Finley couldn't claim to have the playbook down last season. But another year in the system will undoubtedly give him an edge over Calzada.
Ball Security
TJ Finley may not have demonstrated the creativity you hope a starting quarterback to possess last year. But one area he excelled in was decision making. Finley turned the ball over just once in 128 pass attempts in 2021, despite a porous offensive line and an underwhelming supporting cast. Conversely, Calzada threw nine interceptions in 327 pass attempts. Despite the ability to hit all areas of the field, the former Aggie still has work to do on ball placement.
With the Tigers looking to pound the rock until SEC opponents submit in 2022, a premium will be put on ball security and retaining possession. It's easy to see why Harsin prefers consistency and security over upside as the season draws near
Player Development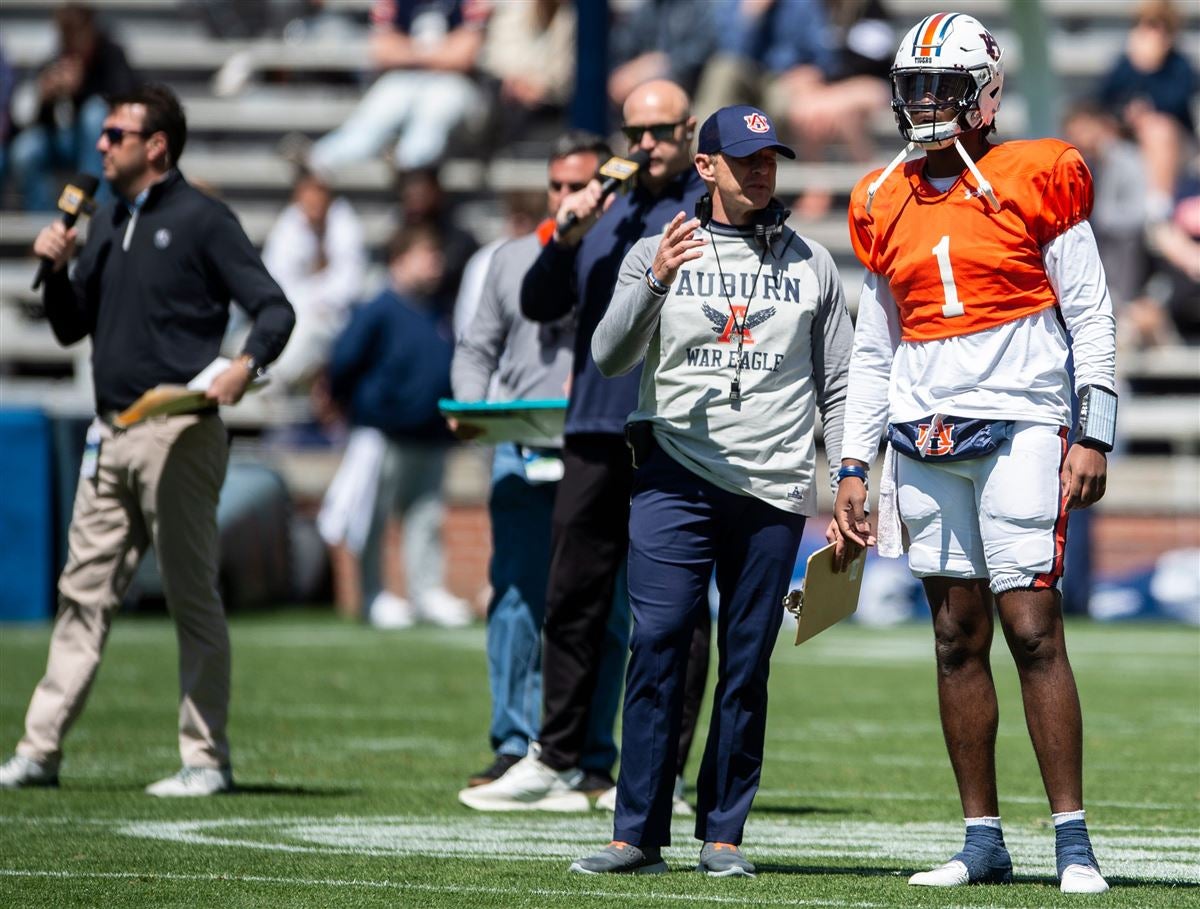 Bryan Harsin came to Auburn with a reputation for developing talent. Boise State were able to play above their recruiting ranking for years based on commitment, effort, and above all else, maximizing the ability of the roster. Harsin continued that trend when Chris Petersen left, and it was a big reason why he was hired by Auburn. The additions of staff with NFL experience shows that he expects the same of his coaching team too.
Many of us are guilty of assuming that TJ Finley has reached his peak. A young quarterback with relatively little game experience, it's probably an absurd assumption. A three-star recruit in 2020 with a 0.8784 composite from 24/7 Sports, Finley received offers from 15 schools – including SEC heavyweights Alabama, Georgia and LSU. Is it so far-fetched to think that Harsin and his staff have helped Finley unlock some untapped potential?
Chemistry & Leadership
Rumors out of Fall camp is that a lot of the roster consider TJ Finley to be a real leader in this locker room. Again, considering he's been with the program twelve months longer than Zach Calzada, it shouldn't be surprising he has that edge. He knows his teammates better, and knows what the coaches expect from a leader of this offense. Whilst he and Calzada have both been thrown into the fire that is SEC football, Finley has done it in blue and orange. That gives him some kudos in the eyes of those who go into battle with him on Saturdays.
Whilst there has been some roster turnover, Finley also has the benefit of working with his offensive weapons longer too. Experienced contributors such as John Samuel Schenker and Shedrick Jackson have a familiarity with their quarterback, something that doesn't develop overnight. Expecting Calzada to click in this offense from day one is unreasonable, regardless of the promise he has in that right arm.
A Long Way To Go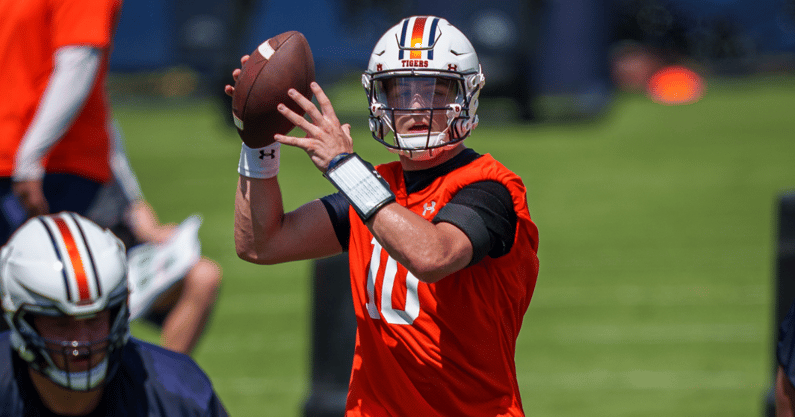 As they say in the SEC, it just means more. So it's no surprise that passions are high amongst the Auburn faithful even before a ball has been kicked. If anything, it demonstrates the devotion that Tiger Nation has to football. And no matter who is named QB1 come September 3rd, they will be fully behind their team, screaming 'War Eagle!' and rolling Toomer's Corner as they do every season.
TJ Finley has the edge in the QB competition right now. And if you take emotion out of the equation, it actually makes sense. But ultimately, it means nothing in mid-August. Until we see him under the lights at Jordan-Hare Stadium, we won't really know how much he has developed this offseason. And if he balls out and shows he's earned the right to lead the Tigers into battle, then every Auburn fan will be delighted.
Similarly for Zach Calzada; nothing is decided as of yet. With this coaching team he was never going to be handed the job on a silver platter – that's simply not how Auburn rolls under Bryan Harsin. Nor does anything so far suggest that he himself can't develop into a future starter. The potential was there for all to see last season, but the deck in this QB battle was always stacked in Finley's favor.
Auburn football is nineteen days away. Finley or Calzada under center, I cannot wait. WDE!
For More Great Football Content
Follow us on Twitter at @GridironHeroics for more great content. We appreciate you taking time to read our articles. To interact more with our community and keep up to date on the latest in Football news, JOIN OUR FREE FACEBOOK GROUP by CLICKING HERE
Checkout our latest podcast!
[powerpress_playlist limit=1]