I'll be the first to admit – you can even check my article archives – that I really thought we'd be okay after the OSU loss. And yet, somehow, things got worse. Really worse, really quickly. As us Notre Dame fans often look back to history for success, we can't spend all year looking in the rearview mirror. Sure, last week hurt – bad – but we can't dwell on it. What's done, is done. While this season may not be to our historical standards or expectations, we're not foreign to it in recent years. This has happened before. Remember? Think back to the far distant past… last year. Did we really expect to win with Jack Coan?
Or how about the Tommy Rees Quarterback years? Carlyle Holliday? Point is, we've been here before. And, while this year has begun as horrifically as possible – at least we know that what we have isn't working. The evidence is as clear as day. At least now – we can begin to try to fix it.
Here we are – in crisis management mode. Unlike most years, the high hopes throughout the season are gone, and we won't need to wait until the end of the season for our hearts to break. The breakup happened fast, like ripping off a band-aid. I'm not making excuses, I'm just being a realist. There's still the rest of the season that needs to be played. And we still, and always will be, NOTRE DAME. Play for pride. Play for history. Do it for the Gipper! Here's what I think we should do for the rest of the year:
Stay Competitive
I can't stress this enough, it keeps us in the loop with star recruits, and after all; pride. It's clear we won't make the CFB – but that doesn't mean losing all hope. I remember countless years in my childhood when we went to meaningless bowl games Let's think back to 2004 – when we had an awful year under Tyrone Willingham. What happened the next year? We became a top team and went to the Fiesta Bowl. While we surely aren't playing for anything significant in the Nation's eyes – but we sure are playing for something integral to Notre Dame's history. Pride. The hope that comes with nearly every year. Keep the system going. Our recruits have already started leaving, let's give them a reason not to. 
Pyne vs Angeli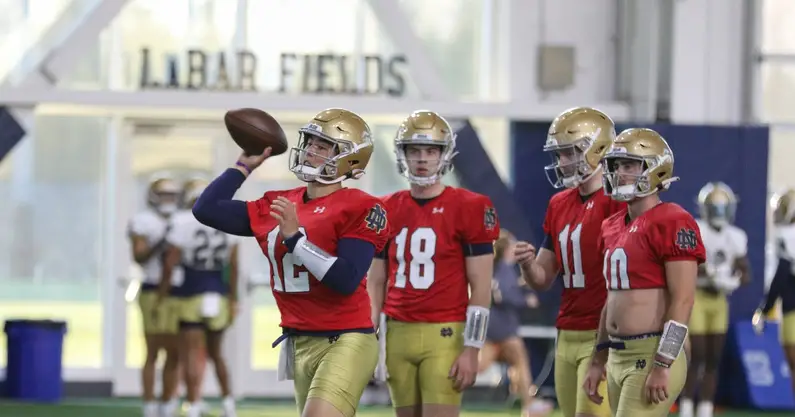 Use Buchner's time away from the field as a test for the other guys. Because let's face it, Buchner wasn't playing well when he was in. So, let's see what these guys can do. There's not much expectation, anyway – other than failure. But, while the stats may not be on Pyne's side – I actually liked what I saw from him. And, while you might want to be careful shattering the Freshman's confidence – you never know what could happen. What if he comes in and balls out? Then, we have 3 more years with him. And if he doesn't, then we can still develop him. Either that or focus our attention on another QB to recruit. 
Retool the Notre Dame Offensive Line
It doesn't take a genius, or a stat-geek to tell you that the O-Line this year has been… awful. We constantly get zero push off of the line on runs. And then get pushed back on pass-blocking. It's a mess. But, now that we're not in competition for anything special this year – we can take the risks of starting backups, switching positions, and tweaking the starting 5. It's hard to get worse than we're already performing, so why not hold an in-season competition? No job should be safe right now – but that also means that the doors are open to see who CAN perform. We shouldn't need more than an off-season to find guys who can block well, but here we are. We might as well take "advantage" of a bad situation.
Notre Dame Offensive Coordinator Conundrum
If you ask 10 Notre Dame fans what you think of him, you'll get 10 variations of "I hate him". Okay, maybe that's a hyperbole, but it's a testament to the uproar of disapproval. He didn't learn the lessons or make the adjustments, he should've after Week 1. In fact, he regressed as a play-caller. And, unlike Freeman, this isn't his first year. He's bad, and he's been bad. He plays conservative all game long and makes you scratch your head so often you get a rash by the end of the game. You know, often times not-so-great QBs end up becoming great coaches. Kellen Moore, Kevin O'Connell, etc. Tommy Rees does not fall into that category. We should've dumped him when Kelly left. But, if we fire him now, we can give another man the test – without the pressure of perfection.
The Million-Dollar Question…
Whether or not to fire Marcus Freeman. Some fans are crying out for his severance. Others point to Lou Holtz's initial struggles before becoming a legend. Me? I'm somewhere in the middle. I don't think he deserves to be fired after 3 games, that's just unfair. Sure, we're no ordinary school – we expect perfection. But, the funny thing about that is, we've never gotten it before. Many fans and pundits point to the fact that he's still working with Brian Kelly's recruits – and it's a fair one. And, I'm sorry – but with Buchner at QB – how could you expect him to win? Sure, he deserves his fair share of the blame for this season's start – no doubt. But, does it mean we should completely kick him to the curb? I don't think so. At least give the guy the rest of the season to show us something. And, hey, if he goes 2-9 (or less) – then, we can discuss it. But for now – let's not overreact and point the finger at just one guy. Clearly, there's a LOT we need to figure out this year. 
Now, at least we can exhale all of the tension, and just keep going – and move forward. Let's consider this the start of a rebuild because it can't get any worse than this. And hopefully, it'll be a quick one. But first, we need to evaluate WHAT needs to be fixed. That's step one – only, we have nine more weeks of step one. Clearly, it's going to be a long season – but the worst part is over… Now, as we shake our heads in disappointment, we come together in our shared fandom to rebuild, regroup, and get back to the glory that is the Fighting Irish. While we may not "Play Like a Champion Today" – we might Play Like a Champion very soon, if we do this right. We're still, and will always be, NOTRE DAME. LET'S GO IRISH!