Recently, there has been a lot of social media buzz in Hokie Nation about the Justin Fuente podcast.  The former Virginia Tech head coach appeared on the podcast All Ball with Doug Gottlieb and they spoke for a very long time.  It was such a comprehensive interview that it was released as a three-part podcast.
Just the mention of the name "Justin Fuente" grinds the gears of many Hokie faithful.  There is a lot of resentment among the members of Hokie Nation, as they blame Fuente for the current state of Virginia Tech football, which is not good at all.  They also cringe knowing that Hendon Hooker was the Virginia Tech starting quarterback for Fuente, but Hooker entered the transfer portal – not once but twice – and was a Heisman Trophy candidate at the University of Tennessee before his recent injury.
Was Justin Fuente a bad football coach?  Did he break down everything Frank Beamer built?  Is he responsible for the Hokies' fall from grace?  These are tough questions that (probably) cannot be answered from this series.  But listening to the interview could give you a new perspective on the man who was tasked with mission impossible – following a legend.
What I like most about the Justin Fuente podcast is hearing the man talk freely.  His persona while at Virginia Tech was one of a closed-off individual.  There was a perceived wall between him and the media, the fans, and the alumni.  Hearing his side of the story sheds light on the situation and helps me look at him as a human being and not an embattled public figure.
The first two segments – and much of the third – are more about Fuente's life before he came to Virginia Tech.  Hokie fans, if you are only interested in Fuente the VT coach, then you can skip them both.  However, if you are interested in knowing more about Fuente the human being, then I recommend all three parts of the podcast.
The Justin Fuente Podcast Part I – Fuente's High School and College Careers
The first part of the Justin Fuente podcast interview allows us to hear Fuente reminisce on his high school and college playing days.  He grew up as a star quarterback at a well-known football school in Oklahoma.  He was a multi-sport athlete but he really excelled as their signal-caller on the gridiron.
He then took his talents to an Oklahoma Sooners program that was one coach removed from Barry Switzer's terrific tenure as the head coach.  Oklahoma struggled under Howard Schnellenberger, who was canned after just one year.  Fuente had mixed success under the next coach, John Blake, but he decided to transfer after his second year because of the uncertainty in the program and in his future.
Fuente then finished his career at FCS Murray State.  Since the transfer rules were different back then, he just wanted to play football, so he moved down to what was then Division I-AA in order to retain both years of eligibility without sitting out.  He played very well, earning Ohio Valley Conference Offensive Player of the Year honors in 1999.  He still holds four offensive records for the Racers!
The Justin Fuente Podcast Part II – Fuente's Entry into Coaching
Part two of Doug Gottlieb's Justin Fuente podcast goes into detail of Fuente's pre-Virginia Tech coaching career.
Fuente talks about his first job as quarterbacks coach for Illinois State in 2001.  This is where he met Brad Cornelsen and Bill Teerlinck. After three years, Fuente was elevated to offensive coordinator and stayed in that position through 2006.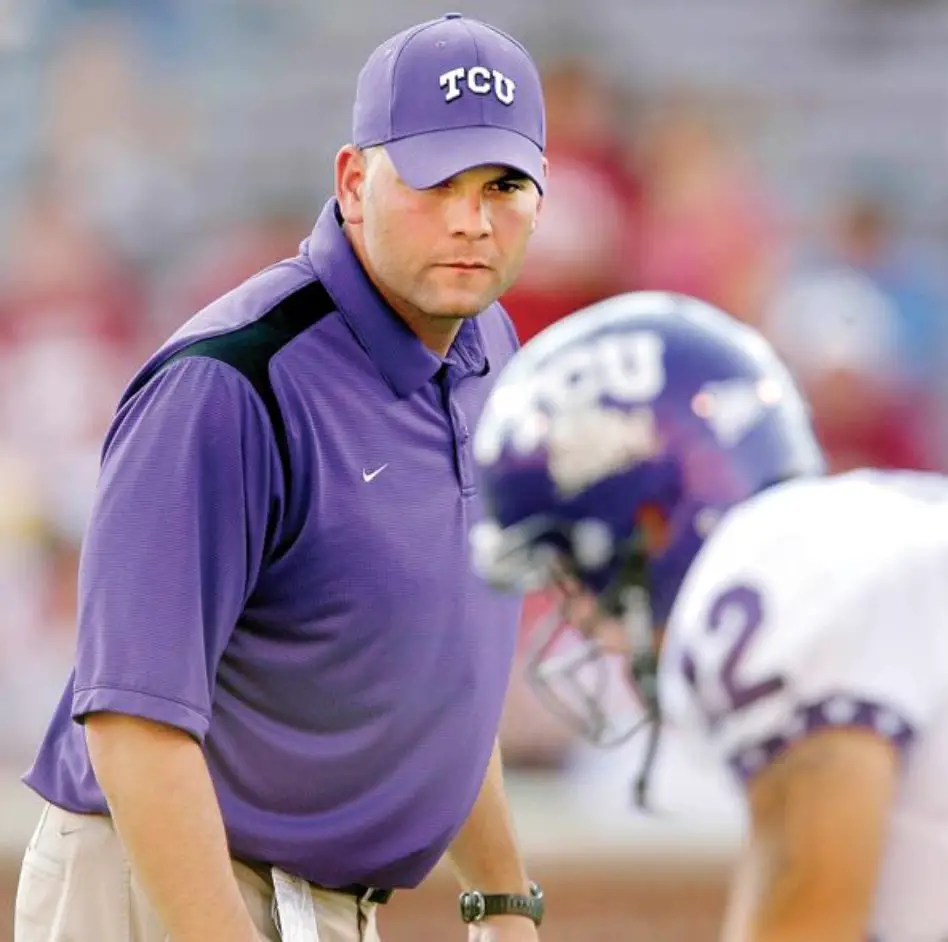 He then discusses how his previous contacts led to the phone call from Gary Patterson where Fuente was offered a job on the TCU staff.  It is interesting to hear Fuente tell the story – Patterson wanted him, but could only offer Fuente a job as a position coach, and he would be the lowest paid staff member.  Fuente jumped at the offer and took it as an opportunity to grow as a coach.
Fuente's faith – and hard work – paid off, as he was eventually promoted to offensive coordinator.  Most of us know that this is when he coached Andy Dalton and helped lead TCU to the Rose Bowl and an undefeated season.
As it usually goes in coaching, this success led to the Memphis offer.  Hearing Fuente tell the story of his acceptance is a little humorous as he admits he was unfamiliar with the process.  But he did accept, and he and his wife were off to the state of Tennessee.
The Justin Fuente Podcast Part III – Fuente's Head Coaching Experiences
The third and final part of the Justin Fuente podcast interview begins with Fuente taking the head coaching job at Memphis.  It really is interesting to hear him reflect on his experiences, especially going through it the first time as the head guy.
He reflects on the challenges of being a head coach as well as talks about Memphis quarterback Paxton Lynch and his talent.  Fuente closes this segment of Part III by discussing the process of first being contacted then hired by Virginia Tech.
Fuente and Gottlieb get a little sidetracked and discuss bigger picture NCAA issues, but then they get back on topic and talk about Fuente's tenure at Virginia Tech for the final half hour.  Fuente reflects on some challenges in his early years, such as dealing with facilities that needed to be upgraded and a coaching staff budget that needed to increase.
He also discusses the talent level of the upper classmen when he arrived, speaking very highly of them.  But he criticized the younger kids and was surprised at how many were of such low character.  In hindsight, this is not surprising, given the suspensions and dismissals of guys like Trevon Hill, Mook Reynolds, and Adonis Alexander, to name a few, and the mass exodus of players through the transfer portal.
He also reflects on a few mistakes that he made and how he let his identity change.  He does regret that part – not being true to himself.  He ends by discussing the end of his tenure at Tech.
Final Thoughts
As a college football enthusiast, I really enjoyed this podcast.  Yes, it was much longer in duration than most podcasts, but I never felt like it dragged and it never lost my interest.  I liked hearing the personal narrative and the anecdotes.  They added a human element to a man who admittedly was a little closed off during his years in Blacksburg.
It was interesting to hear his full story.  I never knew much about Fuente's past.  I knew that he came from coaching stints at Memphis and TCU, but that was really it.  So I liked hearing him speak openly about his life in football.
As a Virginia Tech fan, though, I was a little unsatisfied.  Fuente only talked about his time in Blacksburg during the final half hour of the podcast, and he really didn't answer any of the questions that plague the Tech fanbase.  I liked Fuente as the "right hire" at the time, and of course I wanted him to succeed, but in the end, he just wasn't the right fit for the program and the culture.  I would like to have heard him address that and many other issues that did not sit well with Hokie Nation.
While I understand that Doug Gottlieb may not have been allowed to ask such difficult questions, or that the coach himself may not have wanted to discuss them, I also know that every Hokie wants to know the real answers.  We want to know why Fuente stopped recruiting the state.  We want to know what happened to sour relationships with our beloved former players.
Hokie fans most likely know parts of the truth, but it would be nice to hear Fuente's side of some of these burning questions.  Why was the quarterback position a constant carousel?  Why were starters really transferring out? (Like Josh Jackson, Hendon Hooker, Doug Nester, Bryan Hudson, Damon Hazelton – I could go on and on).  Was the relationship between OC Brad Cornelsen and his quarterbacks really as bad as the fans think?  And is there truth the rumors of the tension between Jerry Kill and Cornelsen?
Justin Fuente started his Virginia Tech career with a 10-win season.  He followed that with a 9-win season.  And then things started to come undone.  Hokie fans would love to hear justification of what happened to bring down his program during his tenure – a time where it appears that everything Frank Beamer built in 29 years was undone in six.  Hokie fans will forever feel that way – fairly or not – about Justin Fuente, and unfortunately, he did not use this podcast to change our views.
You can listen to the Justin Fuente Podcast by searching All Ball with Doug Gottlieb on Apple Podcasts, Spotify, Amazon Music, Audible, and several other podcast services.
To read more of my articles on Virginia Tech football, click here.