The All-Americans of the 2022 College Football Season
I am doing things differently than most who write things like this. There are two main differences. The first is I wait until after the season is completed and take all the games into account. The second is taking into account how full of a season players played. For example, the two best running backs in college football were probably Blake Corum of Michigan and Bijan Robinson of Texas. They, however, missed their last games. Corum because of injury and Robinson to prepare for the NFL Draft.
I don't fault either player for this. Corum can't control being injured and Robinson is making a very difficult and personal decision about his future. So leaving them out in favor of a Mohammed Ibrahim of Minnesota isn't a knock on Robinson or Corum but a praise of Ibrahim and players like him who risk it to play one more game. Who put one more effort of tape and numbers together for themselves and for their team. So, if a player is left out because of situations like this, it isn't a slight to them but more of a praise to the guy who is listed.
First Team All-Americans
Offense
Quarterback: C.J. Stroud, Ohio State, Junior.
OHIO STATE STRIKES FIRST 🎯

C.J. Stroud ➡️ Marvin Harrison Jr. for 6❗️ pic.twitter.com/MsWHE3DM1V

— ESPN (@espn) January 1, 2023
Stroud gets this over the Heisman winner Caleb Williams because Stroud had nearly as many touchdown passes (41 to Williams' 42) and in one less game. Stroud also showed up better against Georgia than anyone else this year and as well as the 2021 Heisman winner did when they upset the Dawgs last season. On the year Stroud was 258 of 389 for 3,688 yards and 41 touchdowns and in his career he was 575 of 830 for 8,123 yards and 85 touchdowns.
Running Back: Mohammed Ibrahim, Minnesota, Senior.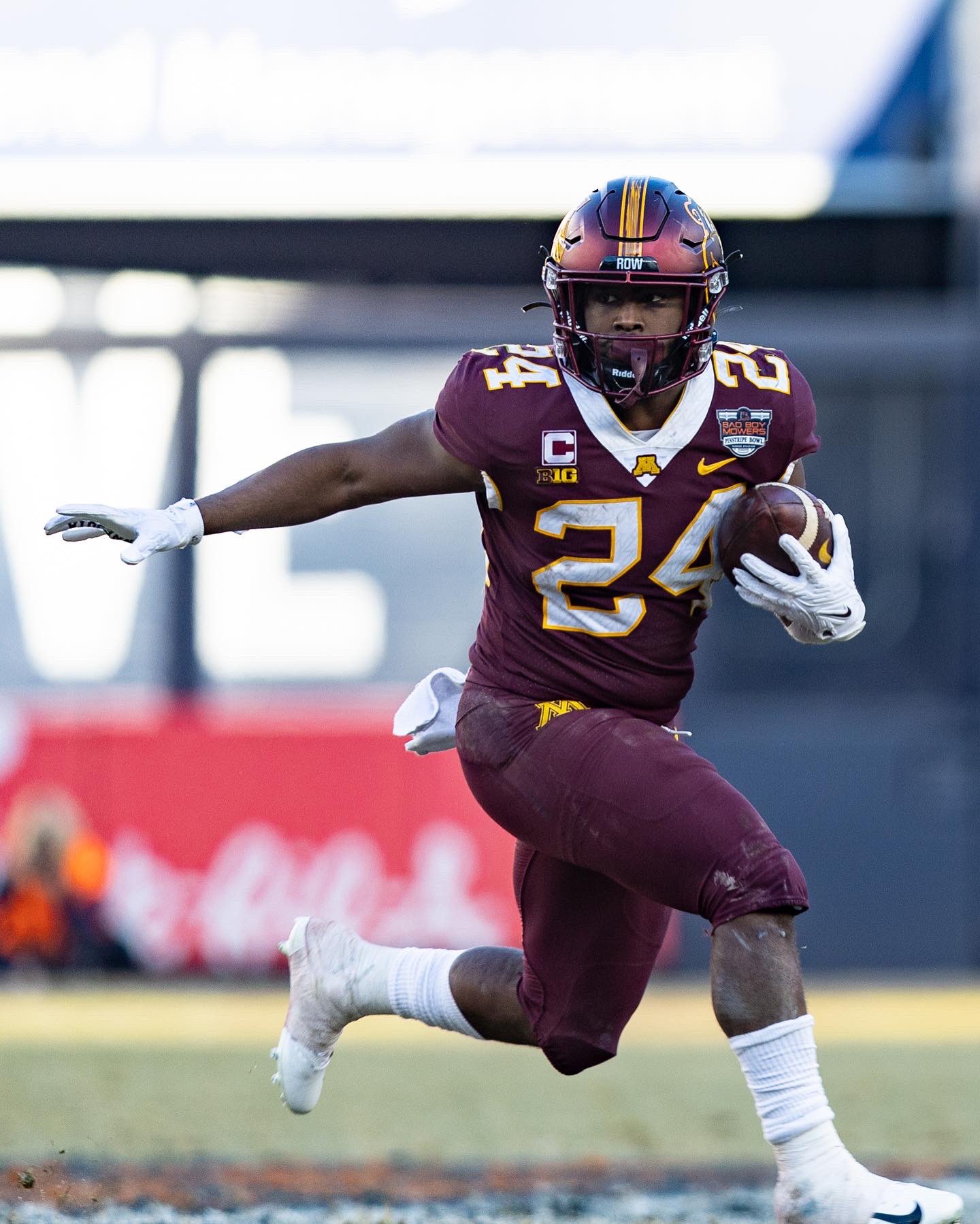 Ibrahim had 320 carries for 1,665 yards and 20 touchdowns in only 12 games in his senior season. His 1,665 yards were third in the nation in rushing yards and his 20 touchdowns were first. He eclipsed the century mark in yards 10 out of 12 times this season and had at least one touchdown 11 out of 12 times. He finishes his career as Minnesota's leading rusher with 867 carries for 4,668 yards, 5.3 yards per carry, and 53 touchdowns.
Fullback: Brad Roberts, Air Force, Senior.
Nation's leading rusher was a fullback! Love it! #MakeFullbacksGreatAgain https://t.co/SxzGTQcTAh

— Phillip Riggs (@phillipriggs85) January 12, 2023
Another way I'm different is by picking true fullbacks. The position is making a much-needed return and part of that is guys like Brad Roberts. Roberts lead the nation in rushing yards this season with 1,728 on 345 carries, averaging 5.0 yards per carry with 17 touchdowns which was good enough for eighth in the nation. Roberts carried Air Force on his back to a Commander-in-Chief's Trophy, an Armed Forces Bowl win, and a 10-3 record. He has 708 carries for 3,545 yards and 33 touchdowns in his career at Air Force.
Tight End: Brock Bowers, Georgia, Sophomore.
We'll take @brockbowers17 1v1 any day 😎#GoDawgs | #NationalChampionship pic.twitter.com/aWYAIPxHX3

— Georgia Bulldogs All Access (@UGA_GBSM) January 12, 2023
Bowers had 72 touches (63 catches and nine runs) for 1,051 total yards (942 receiving, 109 rushing) and 11 total touchdowns (7 receiving, 4 rushing). Despite teams knowing what a weapon he was because of his successful freshman year, Bowers came through in the big games. Catching a touchdown against LSU (SEC Championship) TCU (National Championship) Georgia Tech, and Florida (rivalries). And while the Buckeyes kept him out of the endzone, Bowers converted a crucial fourth down and one play in their nail-bitter win over Ohio State.
Wide Receiver: Marvin Harrison Jr., Ohio State, Sophomore.
MarvHim Harrison.

📺: @espn pic.twitter.com/PSuNjHuCsk

— Ohio State Football (@OhioStateFB) January 1, 2023
It can be argued that Harrison was the most valuable player in college football this year as no team was more affected by having their best guy in and out of games than the Buckeyes were with Harrison. If he doesn't get concussed (and the refs don't miss the targeting call, but that's another story) the Buckeyes are likely national champions. Harrison was sixth in receiving yards and fourth in touchdowns nationally. He had 77 catches for 1,263 yards and 14 touchdowns. Georgia couldn't stop him on the field so had to knock him off it. In three quarters he had five catches for 106 yards and two touchdowns before being taken out by a cheap shot.
Wide Receiver: Nathaniel Dell, Houston, Junior.
Tank Dell👀🤧

— PFF College (@PFF_College) December 23, 2022
Dell was the national leader in receiving this year. He was second in catches with 109, first in yards with 1,398, and first in touchdowns with 17. He had two touchdown grabs in six of Houston's 13 games. One of the best ways to describe how good Dell was is to say he had more catches, yards, and touchdowns than greats like Ohio State's Marvin Harrison Jr. and Tennessee's Jalin Hyatt.
Left Tackle: Paris Johnson, Ohio State, Junior.
In this play, on the far left of the Buckeye offensive line, Johnson gives Stroud time to throw the touchdown pass on the seam route.
6'6 315lb Ohio State OL Paris Johnson Jr. Screams potential New England Patriot to me at pick 14.

With Trent Brown and Isiah Wynn under performing, it makes a lot of sense Pats look OL. #77 in the video below, Paris is as athletic as they come at LT.

— Jared Tokarz (@JaredNFLDraft) January 9, 2023
One half of Ohio State's rooks. Because like the chess pieces, he and right tackle Dawand Jones kept their king, C.J. Stroud, clean. They guarded his flanks well enough that Stroud was sacked on average less than once per game, only 12 times in 13 games, and four of those were to a tough Georgia front that they still protected Stroud from enough to put 41 points on the board.
Offensive Guard: Steve Avila, TCU, Senior.
Horned Frog Forever 💜 pic.twitter.com/Sw3LHWCF5D

— Steve Avila (@Stevelavila) January 10, 2023
Avila was a big reason TCU was in the top seven in rushing touchdowns with 37 on the year. No Horned Frog benefited from that more than TCU running back Keandre Miller. Miller had 1,399 yards and 17 touchdowns on the ground behind Steve Avila for the national runner-up TCU Horned Frogs.
Center: Olusegun Oluwatimi, Michigan, Senior.
The 2022 Outland Trophy has been awarded to Michigan's Olusegun Oluwatimi pic.twitter.com/6GyeXEY4dT

— PFF College (@PFF_College) December 9, 2022
Olusegun Oluwatimi not only won the Rimington Trophy for the nation's best center and the Outland Trophy for the nation's best interior lineman but he also paved the way for the Wolverines to be third in the nation in total rushing yards with 3,345, fifth in rushing yards per game with 238.9, second in rushing touchdowns with 41, and third with 5.58 yards per rush. This man was a combination of a tank and a bulldozer for the number three Wolverines.
Offensive Guard: O'Cyrus Torrence, Florida, Senior.
Florida G O'Cyrus Torrence has declared for the 2023 NFL Draft, he announced

PFF's highest graded Guard this season🐊 pic.twitter.com/NfhVAlxEBz

— PFF College (@PFF_College) December 5, 2022
A consensus All-American and the highest-graded college guard by Pro Football Focus, the Louisiana transfer had a wonderful senior season with the Gators. He'll next look to further prove himself once more at the Senior Bowl.
Right Offensive Tackle: Dawand Jones, Ohio State, Junior.
Jones gives Stroud good protection on this play in the Peach Bowl, showing his skill to go along with his size and strength.
Dawand Jones uses his length pretty well… Really forces rushers to use wider paths. pic.twitter.com/MUPyGw4FkU

— Ben Fennell (@BenFennell_NFL) January 11, 2023
The 'other' rook and bookend tackle for the Buckeyes kept C.J. Stroud upright and slinging the ball this year. The massive Ohio State tackle will represent the Buckeyes in the Senior Bowl and looks to join Paris Johnson Jr. as a first-round draft pick. Their play gave the Ohio State passing game enough protection to average 9.46 yards per attempt, good enough for second nationally out of 131 teams.
Defense
Defensive Lineman: Jalen Carter, Georgia, Junior.
Since this game is over, here's Jalen Carter lining up at fullback and blocking 3 guys pic.twitter.com/TYgeaMeK1g

— Adam Hoge (@AdamHoge) January 10, 2023
Graded out as a guy who could be a top-five overall pick Carter is a true team player, freeing up teammates to get the numbers. Whether it's showing off as a lead blocker in the video above or eating up blockers himself (his specialty) Carter helps his team. In this championship season he had 32 tackles, seven tackles for a loss, three sacks, three pass breakups, two fumbles forced, and 29 quarterback hurries!
Defensive Lineman: Tuli Tuipulotu, USC, Junior.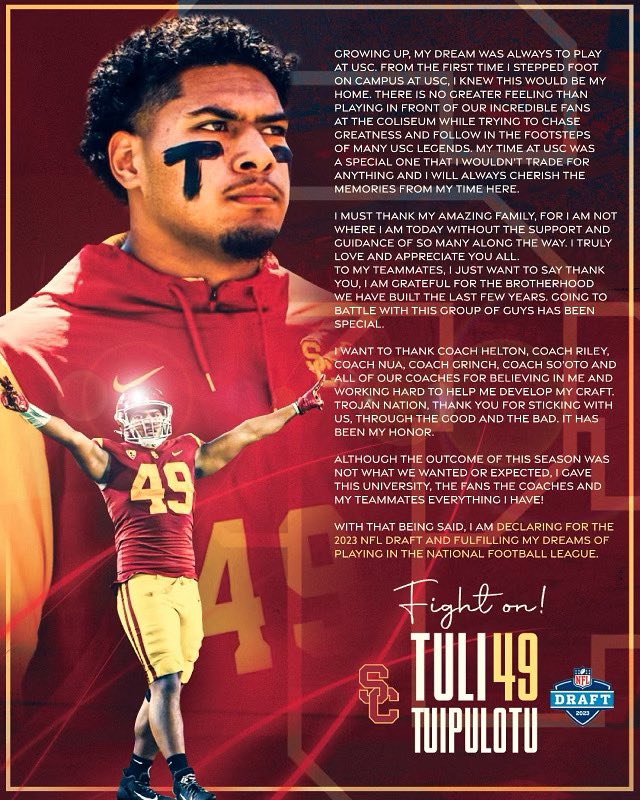 Of his 46 tackles 22 of them went for a loss. He led the nation in sacks with 13.5. He had three passes broken up, and three quarterback hurries, meaning he brought the quarterback down most of the times he got near him, and two forced fumbles. Some NFL team will get a stand out in this young man.
Defensive Lineman: Durrell Johnson, Liberty, Senior.
😱😱😱 FOURTH AND GOAL FUMBLE. Ball is recovered by Durrell Johnson! 😱😱😱 pic.twitter.com/lNEzKLgxYc

— Liberty Football (@LibertyFootball) September 3, 2022
Johnson had 27.5 tackles for a loss, nine sacks, one forced fumble, three fumbles, recovered, and an interception. Johnson's tackles for a loss led the nation and Liberty had 121 tackles for a loss to lead the nation too. The Flames' defense averaged 9.3 tackles for a loss per game and Johnson was the man dropping napalm with his tackles behind the line.
Edge: Will Anderson Jr., Alabama, Junior.
Will Anderson, EDGE, #31

See the ball, get the ball. pic.twitter.com/Pv3DNOqrbv

— Rapinas do Mar (Cortes) (@cortesrapinas) January 7, 2023
Will Anderson had 51 tackles, 17 of which were for a loss, and 10 sacks. He also had an interception (returned for a touchdown) a pass broken up, and 12 quarterback hurries. He had a total of 22 times that he pressured the quarterback. He'll be a top five pick and his pressure on the quarterback is why.
Linebacker: Jack Campbell, Iowa, Senior.
Jack Campbell had 128 tackles, 5.5 tackles for a loss, two interceptions, one sack, one fumble forced, and a safety. He won the Butkus Award for best linebacker and the Campbell Award (the academic Heisman) while leading the tough Hawkeye defense.
Linebacker: Nick Herbig, Wisconsin, Junior.
🕺🏼🕺🏼🕺🏼 pic.twitter.com/JxsiXO1QEF

— Nick Herbig (@nickherbig_) January 11, 2023
Nick Herbig had 47 tackles, 15.5 tackles for a loss, and led the Big Ten with 11 sacks, and had two forced fumbles. He was the leader for the Wisconsin defense that finished 11th in total defense and 17th in scoring defense.
Linebacker: Tommy Eichenberg, Ohio State, Senior.
Tommy Eichenberg is applying the pressure 💪 pic.twitter.com/I5Jx6nn0Ad

— ESPN (@espn) September 4, 2022
Eichenberg had 120 tackles, 12 tackles for a loss, 2.5 sacks, and an interception returned for a touchdown. Eichenberg was the centerpiece and most consistent player in Ohio State's new defense. He was a big part of the Buckeyes improving from 51st in total defense to 14th. As well as improving from 96th to 8th in third-down defense.
Defensive Back: Clark Phillips, Utah, Junior.
Phillips had 24 tackles, two tackles for a loss, one sack, six passes broken up, and six interceptions, the second most in the nation, two of which he returned for touchdowns. Phillips was a unanimous and consensus All-American and will be a high draft pick this spring.
Defensive Back: Devon Witherspoon, Illinois, Junior.
Witherspoon had 41 tackles, 2.5 tackles for a loss, and three interceptions and graded out as one of the best defensive backs of the year. Witherspoon was so good in coverage that quarterbacks wouldn't even throw it at the man he was covering, hence why Witherspoon's numbers may seem modest to those who didn't get to see him much. Trust me, he's good and knows who to defend the pass.
Defensive Back: Emmanuel Forbes, Mississippi State, Junior.
Emmanuel Forbes had 46 tackles, one tackle for a loss, one blocked kick, 10 passes broken up, and six interceptions. Forbes didn't only have a nose for the football but one for the end zone as he took three of his six interceptions to the house for touchdowns.
Defensive Back: Tre'Vius Hodges-Tomlinson, TCU, Senior.
Hodges-Tomlinson had 50 tackles, two tackles for a loss, three interceptions, and one forced fumble, and 15 passes defended. Tre'Vius Hodges-Tomlinson won the Jim Thorpe Award given to the best defensive back in college football. He was a huge part of TCU going 13-2 and being the national runner-up.
Kicker: Jake Moody, Michigan, Senior.
✅ Career long
✅ School record
✅ Longest FG in #CFBPlayoff history

Jake Moody with the 59-yard BOOT 😤 pic.twitter.com/UmOBT2hPnr

— ESPN (@espn) December 31, 2022
Jake Moody was 29 of 35 including three field goals made from beyond 50 yards and was a perfect 60 of 60 on extra points. Moody didn't win the Groza this year but should have. He made one more field goal than the winner, and while he had a few more misses they were from the extreme of most kickers range.
Punter: Bryce Baringer, Michigan State, Senior.
Introducing Bryce Baringer, your Eddleman-Fields Punter of the Year. pic.twitter.com/AJCoF86fib

— Michigan State Athletics (@MSU_Athletics) November 30, 2022
Baringer had 50 punts for 2,450 yards for an average of 49 yards per punt. Baringer would flip fields for the Spartans with ease and was a tremendous help to their defense this season.
Returner/ All-Purpose: Deuce Vaughn, Kansas State, Junior.
Deuce Vaughn was a dual threat for Kansas State. He had 293 carries for 1,558 yards and nine touchdowns rushing with 42 catches for 378 yards and three touchdowns receiving. This gave him 335 touches for 1,936 yards and 12 touchdowns.
Second Team All-Americans
Quarterback: Stetson Bennett, Georgia, Senior.
Wide open @laddmcconkey02 🟰TD#GoDawgs | #back2back pic.twitter.com/vhXfVHcofd

— Georgia Football (@GeorgiaFootball) January 10, 2023
Stetson Bennett was 310 of 454 for 4,127 yards and 27 touchdowns passing, with 205 yards and 10 touchdowns rushing. The only thing that kept Bennett from being the top quarterback in the nation this year was that he had four games where he didn't throw a touchdown and two games where he didn't get any kind of score. Still, his hot streak at the end of the year again bumped up here above some other talent quarterbacks.
Running Back: Chase Brown, Illinois, Junior.
𝐂𝐁𝟏𝐤@chasebrown____ reaches 1,000 rushing yards in seven games.#Illini // #HTTO // #famILLy pic.twitter.com/0SqvjpCzw9

— Illinois Football (@IlliniFootball) October 15, 2022
Brown had 328 carries for 1,643 yards and 10 touchdowns rushing with 27 catches for 240 yards and three touchdowns rushing. Brown was fourth in the nation in rushing yards and only played in 12 games.
Fullback: Carson Steele, Ball State, Sophomore.
Carson Steele is 𝗛𝗜𝗠 😤⚔️🐴#1AAT x #WeFly pic.twitter.com/10zUvfRp3A

— Ball State Football (@BallStateFB) October 16, 2022
Steele had 289 carries for 1,556 yards and 14 touchdowns rushing with 166 yards and one touchdown receiving. UCLA will likely use him more as a running back but he was at very least part fullback at Ball State. I got to see Steele in person against my Miami (Ohio) Redhawks and the hype is real and his ceiling is very high.
Tight End: Dalton Kincaid, Utah, Senior.
👍 trademark @_DaltonKincaid pic.twitter.com/PhBM8cMnOM

— Utah Football (@Utah_Football) November 26, 2021
Kincaid had 70 catches for 890 yards and eight touchdowns. His biggest game came in the Utes first victory over USC when he caught 16 passes for 234 yards and a touchdown. It'll be interesting to see where Kincaid gets drafted since his Utah career is wrapped up.
Wide Receiver: Jalin Hyatt, Tennessee, Junior.
Legend achievement unlocked.@jalinhyatt pic.twitter.com/qrZsvLMQq1

— Tennessee Football (@Vol_Football) October 16, 2022
Hyatt had 67 catches for 1,267 yards and 15 touchdowns with his huge game against Alabama making the headlines. He had six catches against the Tide (for 207 yards) and five of them were for touchdowns. His game against Bama will last forever in Big Orange Country.
Wide Receiver: Charlie Jones, Purdue, Senior.
Single-season 𝐒𝐢𝐳𝐳𝐥𝐞.

A new 𝐏𝐔𝐑𝐃𝐔𝐄 record for Charlie Jones: 1,309 yards and counting… pic.twitter.com/69T8JQ5KtZ

— Purdue Football (@BoilerFootball) December 4, 2022
Jones had 110 catches for 1,361 yards and 12 touchdowns. Jones had 89 more catches, 1,038 yards, and nine  touchdowns more in his one season at Purdue than he had in his last season at Iowa. An incredible advancement in output by a player.
Offensive Tackle: Peter Skoronski, Northwestern, Junior.
⚪️ Top pass blocker in the country
⚪️ Outland Trophy Finalist
⚪️ Unanimous First Team All-Big Ten
⚪️ Big Ten O-Lineman of the Year
🔘 All of the above

Peter Skoronski is 1-of-1.#GoCats | https://t.co/j40JLZCJem pic.twitter.com/CHCZmT1tvW

— Northwestern Football (@NUFBFamily) November 30, 2022
Skoronski and Northwestern don't have a lot of numbers to back up the hype behind him but Skoronski's technique is second to none. He uses his hands well and has great footwork.
Offensive Guard: Zak Zinter, Michigan, Junior.
Behind Zinter and company, Blake Corum had 245 carries for 1,457 yards and 19 total touchdowns in only 11 games as the Wolverines were the fifth best rushing attack in the nation in 2022.
Center: John Michael Schmitz, Minnesota, Senior.
You can add another honor to John Michael Schmitz's resume after he was named one of 12 semifinalists for the Rotary Lombardi Trophy today!

🏆: https://t.co/BTfz2zjJ7x pic.twitter.com/ceO1QlNyNq

— Minnesota Football (@GopherFootball) November 2, 2022
The Minnesota man paved the way for All-American Mohammed Ibrahim and had Minnesota's rushing attack ranked at 16th nationally.
Offensive Guard: Trevor Keegan, Michigan, Senior.
Keegan, Zinter, and Oluwatimi had Donovan Edwards and Blake Corum combine for 387 carries for 2,454 yards, and 25 touchdowns.
Offensive Tackle: Andrew Vorhees, USC, Senior.
🧱🧱🧱 @Andrew_Vorhees @PFF 📈✌️ pic.twitter.com/dZEkLsOSrI

— USC Football ✌️ (@uscfb) October 19, 2022
Vorhees versatility is a huge asset to him and was to the Trojans in his time there. To be able to go to guard or tackle and fill whatever role he was needed shows character and putting the team first.
Defensive Lineman: Jared Verse, Florida State, Junior
🖤 #NoleFamily pic.twitter.com/MIyeglWXlX

— Jared Verse (@JaredVerse1) January 7, 2023
Jared Verse had 48 tackles, 17 tackles for a loss, nine sacks, and three quarterback hurries for Florida State. It's amazing and speaks to the culture of the team that he decided to forgo the NFL Draft and return to Tallahassee for one last ride.
Defensive Lineman: J.T. Tuimoloau, Ohio State, Sophomore.
🗣 "J.T. TUIMOLOAU HAS HAD THE GAME OF HIS LIFE"

When you're having the game of your life, you want Gus Johnson on the call 🎙🐐 @OhioStateFB | @JT_Tuimoloau

(Sponsored by @Discover) pic.twitter.com/0x6sOuj9Nx

— FOX College Football (@CFBONFOX) October 30, 2022
Tuimoloau had 28 tackles, 10.5 tackles for a loss, 3.5 sacks, two interceptions (one returned for a touchdown), four passes broken up, four quarterback hurries, one fumble forced, and one fumble recovered. Tuimoloau was good bordering on great all year and has set a high standard for himself to follow in 2023.
Defensive Lineman: Calijah Kancey, Pittsburgh, Junior.
ACC Defensive Player of the Year 🏆

Pitt's Calijah Kancey » @CKancey8 #H2P » @ACCFootball pic.twitter.com/bg4GUVHOLa

— Pitt Football (@Pitt_FB) November 30, 2022
Calijah Kancey had 31 tackles, 14.5 tackles for a loss, 7.5 sacks, and 10 quarterback hurries. An undersized and underestimated defensive tackle who is a Pitt Panther, now where have I heard that before? Kancey is trying to follow in the footsteps of Aaron Donald and establish a culture at Pitt of the quick and athletic defensive tackle instead of the traditional big space eater.
Edge: Tyree Wilson, Texas Tech, Senior.
Wilson had 61 tackles, 14 tackles for a loss, seven sacks, eight quarterback hurries, a forced fumble and a fumble recovery. He led the way for the Red Raider defense to be ranked 19th nationally in tackles for a loss with a total of 91 for the Red Raiders.
Linebacker: Ivan Pace Jr., Cincinnati, Senior.
Ivan Pace Jr. has now collected First Team All-America accolades from @AP, @CBSSports, @TheFWAA, @PFF, and @WalterCampFF‼️#Bearcats | @ivan_pacejr pic.twitter.com/vx4kEHZqvg

— Cincinnati Football (@GoBearcatsFB) December 12, 2022
Ivan Pace Jr. had 137 tackles, 21.5 tackles for a loss, 10 sacks, four passes broken up, seven quarterback hurries and three fumbles forced. Pace led the Cincinnati Bearcats to be 15th nationally in tackles for a loss and 27th in sacks.
Linebacker: Jason Henderson, Old Dominion, Sophomore
Player promo motion @ODUFootball pic.twitter.com/eVVDcSghYy

— SkullSparks (@SkullSparks) January 11, 2023
Henderson had 186 tackles, 10 tackles for a loss, one sack, three passes broken up and a blocked kick. He led the nation in total tackles and was a true ball hawk, with more than 30 tackles between him and the second leading tackler in the nation.
Linebacker: John Marshall, Navy, Senior.
John Marshall with the TFL on 3rd Down! pic.twitter.com/Mvp4T4VQLG

— Navy Football (@NavyFB) October 8, 2022
Marshall had 96 tackles, 19.5 tackles for a loss, 11.5 sacks, an interception, seven pass broken up, six quarterback hurries, and two fumbles forced. Marshall finished third in the nation in sacks and was a bright spot on a tough year for Navy.
Defensive Back: Kalen King, Penn State, Sophomore.
King had 30 tackles, three tackles for a loss, one quarterback hurry, one forced fumble, one fumble recovery, three interceptions, and 18 passes broken up. He is first in the Big Ten third nationally in that category.
Defensive Back: Christopher Smith, Georgia, Senior.
Smith had 61 tackles, five tackles for a loss, a sack, three interceptions, five passes broken up, three quarterback hurries and a forced fumble.
Defensive Back: Sydney Brown, Illinois, Senior.
"TOUCHDOWN! TOUCHDOWN! TOUCHDOWN SYDNEY BROWN!"@Sydbrown___ | #LovieBall | #TakeawayTuesday pic.twitter.com/ezLfRR8rlx

— Illinois Football (@IlliniFootball) June 30, 2020
Brown had 59 tackles, 3.5 tackles for a loss, one sack, one fumble forced, one fumble recovered, one quarterback pressure, seven passes broken up, six interceptions and two defensive touchdowns. His six interceptions are second best in the entire country.
Defensive Back: Decorian Patterson, Middle Tennessee, Junior.
Senior cornerback Decorian Patterson's enjoying the weather this week and hanging out with his teammates at the @HawaiiBowl.#BLUEnited | #EATT pic.twitter.com/ls0SIozQbd

— Middle Tennessee FB (@MT_FB) December 21, 2022
Patterson had 65 tackles, two tackles for a loss, one blocked kick, 12 passes broken up and seven interceptions. His seven interceptions led the college football world.
Kicker: Christopher Dunn, N.C. State, Senior.
Introducing, the leading scorer in ACC history: Christopher Dunn

👏 👏 👏 pic.twitter.com/KBaMyPbrTX

— NC State Football (@PackFootball) November 25, 2022
Dunn made 28 of his 29 field goal attempts this year and was a perfect 30 of 30 on extra points which all led him to being the leading scorer in ACC history.
Punter: Tory Taylor, Iowa, Junior.
Tory Taylor, 2023 Heisman favorite. pic.twitter.com/GK3MUY1UT5

— Ben Stevens (@BenScottStevens) December 31, 2022
Taylor 82 punts for 3725 yards for 45.4 yards per punt and was called upon to punt 32 more times than the Ray Guy (best punter) Winner from Michigan State.
Returner/ All-Purpose: Zach Charbonnet, UCLA, Senior.
🏈💨💨💨💨 Running all over the field!

Friday's 352 rushing yards included career-best performances from TJ Harden & Colson Yankoff!

1️⃣1️⃣9️⃣ – Zach Charbonnet
8️⃣9️⃣ – TJ Harden
8️⃣8️⃣ – Dorian Thompson-Robinson
5️⃣9️⃣ – Colson Yankoff pic.twitter.com/gASynknkVJ

— UCLA Football (@UCLAFootball) November 29, 2022
In only 10 games Charbonnet had 195 carries for 1,359 yards and 14 touchdowns rushing and 37 catches for 321 yards receiving. It makes one wonder what might have been different if Charbonnet had been healthy enough to have played in all 13 of UCLA's games. Regardless, he's had a heck of year and heck of a career.
Check out some other football writers' All-American teams and see who you agree with more!
For More Great Football Content
Follow us on Twitter at @GridironHeroics for more great content. We appreciate you taking time to read our articles. To interact more with our community and keep up to date on the latest in Football news, JOIN OUR FREE FACEBOOK GROUP by CLICKING HERE
Checkout our latest podcast!
[powerpress_playlist limit=1]