Now that the Divisional Round of the NFL playoffs has come and gone, if you read my last story, on "What were your favorite moments from the NFL Wild Card Games", you'd found out that my family and myself are big Buffalo Bills, Dallas Cowboys, and New York Giants fans.
Sadly to say, I was 0-3 in my predictions and I'm still standing tall, knowing that there is still a lot of good football ahead of us to watch.
Let's take a look at the good, the bad, and what's going to make these three teams come back even stronger next season.
Buffalo Bills
When was the last time anyone remembers a Sean McDermott coached Bills team play this poor at the wrong time? I mean, just getting absolutely wrecked. Well, guess what, it happened. The Cincinnati Bengals came into Orchard Park and just flat out dominated.
They kept Buffalo's top heavy defense on the field for basically the entire second-half. Once again, playoff (DC) Leslie Frazier bit them in the behind.  A whopping 27-10 at home! At home!  If bad games can happen to the Alabama Crimson Tide in College football, nobody is safe from a disaster like this game was.
Here's the good news.  (LB) Von Miller will be back for his second-year of a six-year deal worth $120 million as well as veteran Safety and Jordan Poyer's best pal (S) Micah Hyde. Boy, could we have used them last Sunday, but this will only make next year's defense even better.
Sadly, we might have to say good bye to (LB) Tremaine Edmunds as the Bills might not have the cap space to sign him to a long term contract. However, in a hard salary cap league like the NFL, you can't keep everybody.
The Bills also have quite a lot to improve on. Defensively, first they may have to see if Leslie Frazier leaves for a head coaching job, so they can either promote D-Line coach Eric Washington or hire a younger- defensive guru who was like McDermott when he was in Carolina.
To continue with the defense, the Bills will definitely want to address their pass rushing need and their desire to keep adding to their corners and safeties as the NFL is a passing league.
Dallas Cowboys
Now if you remember correctly, this is my mother's favorite team. And she too was disappointed that Dem Boys lost a tight 19-12 game on the road to the San Francisco 49ers. She knows a lot about football and the minute Dallas (QB) Dak Prescott threw his first interception, she told me they were going to lose.
Give the Cowboys credit though, their defense for the most part was getting pressure on 49ers rookie (QB) Brock Purdy.  Up until the last minute of the game, they kept (RB) Christian McCaffrey in check with their run defensive.
The big news in the room is what's going to happen to star running back Ezekiel Elliot?  We have seen his stats dip a bit, as he has only rushed for 876-yards which was down from 1,002 in 2021.   It's more due to Tony Pollard earning more carries and sharing the running back duties with Elliot.
But sadly, Pollard suffered a season ending high ankle sprain against the 49ers. He did have "Tightrope" surgery on his broken left fibula and high ankle sprain on Tuesday.  We don't know yet what his future is with the squad.
Being the team player Zeke is, the 27-year-old is willing to take a pay cut from his $10.9 million salary he's expected to make in 2023, after signing a six-year $90 million extension in 2019.
Kicker? Don't even go there…
I swear, I can kick as good as the Dallas Cowboys kicker.

— Greg Abbott (@GregAbbott_TX) January 23, 2023
The funniest highlight of the game might have come from Texas Governor Greg Abbot, as he even knows how awful Cowboys (K) Brett Maher was the last two games.
New York Giants
Onto the "G-men", who my Uncle was routing for. You can't be surprised that they lost as bad as they did to the Philadelphia Eagles. When your defense doesn't blitz as much as they do, the Eagles Run-Pass-Option (RPO) is like Navy or Air force, it's hard to prepare for and stop. Realistically, the Giants weren't even supposed to be in the Divisional Round of the playoffs, but you can thank that to the brilliant coaching job by first-year man Brian Daboll.
Also, give credit to (QB) Daniel Jones who took everything in from Daboll who is a quarterback whisperer. The Duke Alumnus really had a great comeback season this year and deserves to be the permanent starting quarterback for the Giants and Coach Daboll. No if's and's or but's about it.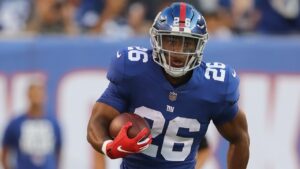 The question heading into the offseason is, will star (RB) Saquon Barkley remain with the G-men? Barkley is going to become a free agent in the offseason. His original four-year $31 million deal with the Giants ends after this season.
My answer is yes he will, but I also think he too should be a team player and take a pay cut to free up cap space. If they let him go for nothing, then that will leave a huge hole in their running back position.
Now that all of my favorite NFL teams have been eliminated in the play offs, I still will be watching to see who moves on.
What team are you looking to see move on to the Super Bowl?
For another interesting NFL story, please check out:
https://gridironheroics.com/how-can-t-y-hilton-help-the-dallas-cowboys/
For more NFL and Twitter content, please follow me:
https://twitter.com/djdawgtagz
For More Great Football Content
Follow us on Twitter at @GridironHeroics for more great content. We appreciate you taking time to read our articles. To interact more with our community and keep up to date on the latest in Football news, JOIN OUR FREE FACEBOOK GROUP by CLICKING HERE
Checkout our latest podcast!
[powerpress_playlist limit=1]